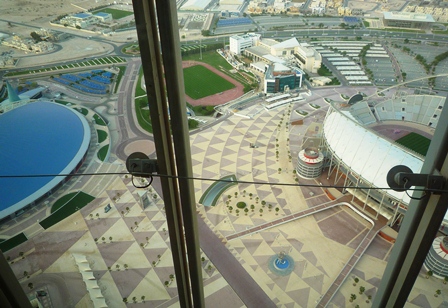 When Qatar won the poll for the Football World Cup in 2022, I knew as little as anybody else about the place. Now I spent a couple of days in this extraordinary country.
Qatar looks like a bubble attached to the Arabian Peninsula, desert being its surface, surrounded by the waters of the Persian Gulf.  Qatar's oil resources made it the 3rd richest country in the world and Doha a prospering city. A taxi driver told me it only rains about 4 times per year and yet, the tap water in Doha is drinkable – what a luxury! The stunning skyline and large hotels attest to an innovative and flourishing economy. All mayor hotel brands such as Four Seasons, Kempinski, or W already run the most luxurious properties in the city, as many more hotels are being constructed in preparation of the Football World Cup in a decade's time.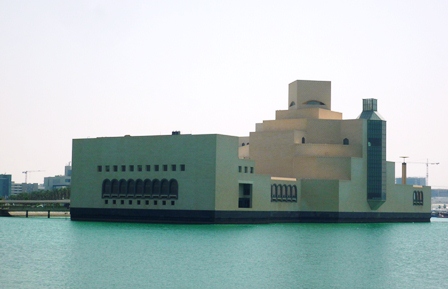 The landmark Museum of Islamic Art is a highlight you don't want to miss. It's breath-taking, oriental inspired architecture by a Chinese architect is reason enough for a visit and the artefacts on display give a well-organized overview  of different Islamic time periods. Entrance to the museum is free – one can only imagine how much revenue could be gained from an entrance fee. (Qatar obviously does not need it…)
Despite its international facade, Qatar has kept some of its Islamic traditions. The import of alcohol is forbidden, as I learned when the officers took a bottle of champagne from me upon arrival at the airport. (I was given a receipt and could claim the infamous item back upon departure, cheers!) Only five star hotels can get a licence to sell alcohol, a sacrifice the government made to keep tourists and expats happy.
The main difference I felt to UAE cities Dubai and Abu Dhabi were the people. There are actually native Qataris who make a large percentage of Doha's inhabitants. They dress traditionally, too. Women wear the black Abaya, covering their bodies and faces, making high heels and high-end handbags the only visible distinction and way to show off. (One can only imagine what fine garments can be found underneath the Abaya.) Men on the other hand wear the white Thoub, a body long robe, and a headscarf held in place by a black cord. As the white Thoub only varies in size (huge variations in this regard), cufflinks, worn in western manner, and the scarf leave some self-expression to the individual.
Shukran Qatar* for a taste of your innovations and tradition…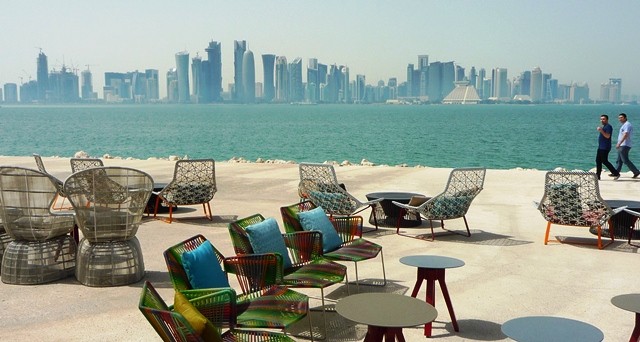 * I was told that in Lebanon the expression "Shukran [thank you] Qatar" is attributed to large sums of money Qatar gave for Lebanon's reconstruction after the civil war
Expert