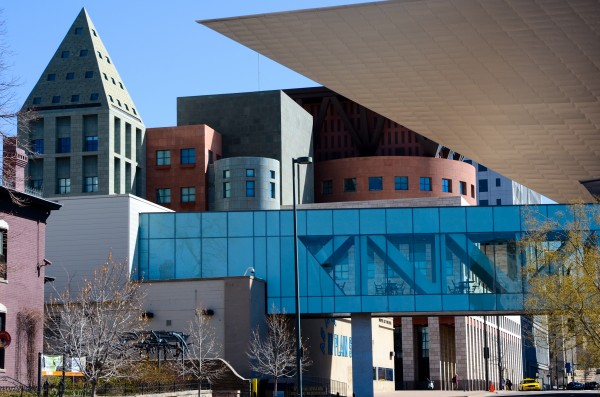 Morning
What, unable to find your guidebook? Exit the hostel anyway to explore the city of Denver, Colorado.
Head down 13th street stopping to admire the new wing of the Denver Art Museum clad in titanium and glass, notice how the sharp angles remind you of the Rocky Mountains.
Still feeling the fogginess from the night before, walk slowly to Dozens Restaurant a few blocks away, for a large cup of coffee and homemade Western Slope omelet.
Over breakfast, Listen to the older couple at the next table discussing James A. Michener's book Centennial. The book is loosely based on the events around Denver. Make a mental note to read the book.
Crossing the narrow street, stop to admire Denver's Central Library designed by Michael Graves, with its postmodern architecture and more than two million books.
For a quicker tour of Denver, rent a bicycle from the bike sharing rack near the building.
If the weather is still warm, walk around Civic Center Park with its symmetrical neoclassical design, Greek Amphitheater, and gardens. Stop to watch the children playing in the fountains and skateboarders doing tricks.
Look across Broadway at the State Capitol with its shinny golden dome, shading your eyes, scanning for traffic and joggers, dart across the wide street.
Walk up the steps to join the group of people looking at the snow covered mountains, notice the 13th step, there is an inscription that reads 5,280 feet above sea level, exactly one mile high.
Afternoon
Lunch at the Backstage Coffee Shop surrounded by the vibrant paintings by local artist Michael Rieger, this is a great place to relax and watch people.
See the older couple elegantly dress; walking hand-in-hand, they appear to be enjoying their first date. Their eyes seemed to sparkle when they looked at each other.
Take a leisurely walk along Denver's Historic District via the 16th Street Mall, stop to get a Chocolate Orange Gelato at Amore Gelato, my favorite.
Sit at one of the colorful pianos along the mall, and make your own music.
Continuing your travels toward Larimer Square looking at the Victorian storefronts. This area was once popular with the miners headed to the mountains during the gold and silver rushes in the ninetieth century.
In 1882, the Irish poet and writer Oscar Wilde addressed a sold out performance here at the Tabor Grand Opera House. In his honor, the local Madams decorated their Houses with Wilde's signature emblems, sunflowers and lilies.
Evening
Craving a buffalo burger and a cold Light Rail Ale, head over to the Wynkoop Brewing Company on 18th street, Denver's first brewpub.
Ask your server about beer, Denver brews more beer than any other city in the United States. Moreover, Colorado has had a long history of beer making. The early Pueblos who once occupied what is now Mesa Verde National Park, may have produced the first beer from fermented corn.
After dinner stop at the Tattered Cover Book Store, see if you can locate a copy of the Art Forger by B. A. Shapiro. Then make your way to an empty table to relax with a coffee. The Tattered Cover is one of the few independent bookstores in the county.
While the night is still young take a leisurely stroll along 16th Street, watch people passing by in horses drawn carriages, eating and drinking at outdoor cafes and still others walking to one of the City's choice after hours spots.
Stop at Katie Mullen's Irish Pub and Restaurant for bit of Theology and a Guinness, make new friends.
Find your way back to the hostel exhausted, Say to yourself I am glad I lost the dam guidebook. It was more fun creating my own adventure.
Best Places to Eat
1. Dozens Restaurant, 236 W. 13th Street, Denver, CO
2. Backstage Coffee Shop, 1000 14th Street, Denver, CO
Best Places to Drink
1. Wynkoop Brewing Company, 1634 18th Street, Denver, CO
2. Katie Mullen's Irish Pub and Restaurant, 1550 Court Place, Denver, CO
Best Place to Read
1. Tattered Cover Bookstore, 1628 16th Street, Denver, CO
Best place for Ice Cream
1. Amore Gelato, 535 16th Street, Denver, CO
Tips for visiting Denver
1. Street parking can be a challenge especially during the week, park in one of the local lots or take the light rail. Denver's light rail system offers may stops to Downtown locations.
2. Be sure to have a light jacket for the cool evenings, even in summer the temperature can drop several degrees.
3. If you are visiting from lower elevations, take things slow the first few days and drink lots of water to prevent altitude sickness.