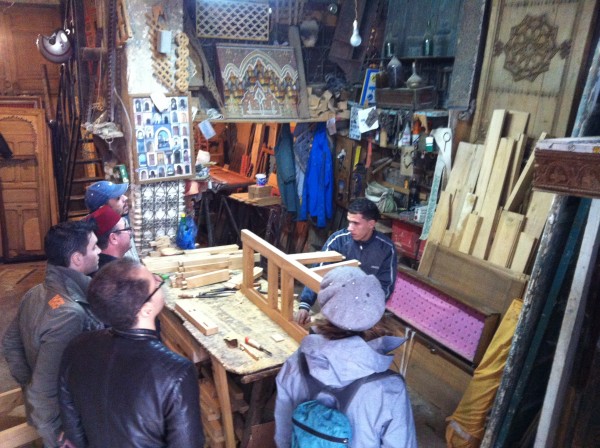 While we felt blessed throughout our time in Morocco, our Fes experience would be driven by divine providence, guiding us into not just a city, but into a relationship with a man that held it deep in his heart…
"I know a guy!" That's all we needed to hear from our I Tour Morocco guide, Hafid. He had taken great care of us for hundreds of kilometers and had one last suggestion for our tour in Fes. A phone call and few minutes later and we had Mohammed Bouftila, an internationally acclaimed Medina guide, climbing into the front seat.
Within five minutes, Momo, as he is known, had an incredible itinerary planned for the following day, laying out stops and activities based on our preferences and some completely opposite of what we thought we should be doing in Fes. Leave it to the professional, particularly in a city so rich in culture, history and artisans, to get the most out of any visit. The Medina is challenging to navigate and Momo offered to guide us to our Riad inside the walls. We would have spent all night looking for our place, and on the way, he is constantly pointing out landmarks and architecture, getting our tour going before we even dropped our bags.
At Le Patio de Fes riad, Momo held court, discussing options, exploring our interests and honing our tour plan. The Medina is crammed with stories and he told us one of his childhood and a riad he grew up in nearby. At this point we knew Hafid had delivered another remarkable opportunity.
The next day Momo met us, and two friends we collected at the hotel the night before, to welcome us onto his turf. He had his favorite routes and off-the-map places that he insisted we see. Some of the most incredible locations involved access into abandoned riads and palaces that were either in the process of renovation or looking for a sponsor. We would walk by an ancient door and Momo would give us the family history and challenges in trying to save the structure for the sake of the whole Medina.
One thing folks don't realize about the Medina environment is that it was and continues to be a communal living effort. Neighbors share walls, bakers, activities, religion and family life. It has been this way for a millennia and Momo loves to demonstrate how these traditions move forward. He takes us in to watch some of the most gifted craftsmen, delivers us for a great lunch at a local haunt and arranges a driver to take us out to other artisans and viewpoints we could never found on our own. Any credentialed guide in the Medina can provide similar services, but by the end of our time in Fes, we felt part of Momo's world.
Plan five days to do Fes all the way. Stay inside the Medina in a traditional riad and roll the dice every time you leave in hopes of finding your way back. Embed yourself in the cultural tapestry that took centuries to produce and preserved today by efforts like a UN Heritage site designation. Google Momo before you go. His service is indispensable in making any visit, life altering.
Expert