"Sir, excuse me, sir" I hear barely entering the famous Chandni Chowk in old Delhi. Looking over I see an older gray bearded man wearing a Taqiyah looking at me from astride his cycle rickshaw. "Sir, you want a ride?" as he points to the empty seat.
"I will show you around. Many fine places. What country you from?" he blasts in succession with a grin.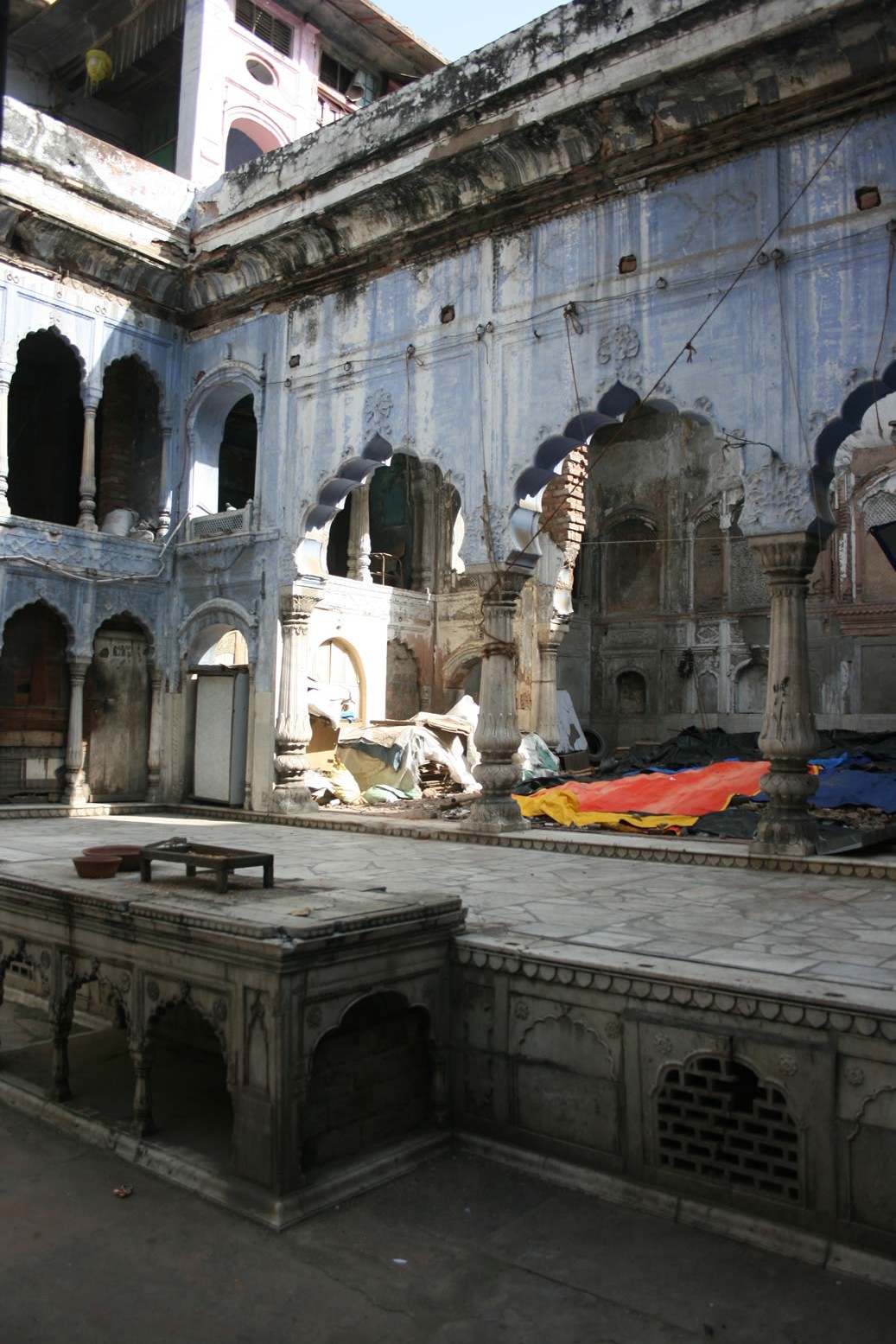 "America, but no thanks, I want to walk, don't need a ride."
"Fine sir, I walk with you, I am Imran and Muslim" was his next comment as he dismounts his cycle. Then before I can respond again.
"Once many Muslims lived here from Mughal times" sweeping his hand off towards the old town while walking over to me. "But many left for Pakistan during the partition. Have you seen the Jama Masjid?"
Telling him I went there last night just before the Maghrib prayer and later also walked through the Chawri Bazaar seemed to satisfy his inquiry. "Fine sir, come… I want to show you something I think you like that most tourists not see" with that same toothy grin and proceeded with a light grip on my arm into the first narrow passageway to our left, about two meters wide, leading into the depths of old Delhi.  Inside he turns to me and begins showing me business cards of satisfied European and South Americans he has also guided here. As we walk he begins giving me the history of the Mughal Empire and out of the blue immediately switches mid thought and asks me if I speak Spanish, and shows me a letter from Chile. Embarrassed I say not very good, self-conscious obviously as I come from the United States where we have a sizable Spanish speaking populace. What I do remember from schooling allows me to mutter through tiny bits of words of what the Chilean has written him.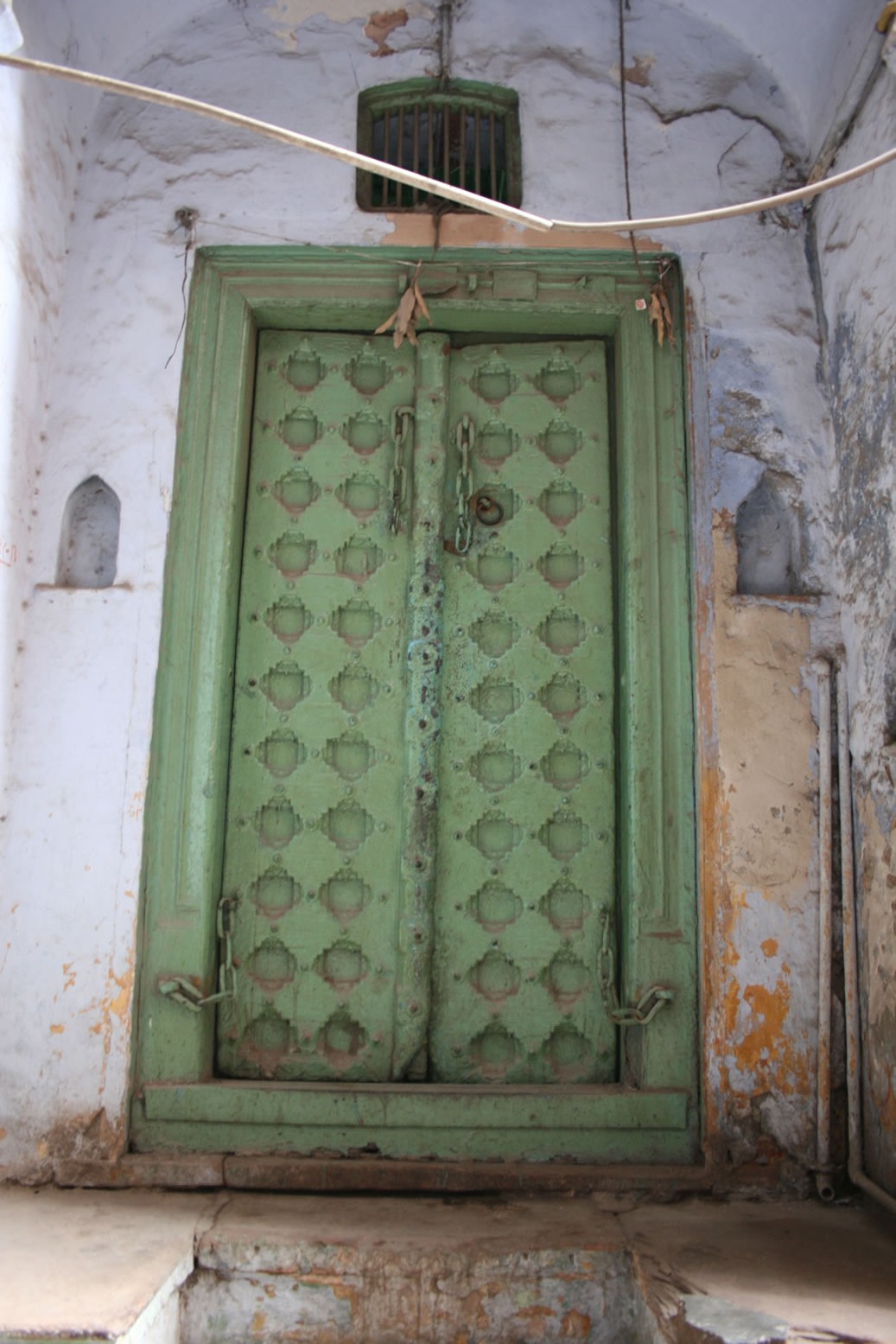 Satisfied or giving up, he thanks me and takes me left again into another very narrow alleyway to a Mosque built in the 1600's. He says it was converted into housing by the locals after it was abandoned in 1947 and walks up the steps inside. At first I am not sure if I should actually cross the threshold. I am after all invading someone's home uninvited.
Imran looks back at me through the doorway puzzled as why I haven't followed him through the open door. He senses my hesitation, and promptly motions to come inside, while saying something about it being perfectly acceptable, everyone here is friendly. I smile and respond something about not thinking so much of temperament, but more respect for privacy but enter anyway. Within he gives me a tour of what I can see was once a very beautiful and ornate Mosque. In the center chamber, where the faithful would pray, now an open courtyard because of the partially caved in roof, he asks me if I believe in God, then we talk a little of Allah, Mughals, Turkmen, and how many Muslims fled in a hurry leaving almost everything behind. He explains how some like his family stayed put.
Because of its condition and present conversion this Mosque feels lonely and sad with a larger sense of loss as compared to other former religious structures I have seen. Somewhat unexplained mixed feelings about converting houses of worship and tombs to other uses sets my reflection.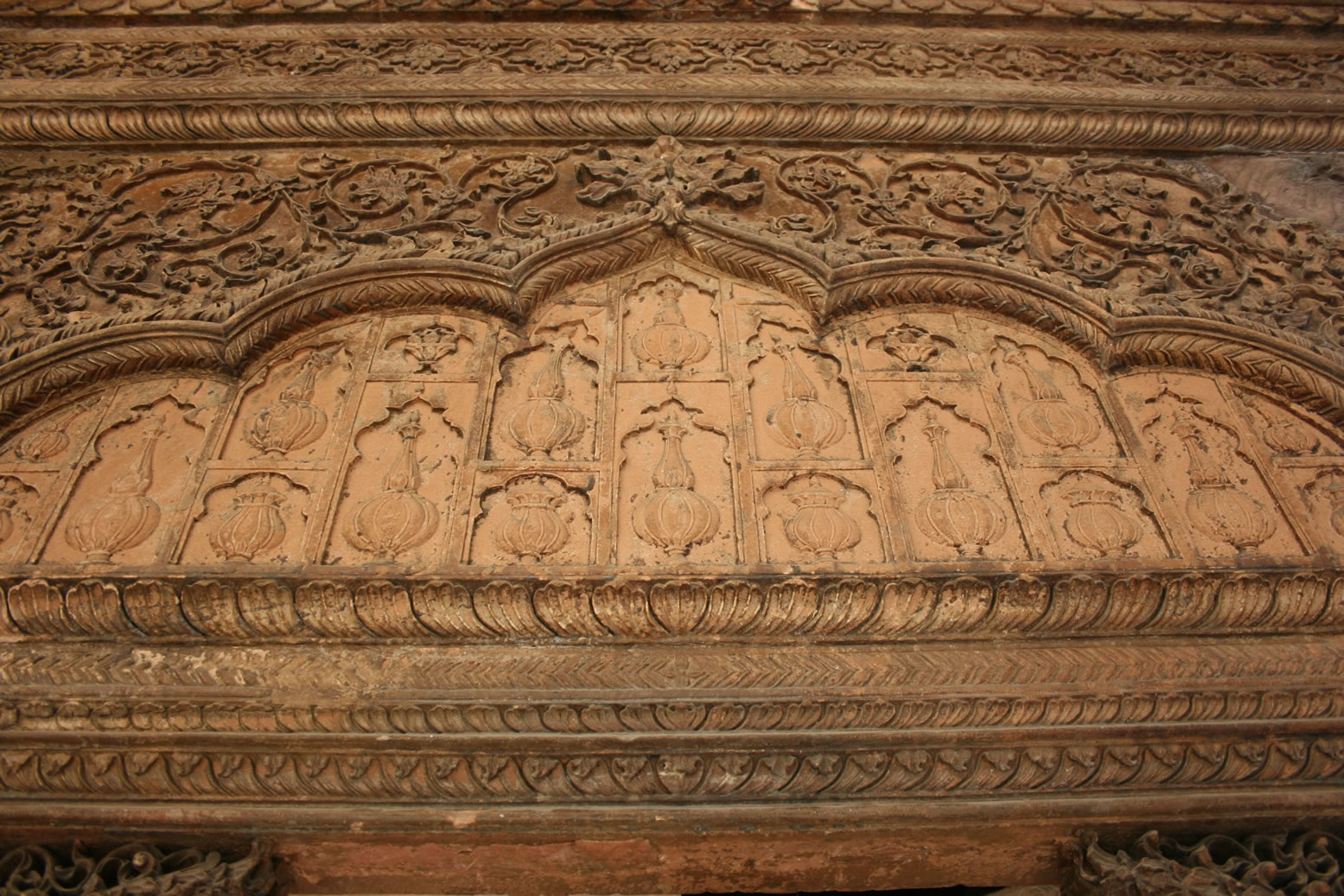 Workmen nearby are fixing some electrical wires to an already overcapacity electrical box. He draws my attention to it; laughs and points jokingly "Indian power grid" or something to that effect.  Leaving the Mosque he leads me down yet another twisty narrow passage. The four story buildings are so compact that they blot out light from the sun in this historical labyrinth.  As we continue to stroll he proudly shows me other façades that belong to houses, palaces, and mosques all dating from three hundred years ago,  some clearly looking like they will collapse at any moment.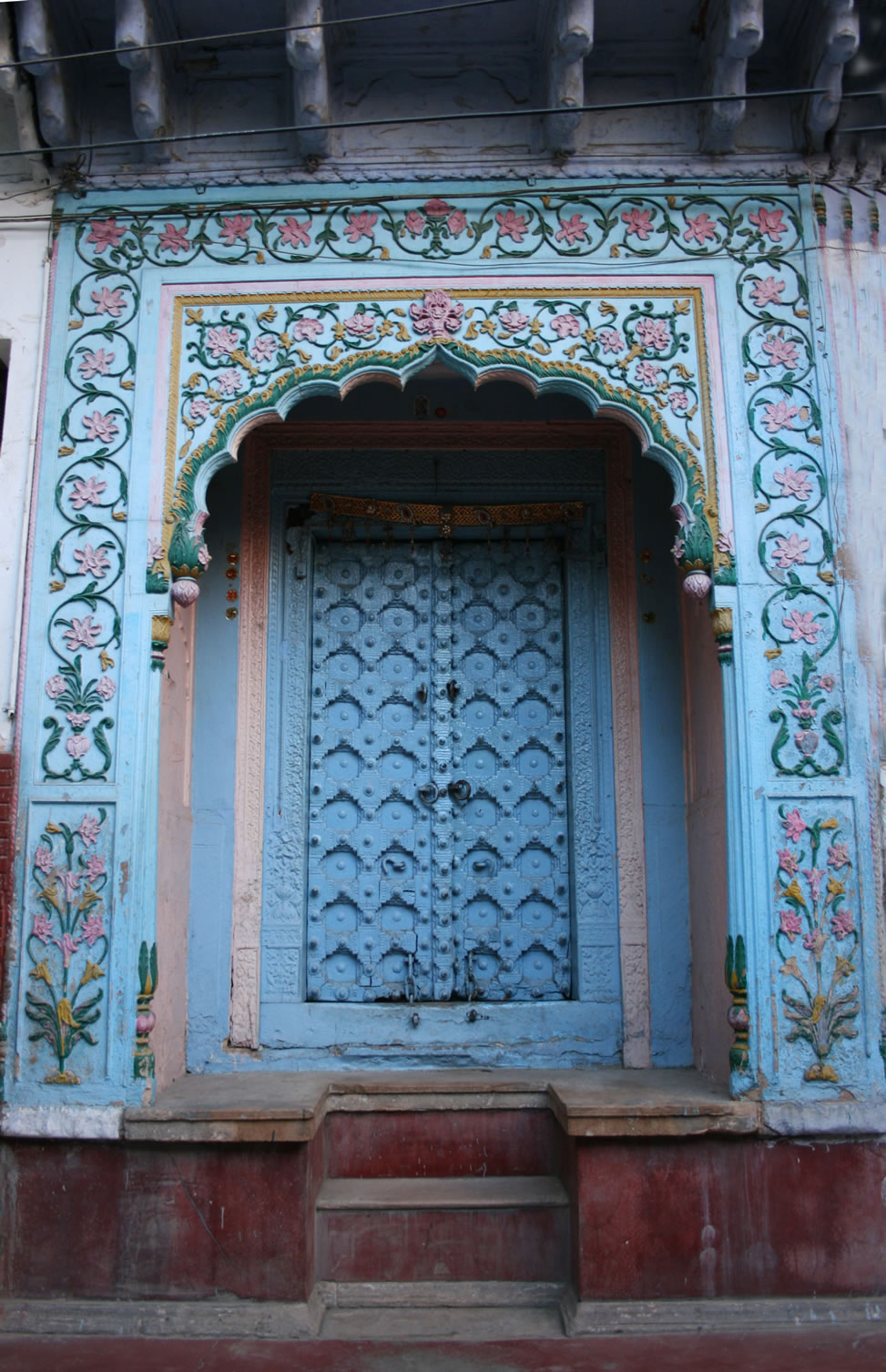 What piques my curiosity the most are the impressively decorated balconies and porches at the third or fourth story level which  he alludes to as carved wood or stone. A clear display of prestige and wealth for the more fortunate of the city from the Mughal Era. But with the tight spaces of these narrow alleys and arteries, what would have been the occupants view out to the world. Or even at street level would anyone be able to fully appreciate this intended display of ornamentation above them. Wandering along I try to imagine what it was like to live here before electricity along passages at night being lit only by moonlight or the ethereal glow of candles in the inserts by the doors of each building.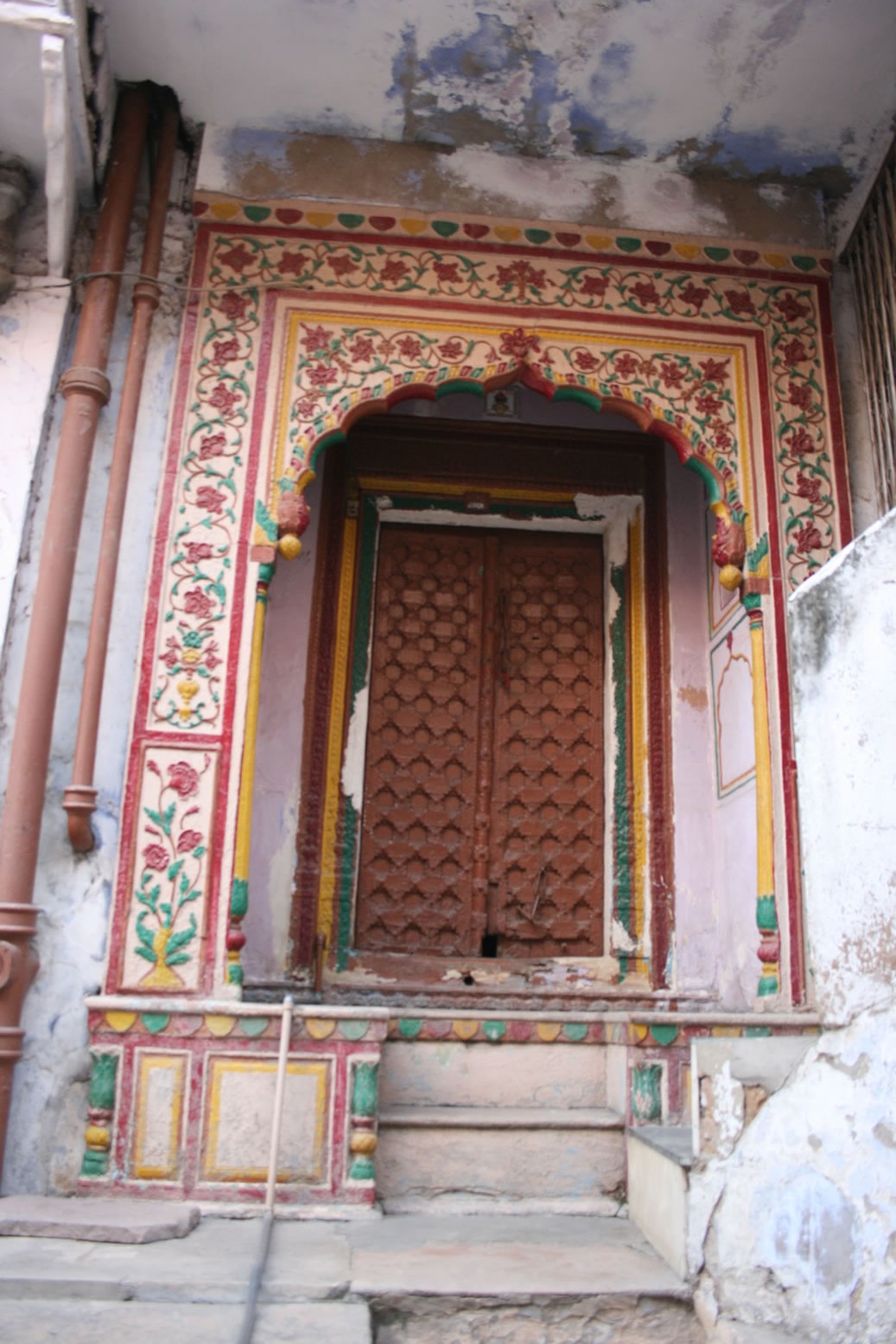 He directs me into a wide alley as compared to the other passageways at possibly six or seven meters wide. Here he points again with that gratified grin towards a line of impressive multicolored facades. Lightheartedly he says even now the occupants compete with each other and I can see that purpose in the quality and craftsmanship of the designs. At the far end near one of the stoops leading up a small staircase is a young women dressed in a muted and well-worn sari. In contrast to her pressing brightly colorful saris with a coal heated Iron on a metal and stone table built into and part of a wall. He walks over, points at her and the iron and asks if I have ever seen one? She smiles for the briefest second but keeps her head down, not looking up at us directly and continues working.
My mind begins to wander with thoughts of the past and my eyes lose focus lost in the rhythmic motions of the iron and the faint glow of the coals inside. Imran soon interrupts my trance by saying. "Come there is more to see…"