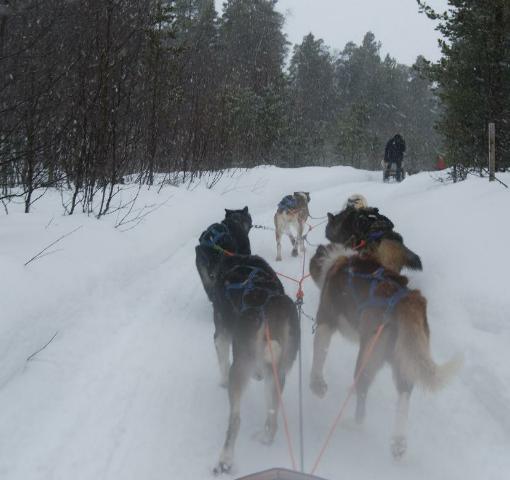 We visited the Arctic regions to see the Northern Lights. We were disappointed. All we saw was a greenish glow through the clouds on the first night; I'd already seen that, years ago near Inverness, but didn't realise what it was. The following nights brought low cloud and snowstorms.
Of course, the lights can't be turned on and off at will, so it makes sense to plan other activities, and regard it as a bonus if they do appear. One good place to visit is the Holmen Hundsenter, near Alta. (www.holmenhusky.no )
Now, even if you don't speak a word of Norwegian ('Hej!' and 'Tusend tak!' are my limits) it doesn't take much skill to translate Hundsenter. It's a dog farm … and not a rescue centre or a kennels. These are working dogs that pull sleds, and beautiful creatures they are, too. In fact, the husky has taken its place beside the Labrador as my joint favourite dog breed.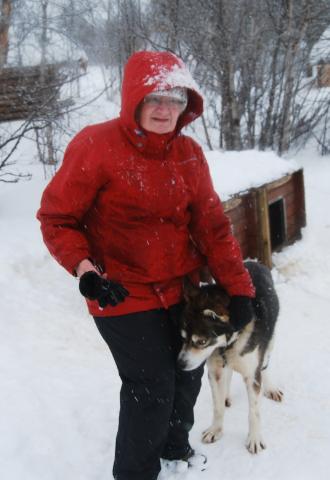 There was an opportunity to photograph the dogs; friendly creatures all, if somewhat noisy … with the exception of only one, which had the endearing habit of sticking his nose up his backside every time anyone pointed a camera at him. Just like a certain dog I used to own!
Over a cup of hot blueberry juice, served inside a traditional 'laavu', the owner, Eirik Nilsen, talked about his dogs, and explained how they prepare for the Finnmarksløpet race, over 600 miles; Europe's longest dog race.
And, he said that, although his drivers were called 'mushers', they never used the word 'mush!'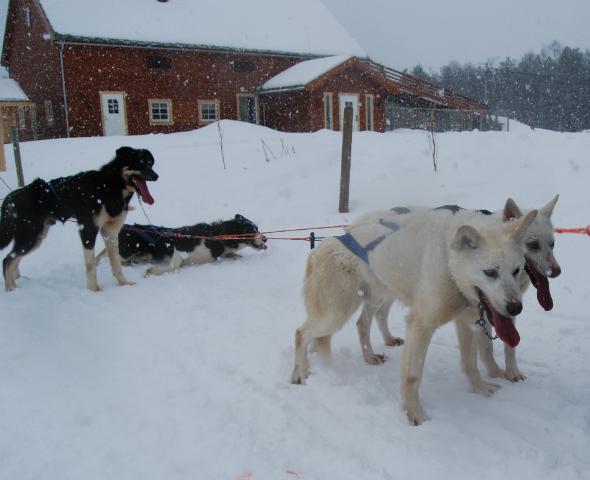 The main attraction was a 20 minute ride through the woods on a dog sled. The fact that it was snowing made it an even more enjoyable experience. Visitors could either ride in the sled as passengers or, if feeling really intrepid, drive it themselves. They do stipulate, though, that parties are made up of a driver and passenger (they can, of course, change over halfway) who must be known to each other.
I've got to admit that I had some misgivings over this visit at first. Because, although, thanks to organisations like the Brooke Foundation, it's not general, we have seen animals displayed for visitors to ride on, or just see, that aren't in the best of condition.
But, that was certainly not the case here. The love and respect the drivers and handlers had for their animals was plain to see on their faces, and the dogs themselves seemed pleased to see us, and eager to be off.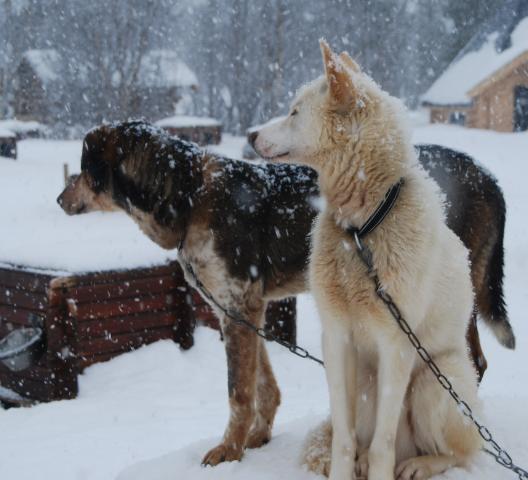 They seemed to have no problem at all pulling the sled with two passengers aboard, although they did check a couple of times because of the sled in front of us.
'It's overloaded' said Anders, our driver 'Both the passengers are on the heavy side.'
And, when the owner talked to us later, he told us: 'When we're racing, we sleep in the outdoors with our dogs'
Which is not surprising; imagine an animal that size trying to get into bed with you!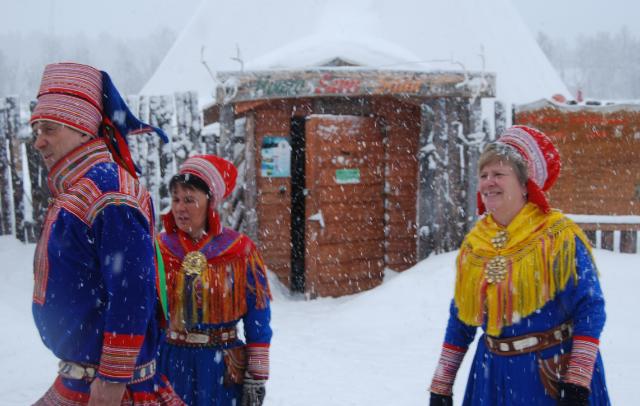 The following day, we visited a Sami information centre, and took a reindeer ride. Now, most people in the western world accept that Santa's sleigh. In many cultures, though, the sleigh is actually drawn by a white horse. Which stands to reason. In Norway, anyway, only the Sami people are allowed to own reindeer. Santa Claus morphed from St. Nicholas of Myra, who was Greek, therefore unlikely to be Sami. And, Myra was in modern Turkey … an area not really noted for its reindeer population.
Anyway, the reindeer are found in the Arctic regions, and it's not really true to say the Sami herd them. It's more correct to say the reindeer herd wander where they will, and the Sami follow them.
The Sami depend on the reindeer for almost everything. Hides for their dwellings, or laavu, their clothing and their food. We didn't get a chance to 'eat Rudolf', but on tours in other places, they did. I didn't hear any reports on it, so I assume it would taste something like venison?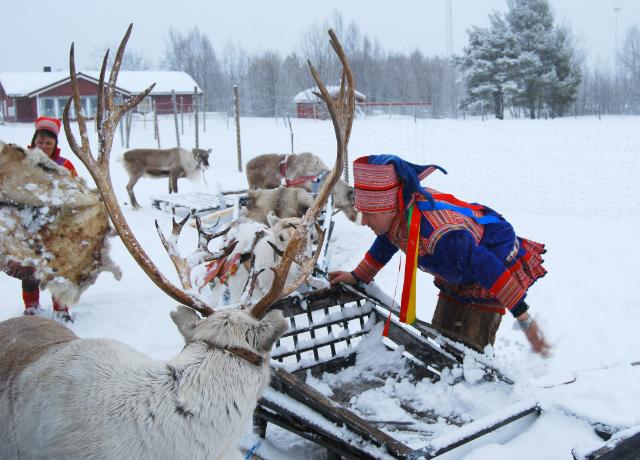 An important use for the reindeer is, of course, as a draught animal. Since the Sami follow the herds, they are, of necessity, a nomadic people, and moving their possessions would be almost impossible without the reindeer.
Another little factoid you can amaze your friends with. The reindeer is the only species of deer in which both sexes grow a full set of antlers … and the males lose theirs in winter! So, as depicted in many an illustration around Christmas … Donner, Blitzen & Co. must be … female!
We had been told beforehand that the people were the 'Sami', and the land they lived in was Finnmark. 'Lapp' and 'Lapland' are considered rather derogatory these days … although, since I got home, I've seen visitors to Finland and Sweden use these words in their articles and blogs. So, is this just a Norwegian thing, or are the writers using words their readers might more readily recognise?
Anyway, the establishment we visited is called Boazi Sami Siida (www.sami-siida.no) and here, Håkon Kristian Haldorsen, his wife and his sister show us the traditional costumes, and demonstrate the Sami reindeer herders' way of life.
I think what struck me most was the brightness of their clothing, all obtained from natural dyes. I suppose that's largely for practical reasons, so they can easily be seen against a usually drab background.
Not all Sami are reindeer herders, though … some of them are fur trappers or fishermen, while a few herd sheep. But, we only saw the reindeer side of things. And, of course, we saw reindeer!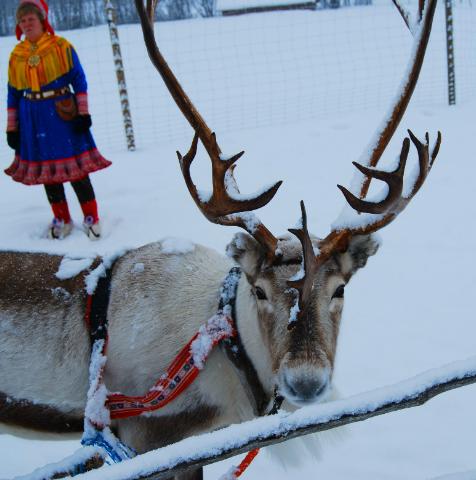 The reindeer ride wasn't quite what I expected. Certainly not the snugly-wrapped jaunt of Christmas cards, with mince pies and a slug of glühwein at the end. Or Santa's laden sleigh. Just a wooden framework, holding one … or, at the most two people.
But, it was still an experience not to be missed … although, unlike the dogs, I was unable to actually take any video during the ride, for I was too busy concentrating on survival.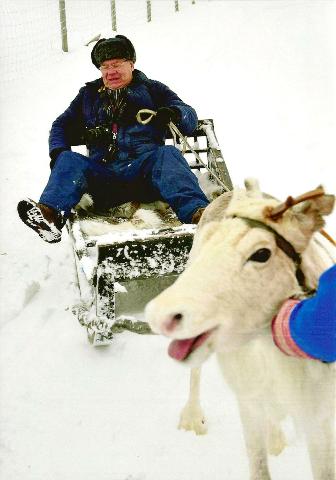 As the handler launched me on my way, the handler said:
'You can go on your own!'
Eh? Did I look like I could, or something? My sole experience of this sort of thing was fifteen minutes at the controls of a one-horse buggy, and that was with an experienced coachman beside me.
But, I managed, for one of several reasons:
The reindeer understood English (doubtful)
The commands 'Walk on' and 'Whoa' are the same in Norwegian, or the language of the Sami (unlikely)
It doesn't matter what you say, it's the intonation that counts (maybe)
The reindeer are so accustomed to this circuit that they stop and go when required, whatever you do (most likely)
Just a circuit of the paddock, but an experience to be added to the list certainly. And, I look forward to the more upmarket kind of sleigh ride … if it exists!