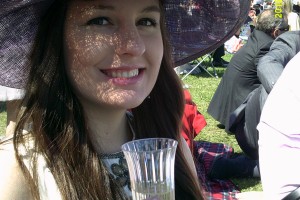 Each year around early November, large crowds of ladies and gentlemen dressed to the 9′s in formal wear make their way to the Melbourne Cup! This event is monumental in Melbourne history, and you can see why by the excuse to drink lots, bet on horses, and dress to impress! The beautiful Flemington racecourse is even a sight to see in itself. The large track, beautifully green by all the rain Melbourne gets, is lined with thousands of wonderfully smelling rose bushes. One rose in particular is quite famous as it is the Princess Diana's 'Princess of Wales' rose.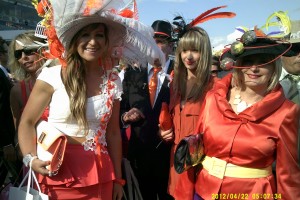 Aside from the main event, celebrations last a week, and a number of different events are held, such as the Crown oaks Day that I attended. This day in particular is for the ladies and their frocks. They all dress up to win the best dressed, and wear a variety of different fascinators and bright hats to accompany their dress. For this occasion I decided to wear a cream coloured silk dress with a bib type collar of jewels in the shape of a flower, with a purple hat and feathers to top it off.
The day was a blast, and I drank heaps of Champagne! So much in fact the next morning, I did not feel well at all indeed as I was invited that night to sit at a table with some Melbourne locals and business people, who shouted me three rounds of drinks at a lounge overlooking the Parliament House. But that day the Champagne went down a treat with a picnic on the lawn of smoked mussels and crackers, and a bit of smoked cheese.
I bet on only one horse, as I was a beginner, that unfortunately lost. Lucky I had only bet $10. Then as the afternoon rolled on, I had the privilege of meeting new and interesting people that complimented my dress and hat, as well as a man who looked like he was Italian descendent, who critiqued my outfit, Exclaiming, whilst holding his hands up "Beautiful darling, exquisite!"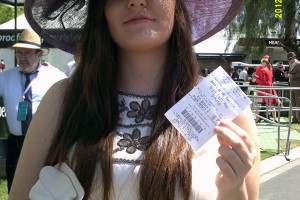 Melbourne people for you… always dramatic.
While at the Cup, you can also even see celebrities if you are lucky, but they are almost always at the top of a fancy glass windowed building called the Birdcage, as it looks like the shape of one.
If you are interested in horses, betting, and drinking though, why not go to Melbourne? Flemington is beautiful, when it's not raining, and even when it is, you still have a lot of fun!
Expert