The Long Trail, VT- Hiking 272 miles from Massachusetts to Canada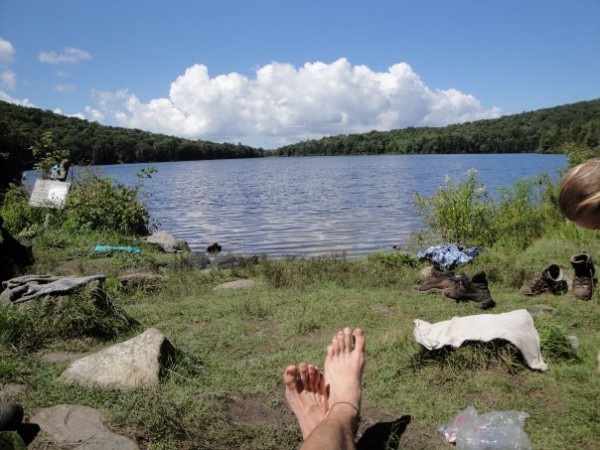 http://matadornetwork.com/community/lbneumann/the-long-trail-vt-hiking-272-miles-from-massachusetts-to-canada/attachment/4/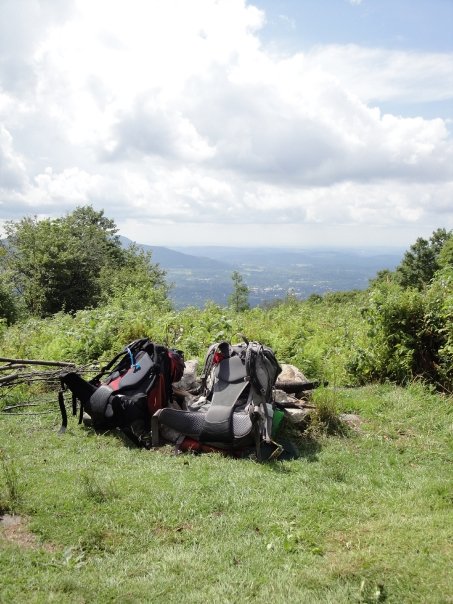 http://matadornetwork.com/community/lbneumann/the-long-trail-vt-hiking-272-miles-from-massachusetts-to-canada/attachment/5/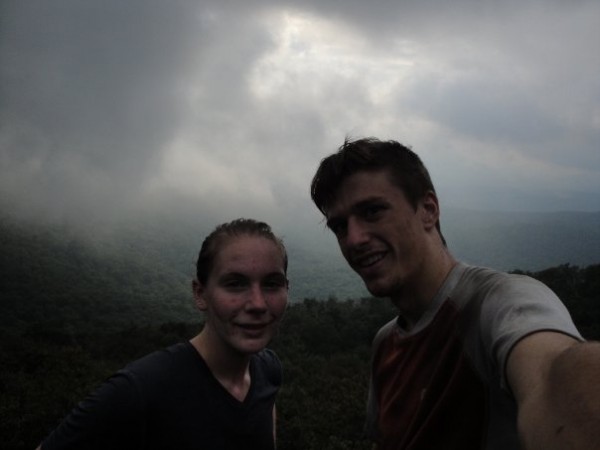 http://matadornetwork.com/community/lbneumann/the-long-trail-vt-hiking-272-miles-from-massachusetts-to-canada/attachment/6/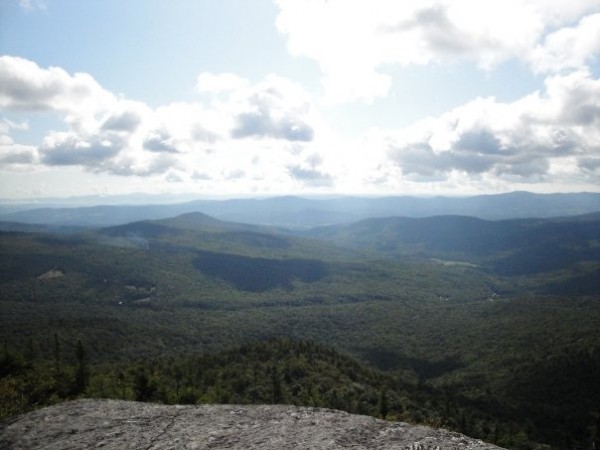 http://matadornetwork.com/community/lbneumann/the-long-trail-vt-hiking-272-miles-from-massachusetts-to-canada/attachment/7/
We awoke, for the first time, outside, breathing cool, fresh, pine-scented air… to a loud metallic thud. Poking our heads out of our sleeping bags, the first thing I see is a bear, standing proudly over his freshly opened bear box, choosing which bag of food to steal. Before anyone even jumped up, he was gone, carrying the entirety of my hiking partner's food off in his/her mouth. We weren't on the trail more than 16 hours, and this happens. Not the best start, seeing as we lost half of the food we needed to get to Manchester, VT- our next food stop.
Deciding to move on and stretch our remaining food, we cooked a smaller than planned breakfast, put on our packs for our first 12- mile day. After the morning's excitement, I start, for the first time, really noticing where I am. We are walking through an intensely green, dense, wet forest shrouded by mist. I am instantly reminded of Monteverde, Costa Rica- the cloud forests. The first half hour lasts forever. My pack feels heavy, and my lungs, legs and heart are all getting a serious workout. We head up a slippery stone staircase, and about two miles in we come across a beautiful pond, where the mist is too thick to see very far past the shoreline. Crossing behind the beaver dam, we are below the water level, a cool experience. Really settling in to the hiking groove, the day starts to speed up. I can't keep my eyes on the trail; they always wander off at the beautifully lush August- in- Vermont foliage. We came across another beaver dam pond, this one more of a swamp. We cross the bridge, well, the two planks which served as a bridge, and the mist is starting to rise. Thinking about where I am, it feels remote. I know that the Long Trail is never more than 7-10 miles from a road of some sort, but I feel alone and isolated. Finally…
~
This is why I'm excited to hike the LT. Finally… I've always been a hiker, but never been an overnight hiker. Sure I've car camped plenty, but that's not the same thing. It's just a little taste. I had always wanted to get that feeling of really spending your time, your life, in the woods, in nature, in a new, wild, relaxing spot. Finally I'm doing it, and really, I enjoyed every minute of it. Really the only worry I had was getting off of the trail. The Long Trail is a 272- mile "footpath in the wilderness." The landscapes are rugged, lush and unyieldingly enchanting at every step. Known for its beauty, rather than its grandeur, the LT is like a short version of the Appalachian Trail. Knowing some AT hikers, the LT is definitely a more relaxed, take it at your own pace hike. Unfortunately, me and my hiking partner, Lis (a friend from high school), have a deadline. I have to get to school- University of Vermont- and she has to go to Australia.
~
I'm breathing harder than I have in days- sweat has soaked through my shirt, my shorts, my socks, and my bandana. I'm trucking up the south side of Mt. Mansfield- the highest mountain in Vermont, and haven't felt more in shape in my life. It's our 18th day on the trail, 17 of those days being hiking days. Lis and me have been splitting up and hiking at slightly different paces for a few miles, meeting up, and then hiking again. The time alone is fantastic. Spending the whole day with yourself, for many days in a row is quite the experience. When my mind wasn't on food, I could leisurely spend time reflecting on my life, thinking about the future, thinking about the past, thinking about civilization, friends, and family. As a mild introvert, time could not be better spent. Hiking up Mansfield, I find myself at the shelter for the night. As usual I have lost track of time and distance, a pleasant phenomena. I arrive about fifteen minutes before Lis, sit down take my boots off, and soak in the view of the lake and into the Adirondacks- 60+ miles away. I don't move a muscle, relishing the privilege to sit in this beautiful spot. Hours later, as the sun sets, Lis and I find ourselves wrapped up in conversation with the hut caretaker, and another hiker. Sitting by a lone candle, the four of us talk late in to the night (ten o'clock felt REALLY late), about everything from hiking to, surprisingly, mutual friends we have. Small world. Before we wake up, Amara- the caretaker- gives us each a good morning kiss before she leaves for the day.
~
I can't get the impending situation out of my head. We are going to have to get off the trail. Lis' Achilles tendon has been bothering her since day 3 (its day 20). She has been really tough, but now her quad starts seizing up, causing her to develop a limp. She's trying to march on, but I can see this isn't getting better, and that she can't go for much longer. We are 45 miles from the Canadian Border- 45 left, out of 272. The moment comes halfway up a hill, when she couldn't do it anymore. We both know she can't continue. It's been epic. That is for sure. Lis begins to cry, I feel a little empty, knowing we had to leave our new home. Bugs, sweat, cold, heat, exhaustion- it didn't matter anymore. That's just part of where we are. I will miss warm sleeping bags, I will miss feasting for dinner, every single night. I will miss the exhilaration of reaching a summit… Then a second and a third summit that same day. I will miss friends we made on the trail. I will miss putting on wet, cold boots.
~
We had heard from quite a few South-bounder's (those hiking the trail north to south- we were going from south to north) that the segment we had planned for today included the "hardest 5 miles on the LT." We set off up the trail. Passing Cowle's Cove Shelter, 3 miles in, we knew those 5 miles were right up ahead. After chowing down some GORP, probably enough to feed a family of four, we set off determined to finish them, and, hopefully, get about 4 miles past there to the other side of Camel's Hump. Instead of the hardest 5 miles, I would rate this some of the most beautiful terrain we had encountered yet. Surely, the walking was a little tougher, but every corner yielded stunning new scenery. We took a ladder down in to a gulley, hiked around huge boulders covered in bright green moss, and scrambled over steep rocks. Literally all of a sudden, we popped out onto the east-south-east face of Burnt Rock, and we had our first great views of northern, mountainous Vermont. We had been climbing in clouds and through forests without views for days. Even on the alpine vegetation summit of Mt. Abraham- 4006'- we were denied a view again from the fog surrounding us. The views are far and few between on the Long Trail- which fortunately does not make it any worse. Going back to the story- we just got stuck sitting there on Burnt Rock, soaking up the warming rays of sunshine, relaxing tired legs and feet for at least an hour. This moment, looking out over rural VT- watching smoke rise a thousand feet in the air from some far off cabin, cloud's shadows creep up and over mountains- served as one of the most poignant of the trip. Thinking back, I think of our time spent there. The day ends having made the summit of Camel's Hump- and hiked down its half- bald north side at sunset, watching the sun's reflection light Lake Champlain on fire.
~
Back down that hill, 4 miles down a lonely, country, dirt road we finally get a hitch. We are going to Burlington, VT- civilization. I'm going back to UVM, school for the year, and Lis is going home, from where in two weeks she will get on a plane to Australia for a year and a half. Someone jumps out of the car, and yells to us "Get in Hippies!" We shove our bags in the car, jump in and we speed away, country music blasting literally as loud as it can go. I readily accept some maker's mark and soda and a cigarette. They didn't have a destination yet, they had just been cruising, and so they went where we asked to go. Within a few minutes in this car, I feel like I had already known these people. Speeding through the countryside, windows open, this is the fastest reintroduction to society I can imagine. But I'm extremely relaxed; euphoric over the 20-day odyssey I just went through. Even though I'm off the trail now, life couldn't be better.