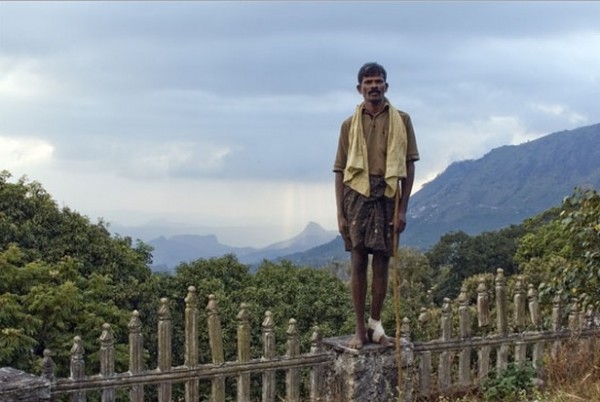 Kerala's population is the best educated in India, most working in offices or the service industries. This means that manual labourers are drawn from neighbouring states like Tamil Nadu.
We walked up a mountain track, through jungle, into the grounds of an abandoned hotel resort. Munnar's tea estates lay folded across the rumpled hills beneath us. The sun was dropping fast as the first shadows trickled through the valley. I sat on a crumbling stone wall, while Jamie set up his tripod.
A white goat ambled out of the tree line towards us. Two more appeared, followed by a raggedy man. He limped uphill, carrying a staff. One of his bare feet was wrapped in a rag. Every now and then he turned to shout across the valley.
"Mbah! Mbah!"
He climbed onto one of the chipped pedestals along the wall and continued his call. As the rest of his flock arrived, I asked Saji, our guide and driver, to find out his name.
"I am Chella Duri, I come from Tamil Nadu," translated Saji.
Why was he was bringing his goats to this spot?
"I look after my master's goats on this land. Now I call them for the night. I sleep here with them." The goats milled around us, nibbling the wall, the grass, my toes, the path, everything.
Jamie asked what was wrong with his foot.
"I broke it on a rock while climbing." We saw blood stains on the rag. Why hadn't he seen a doctor? "I earn 4000 rupees [around $70] a month. After feeding and housing my family, there is nothing left for doctor." His stoical expression betrayed no sign of pain.
As Jamie photographed him, it was Chella Duri's turn to ask the questions. Where were we from? What were we doing in India? We told him we were travelling the world by boat. At first he didn't understand, so Saji explained that we had a sailboat which was currently moored in Cochin marina. Chella Duri, who has never seen the sea, began to understand. Fixing Saji with an excited expression, he launched into rapid conversation. Saji listened, his head on one side.
"What is he saying?" said Jamie.
"He wants to know if you are interested to buy his son," said Saji.
We were confused. Then we laughed, thinking it was a joke. "He is serious. If you take his son on your boat you can feed and educate him. Then Chella Duri has enough money to get his ankle fixed and only has to worry about his wife and daughter."
I imagined teaching the boy English, showing him how to sail. We'd have to get a passport. Adoption maybe?
Jamie broke the spell.
"Tell him we are very sorry, but we cannot take his son." He handed Chella Duri the few hundred rupees we had between us. The raggedy man bowed his head, and silently accepted the gift. He rounded up his goats and we said goodbye.
Not for the first (or last) time in India, we wondered if we could have done more.
Expert