Faux Pas in the Age of Smartphones – Lessons from Taipei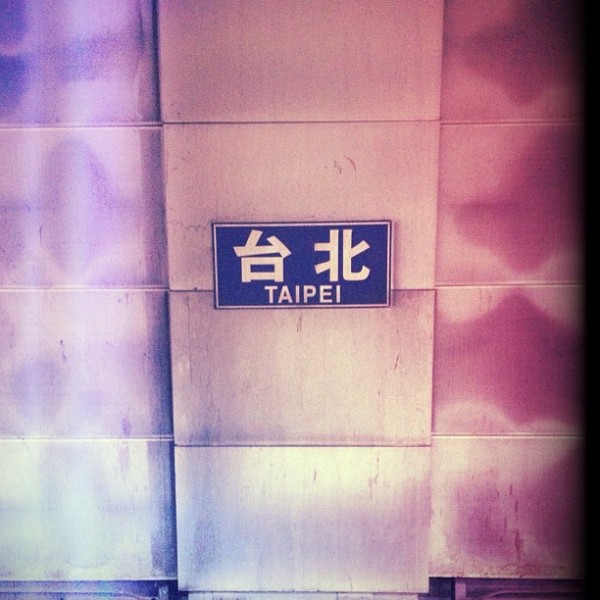 The rains of early monsoon season in Taipei season bear down in sheets, mechanically serene, torrential in a nearly spiritual way. I dart out of the hostel at 2:17 in the morning armed with shorts and flip flops, prepared with my own savoir faire against the sort of elements I'm used to – rain that whips around street corners, intimidatingly personified, crawling up clothing while it assaults from above, skeletons of umbrellas discarded like carcasses in the gutters. But this downpour is still, steady and deliberate, stimulating every sense. Gently encased, I remained untouched but for the droplets that shatter on contact with the ground, shrapnel scattering without direction, coating my flesh with a sheen fresh as sweat.
I hadn't eaten for 13 hours, my body clock entirely out of sync and bearing the equivalent of $4.60 to my name, the bills of which were rapidly absorbing the humidity. The night was empty as I flitted through puddles and winding streets in search of an ATM or register that would accept any of my foreign cards. After the fourth decline I stalled, my mind finally at that crest where defeat and panic met sarcastic, lighthearted grunts of delusional laughter. How could I have made such an amateur move to travel without cash? Travel in 2013 brings with it its own set of complexities – for every app, every wifi connection, every shortcut that makes our journeys more seamless, there are as many new things that can go wrong. This overexposure and instant access to information makes us dangerously cavalier, and these luxuries… they dull our wit if we let them.
My borrowed umbrella began to cave from the assault above, and I let any impending panic pass through me, the rhythmic rain a metronome to steady my breath. I've traveled four continents and made many of those treks solo, and yet here I was in the middle of an alien city having allowed a dangerous mix of frenzy and confidence get me hopelessly lost. Newly minted backpackers are absolute machines with their money belts and travelers' cheques and carefully organized itineraries, but when you slip into a comfortable lifestyle of travel, you can get lazy and you can get cocky. With so many issues iPhone-solvable, it's that one thing wifi can't fix that's bound to stay with you – and smartphones, online check-in, foreign language apps all do not do away with travel faux pas that have been there all along.
Hours earlier, I sprinted through the gates at Incheon International Airport and tripped a step realizing how little cash I had on me. The ATM line was damningly long, and I reassured myself that there's always one on the other side. Plus, even though I was getting in late the buses would probably still be running later, and those should be super cheap. I'd deal with currency later.
Well now it was later, and it was a "$50USD cab ride and a 'cash payment upon check-in' policy at the hostel" later at that. I balanced the umbrella with my neck, reaching for the printed map in my back pocket, the ink spidering outwards in veins as the paper grew gummy. It was then that I heard the crash of a security gate thrown open, meeting its latch with a click.
Outlines stood silhouetted in the glow of the storefront, hunched and waving animatedly, beckoning. I instinctively ran for cover, now standing at the edge of this shop filled with huge canvas bags of onions and potatoes and rice with the vertical rain at my back, licking at my heels, steam lifting off the front of my body and fleeing toward the dry warmth inside. I stalled, and it bothered me, briefly, that in 21st century travel being smart often means being suspicious of others' kindnesses.
He stood eying me quizzically but kindly, face tanned and distorted by wrinkles, crevices intensified with each smile, cut as cleanly as rice fields. She shuffled from a back kitchen with three bowls of soup and set them down. I've been in Asia long enough to understand that this gesture was not a suggestion.
So we ate in silence, only the slurps of broth drowning out the ambient rain. I began to prepare a speech in what little Korean I knew, before realizing with terrific terror that I'd been in Taiwan for hours now, and didn't know a word of Mandarin: another thing I hadn't intended. He took the lead instead.
"Where-ee?"
The word itself sang, the reverent commonality of language piercing the silence we'd respected for many minutes now. Masking discouragement, I delicately unfolded the damp seams my map, itself absolutely ruined but the scrawled hostel address somehow preserved, thankfully, at its edge. Thumbing the writing, he began to laugh.
"Days (holds up 6 fingers and gestures 'ago'.) Germans. Look for here. In rain, lost, too."
I laughed with him. This wasn't the first time German strangers have unknowingly helped me find my way. I bent to collect my umbrella, now a heap of wet nylon on the sidewalk, and as my gaze pulled up it focused on two helmets the old man clutched with either hand, one of which was held out for me.
As the old man's scooter careened through the cobblestone alleyways I struggled to strike any balance on the back, holding out the umbrella like Mary Poppins ready to take flight, shielding us from the immovable mist. Blinded, I had no idea how he could navigate through the cloudy, scratched visor, but we arrived at my hostel in no time, a few travelers sharing a cigarette in the safety of the doorframe, nodding my arrival with mumbled salutations, as if this happens all the time.
I still had no money, but thanks to 21st century travel I had options. My phone was damp with vapor, and as I wiped it off on equally damp shorts I crowd-sourced the wifi password and placed a call over Skype to the 24-hour number on my credit card. Within minutes, I was all taken care of, able to exhale the humidity congesting my chest, and joined my fellow backpackers huddled over half-full bottles of wine and room temperature local microbrews, any hint of a worry evaporated by the time my plastic cup was full and let the late night hostel banter whirr through me.
It's crazy to me how easily my situation of having-no-money-in-a-country-where-I-am-alone-and-don't-speak-a-word-of-the-language was resolved. Sure, the convenience of resolving an entirely avoidable issue cost a premium, but at no point was I ever sh*t-out-of-luck. The modern conveniences of travel are incredible, and they certainly lower the barrier to entry to the backpacker world. But do these luxuries breed a laissez-faire attitude that results in us overlooking fundamental tricks to our trade? It didn't even occur to me to check if I was visa-exempt until I was furiously Googling while in line at border control to Taiwan. (Spoiler: I was. Exempt, that is.) It's like knowing that we have easy answers at our fingertips prevents us from properly preparing for our stay in an area that actually is very, very foreign. The world is smaller and more accessible than ever, but part of the genuineness of travel and respect for our destinations can be lost in the bastions of these safety nets.
We probably will never reclaim the culture of backpacking from the pre-Smartphone days. I remember my mother's own stories of backpacking Europe: the companionship bred from the isolation of being on the road, the focus on the simple life as you learned the basics of each culture upon arrival and through the duration of your stay, slowly, steadily and organically. Simple mistakes were avoidable because by nature, you were more aware. Life didn't move at the pace it does now – for better or for worse. Now, we click away on iPads as imported Spanish wine flows into paper cups, speaking accented-English somewhere in Southeast Asia; effortless and dreamy conversation among strangers stalled by texts from home; days exploring cities marred by carefully monitored GPS and a constant search for Wifi, someone always needing to charge their phone. We travel to be free and immerse ourselves in a new place, but nowadays we're all always anchored to somewhere else.
This evolution isn't all a bad thing. The immense conveniences we're afforded in this generation of travel are absolutely staggering and open up a truly unlimited amount of opportunities. We can see and do so much more than ever before, change our plans at a moment's notice and, as I now understand very well, the be bailed out of whatever predicament with a glass of wine and a wifi connection. But we so often turn to our iPhones to travel for us, and by way we forfeit a certain sharpness and something possibly even more distressing – our curiosity. We trade savvy for ignorance, and end up alone in the pouring rain with no cash.