Notes from a volunteer's experience of the Sierra Leone Marathon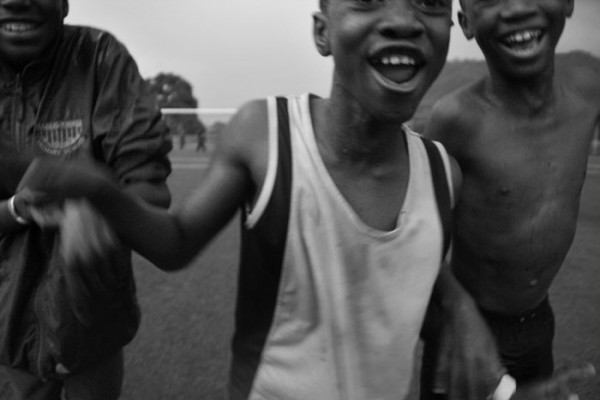 Children pose for the camera while playing football in the rain
Now there's a post-it note title!  I started my volunteer experience by contributing a couple of days a week in the 'Street Child' London office in my spare time. I was scarcely prepared for what awaited me in-country.
On the way…
Wednesday 22nd May. I sit on the Victoria line, travelling underground, to Gatwick airport. I don't know what to expect from this trip as I have never been to Africa, or to a marathon. Not only that but to a previously war torn country still feeling the effects of years of civil war (to para-phrase) and a third world economy. I'm acutely aware of how far removed this is to anywhere I have ever been and my senses heighten as a result. On the tube I can smell the girl opposite me eating her lunch, and the man stood above me chewing his peppermint gum. Which is odd because I have a terrifically awful sense of smell. This tube-line is a commute for millions every day, myself included, but today is different. Today it's a bit special because the end of the commute for me will be Sierra Leone.  It occurs to me that I am excited, scared, overwhelmed already, feeling cautious, in my element on the brink of a new adventure and also totally out of my comfort zone.
We help to get boxes of t-shirts on the plane, which I'm told will be a logistical nightmare and an opportunity for thievery and extortion when we get off at the other end. It's good to meet people who've been there before and gain more of an understanding of the place and the event.
Coming in to land- It's only 4am and still dark outside. It won't get light for a couple of hours and being so close to the equator it'll be dark again in another fifteen hours. Lights start appearing on the coast and I get a sense of how low we are. We really are here.
Day One
As soon as we arrive at our accommodation in Makeni it's go-time.
We go straight to the clinic to see the centre and get a briefing from Emma, who tells us how the next few days should pan out. So we paint signs for the race, eat chicken and rice, and take photos of kids at the centre who have come to welcome the runners. I drink about a gallon of water and stay to help erect a marquee before being called to Lewis's side (the Race Director) for my first task assisting Marie and Ches with the night-time hotel drop offs. What's a few days hard work for this cause? We're all in it together.
Day Two. Getting dressed in front of the fan this morning was the coolest I've been all day! I took note of the cultural norms and wore trousers. Finally submitting to the heat several hours later I changed in to a skirt I had packed in my bag. I make my way, by motorbike taxi, to the town hall to help with runner registration. 'Oporto!' kids shout in the street. Not because of the skirt though. Later in the day, as a bus used to take runners to village visits, waits at a petrol station, two amputee children, possibly homeless, ask the passengers for food.
'Hey friend, how you doing chum?'
They are given water, but I can't help but feel that they need more and that this was why we were here for those children who may have slipped through the net.
We spend the rest of the day running small errands and carrying out tedious but necessary tasks to help bring the event together. During race registration I get talking to a guy called Jon from Kono, who runs a similar charity to Street Child, in fact working in conjunction to each other. He tells me that through his work he has formed a football team made entirely of boys that he helps called Everton FC Kono. A lot of youth football teams here apply for funding from their Premier League namesakes. Some, but not all, succeed in gaining kits, footballs, visits to the clubs in their home countries and in the case of Manchester City FC in SIerra Leone, a mini bus.
We leave a huge call-drop to runners to visit the amputee football match, which is incredible. Watching grown men play with only one leg and such speed and control…it felt very humbling. They play internationally and are the national team. I'm looking forward to seeing them run in the 5km race on Sunday.
I'm becoming progressively immersed with how different (surprise, surprise) life is here. The tiniest things like brushing your teeth or flushing the toilet is much more involved than turning a tap or pressing a button. This is a fact that's enforced when you consider that countries nearby are much more developed, simply because they have the economy to do so. I think of my generation in this country, and generations above, and the penny drops that they are all survivors of that horrendous war. The sun-sets over Makeni, poignantly highlighting that so much suffering took place in such a beautiful setting. I feel very unlearned about it all, which is something I'd like to change. I also feel very lucky.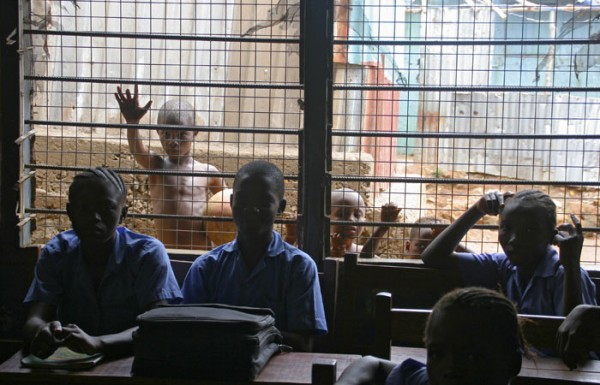 Gazing in to a classroom in Freetown
Day Three. Marathon Eve
I start the day with a coffee and an interview with Ahmed, a social worker for street child based in Makeni. The previous night, he and some other workers took us on a night 'recky' of the area where kids are living rough, or young girls wonder the streets as call-girls. His words on the problem highlight the social, cultural, economical and political levels of having so many displaced children without homes, an education or anyone to guide them. He reflects on me the impact of street child and exactly how it helps the problem- ultimately it seems that there is only so much that a charity can do and there are many other factors that contribute to the success or failure of a venture such as this. Be that as it may, he made it clear the importance of trying to strive for a better future for the sake of everyone, however great or small the outcome.
All hands on deck for the rest of the day in all areas. Registration was mental. We spent 11 hours registering new people and ran out of a Lot of stuff. That's got to be a good thing- that we had an unprecedented amount of people wanting to sign up, so the event must be growing, which will generate lots more fundraising! It also gave me a chance to meet a lot of locals. I've noticed in the last couple of days, that being a volunteer has almost forced me to absorb more of the culture and put me in a greater position to meet local people compared to if I was travelling to a country on my own.
Day Four. Race day!
Up at 2.45 am! Started work at 4 am to finish off the registration, then set about taking photographs. It was an amazing day, getting to document the excitement for the start of the race, seeing people 'come together' and a really big turn out, sitting in one spot and photographing the president, the winner, everyone who ran and anything in between. Certainly an opportunity I'll never forget and be thankful that I got to do it.
The morning began with a nice cool temperature that I'm sure the runners were happy for. Everyone who crossed the line was smiling, got their AML sponsored medal and some water. The great surprise for the day was the President running in the 5km run, of which no one apart from the team knew. It was fantastic to have his support for the cause. By about ten thirty am the heat started to unfold properly, and as I changed positions and angles at the finish line, sweat beads were forming on y brow and the back of my neck and I began to feel sorry for the remaining runners slogging it out on the course. Not only were they running a huge distance, they were doing it on varying terrain in great humidity and under a burning sun. Suddenly running the London marathon. Seemed far more achievable than usual.
During the pack down, lots of local children and teenagers remained to watch and talk to us. I made yet more friends and bumped in to others at the festival. Bands, stalls, BBQ and some well deserved beers for everyone made it a really nice round up. The storm that lasted for an hour turned out to be a blessing for me as i got to take even more photographs of young boys playing football in the rain with runners and volunteers. Africa shoves itself up your nose, in to your ears, through your eyes and around your mouth. It's a very visceral place and none more exemplary of this was when I went out with my umbrella to protect my camera and snapped the children, who were a joy to photograph. 'Snap me! Snap me!' they jumped at me, desperate to be captured in my little picture box.
There was no shyness about them, only excitement. It was an amazing feeling for me to be able to do that and capture everyone having such a good time- the epitome of what we were doing out there.
Day Five
A write-off because of the rain. It felt like after Christmas, and the rain remind us how tired we were. We travelled to Freetown, a place brimming with markets, friendly locals and salesmen and street vendors, lacking in street lighting and unfortunately rich in danger, slums and street children.
Day Six. The last day
Today was the pinnacle of any emotional experience out here. Nothing I have seen yet touched me as much as visiting a slum. And one point that really sticks in my mind is that it was a visit. I wasn't there for long, I was able to leave, and I didn't have to stay or live there. We were taken out by 'Future for children', who work with Street Child towards the same purpose, only they are based in Freetown. They broke the process of dealing with children in slums down. There are several slums in Freetown, the figure resting at about ten. There are hundreds upon hundreds of child's and families living in just any one of these slums. Out of these hundreds of slums they have to narrow down the search to the truly homeless, destitute and desperate children that need the support of these NGOs because they have nothing and no one else to help. And the numbers for these run in the hundreds. After that the social workers for the NGOs have to find out who is the most vulnerable out of these figures, as if you could, and about a handful of those can then be given the opportunity to turn things around. The reason being lack of funding, if you don't have a resource, you can't share it around. And even then that Child may drop out of the programme to rejoin the strong bonds created with their friends, who are street children and who have become their family. Once reunited with a family member, if this is possible, relations and school attendance need to be monitored.
The rubbish strewn everywhere creating walls, river-banks and floors around the slum was surprisingly lacking in smell. Structures were made out of corrugated metal and wooden framing, most places didn't have complete walls or roofs, the alleys run in to each other, almost touching like a hamster run. Women do washing in the rivers and the sea, and children sell small items of food like mangos from large bowls and trays balanced on their heads. We went to two schools in the slum, both small and run by dedicated teachers. Whether a school is in a slum or not the same fact remains: education has to be paid for, and here there is no state funded education or medical provision. When the floods come in the rainy season, people are forced to sleep on top of their homes. Cholera and typhoid break out regularly and the charity workers are unable to enter the flooded slums to help. Poverty on this scale is hard to quantify and where do you start when you try to do this? This is what the social workers deal with every day of their lives and how the poor in Sierra Leone live day in day out. There is no escaping unless a hand is given, a light to a new path in the darkness of Freetown's unlit streets.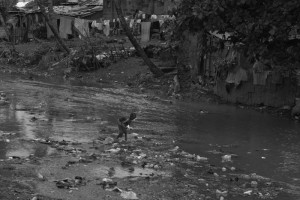 After seeing all of this I felt shell shocked and emotionally drained. The dangers of living this way  seemed so much more real when I saw them happening only feet away instead of in a photograph or newspaper. I only hope that some of this seems real to someone else. I came away from the slums wondering how you help such a scale of poverty. How also do you differentiate between one poor child in need of help, love and a future and the next one who is similarly in need? Dealing with this is so much more than a case of throwing money at a problem. That alone makes me respect the effort put in to this mammoth task by the charities, social workers and volunteers involved at this and any level. That is why there was a marathon, why there is Street Child.
It takes so much work, dedication, passion, time and community input to 'solve' these kinds of problems. The only way Sierra Leone can have a
happy future is if the kids, the future rulers, workers, parents, etc are given the opportunity to turn their lives around and that of the country. If they don't have the guidance of parents, guardians, friends, teachers or anyone how will they turn out?
Expert