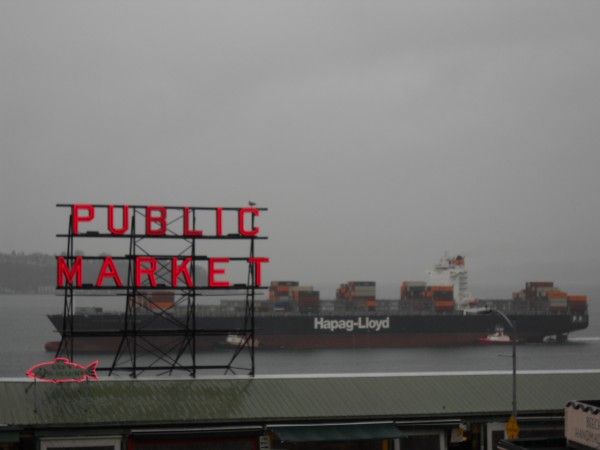 SEATTLE – RAIN (and/or) Shine
I've lived in Seattle pretty much all my life. Oh, there have been brief spells down south, back east, and lots of time out of country, but I still call Seattle home. In between trips to Africa, Asia, Europe and the South Pacific, I returned home to watch First through Fourth Avenues descend from affluent department stores and upscale flash, to empty store fronts, skid row peep shows and pawn shops. I've watched the city core climb back towards consumer-friendly affluence, with multiple Starbucks on every block. I've watched the downtown waterfront transition from working warehouses to tourist row, cruise ship-central, and scenic lofts for the upwardly mobile.
And now, from spring through winter, downtown Seattle is the place to be. For travelers with a day on either side of flights out of SeaTac International, or those waiting for, or returning from a cruise ship vacation, or professionals attending conferences, seminars or business meetings, Seattle awaits to be seen (or seen again).
On a nice day we're talking shorts and sandals. On the more common overcast and drizzly day, we might be talking windbreakers or light sweaters, and on the coldest of winters, something warmer and waterproof. Well, you'll just have to dress accordingly, but regardless of weather, if your hotel is between Battery Street and Cherry, and between Sixth Avenue and the Waterfront, walk to First Avenue, head for the Pike Place Market, and allow for at least two hours. If you are staying a bit farther afield talk to the concierge for directions, and consider a cab.
Up on the crest above the Pike Place Market survey the scenic expanse from the grain terminal to the ferry terminal, north to the Space Needle and south to Pioneer Square. It takes a solid weekend to scratch the surface – and unfortunately, that barely leaves room for China Town (I still can't bring myself to call it the International District). The Pike Place Market campus sprawls over nine largely roofed acres—shops, restaurants, souvenir stands, butcher shops, fish markets, and watering holes. Just across the lane, explore nooks and crannies that evoke the back allies of old Singapore, showcasing cottage industry products ranging from homemade cheeses and savory pastries to moose steak and interesting takes on the otherwise ubiquitous smoked salmon.
Start bright and early – shortly after eight o'clock things begin to bustle, by nine o'clock – they're almost into full cry, and by 10 a.m. the Market is open for business. It's all there – newspapers and magazines from across the globe, tables and tables (and tables) of flowers, produce, and iced trays of spectacular sea food.
Access to the Athena restaurant can be daunting closer to lunch, but for a late breakfast or leisurely brunch – head upstairs for waterfront views. Roll up your sleeves for a hearty Pacific Northwest take on epicurean classics – Salmon or crabcake Benedict or the Seattle Fritata – served up with generous portions of smoked salmon and huge sides of hash browns and fresh toast. Order up the decidedly gusty Bloody Mary, with a tree-trunk-sized celery chunk and proprietary (and peppery) Mary mix – or try the "Clammy Mammy."
This is Seattle, rain or shine and if it's really pouring out (which happens with monotonous regularity), stick to the labyrinthine nine-acre, mostly-covered campus until things lighten up a bit. Three floors of wine shops, restaurants and sundries – every corner offers unique rewards and it's hard to escape as you head south (and down hill) without sampling the wares of the Pike Place Brewery (and their Kilt-lifter Ale).
Half-way down the hill, find the stair case down to the waterfront, and Ivar's Acres of Clams, the iconic Ye Old Curiosity Shop, sight seeing trips, the enormous Ferris Wheel and Coleman Docks ferry terminal. Or stay on First Avenue, walk a few more paces south and downhill, and to the left see the kinetic Hammering Man sculpture and the Seattle Art Museum.
If you are still on First Avenue, keep heading south and take a break in the Alexis hotel and the Library/Book Store cocktail lounge with over 100 bottles of whiskeys displayed up and down the bar. Or head right across the sky bridge to the ferry terminal and consider a round trip to Bremerton or Bainbridge Island – both worth exploring for and of themselves but the ferry ride itself (a hour or 30 minutes respectively) is worth the time.
Not up for a ferry ride? Keep going (if you've got the energy) and take a well-deserved break on a park bench in Pioneer Square – and if you've really got the energy, wind your way left past the sports arenas and find China Town – or take a cab – or – save it for the next day.
The obvious caveats remain in play. For late afternoon or evening sights and experiences, know that Seattle is a big city, and like all big cities, there is an unsavory element that preys upon the naïve. Stay aware of your surroundings, travel in pairs when possible and stick to the beaten paths.
Expert