Live Music in Salvador (of the affordable, funky variety)

http://matadornetwork.com/community/michelles/live-music-in-salvador-of-the-affordable-funky-variety/attachment/5/

http://matadornetwork.com/community/michelles/live-music-in-salvador-of-the-affordable-funky-variety/attachment/6/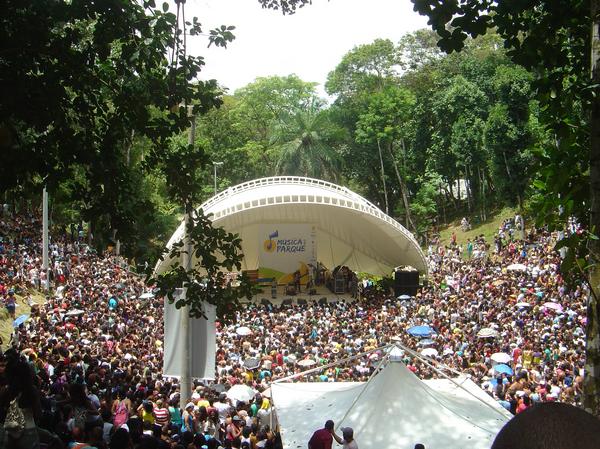 http://matadornetwork.com/community/michelles/live-music-in-salvador-of-the-affordable-funky-variety/attachment/7/
I tend to judge a new city heavily on two criteria: music and food. So it's no surprise (at least to me!) that Salvador, Brazil is pretty much my favorite place in the world.
While São Paolo is the industrial capital of Brazil, and Rio is probably the most popular tourist destination, most Brazilians admit that the heart and soul of Brazilian music comes from Salvador, Bahia. It's the home of samba reggae, Olodum, Ilê Aiyê, Daniela Mercury, Gilberto Gil, and countless other amazing musicians. Carnaval in Rio is certainly a spectacle, but there is something more raw, more amazing…more Brazil about Carnaval in Salvador. And while Rio and São Paolo might attract more international artists, hardly a week goes by in Salvador without at least a few great concerts.
Like most places, it can get expensive to see some of the more popular groups, although the sheer uniqueness of some of these events can be worth the price. For example, a few years ago Céu, a singer from São Paolo, did a show at the Concha Acústica (outside stage) of Castro Alves theater. Not the cheapest concert, but well worth it; not only is the Concha Acústica one of the coolest music venues there is, Céu and her band were absolutely phenomenal.
But Salvador is full of too many people that want nothing more than to see some great, live samba not to have some cheap, if not free, music venues as well! For example, there's no better way to spend a Saturday night in Bahia then at Solar de União. For R$2, you can enjoy the sunset right on the water in Barra while listening to some great live music. While some local musicians make regular appearances, it's an open jam, and mostly concentrates on jazz and more traditional Brazilian music. Beer, acarajé, and a variety of other food is available for street vendor prices.
Another fantastic regular event is Música no Parque, typically every other Sunday in the Parque da Cidade across from Shopping Itaigara. The stage is amazing, and the event is completely free! The crowd can sit on the stadium-style concrete steps in front of the stage, or lounge under the trees on the steep hill surrounding it. My husband and I were lucky enough to see Ilê Aiyê, Vania Abreu, Chico César, and Mariene de Castro here, among others. Every week the park was packed with people looking to spend their Sunday drinking beer or coconut water, hanging out with friends, and listening to some great music. During the Mariene de Castro show it started to rain, but that didn't stop anyone's fun. Before long the park was filled with soaking wet Brazilians, dancing and slipping in the mud, singing along with Mariene at the top of their lungs.
Salvador isn't necessarily a city that major international artists include on their world tours, but that doesn't mean great live music is hard to come by!