Love market of Khau Vai in Thai Nguyen province, Vietnam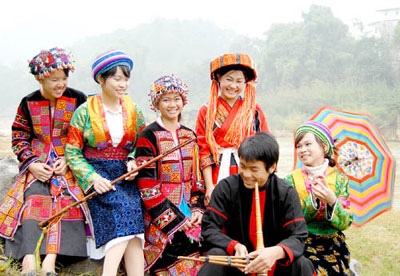 Every year, Love Market is organized in Khau Vai Commune, Meo Vac District on the 27th day of the third lunar month. On that day, a young couple has their story told by a local myth. They come from different tribes and love each other very much. The girl was said to be very pretty; therefore, she wasn't allowed to marry with the boy. As a result, there was a serious conflict happened between the two tribes. In fact, there was a fight took place after that. Finally, in order to prevent two tribes from going on fighting each other, the young couple said goodbye together, but they still promise to meet on that day every year. And Khau Vai used to be their meeting place. Since then, it became a place for lovers to meet each other.
Originally, people coming to the Love Market just want to find their love. There were no sellers or buyers at all. If they met their ex-boyfriend or girlfriend again, they would talk much with him or her. If they didn't, they would get acquainted with strange people. At that time, they brought food with them to enjoy together with their partners.
Usually, to get ready for the Love Market, people came to Khau Vai earlier one day. This was exciting time for all people to find their love; thus, they went to the market eagerly. All people would search for their friend actively. The person who found their lover would make plan for the wedding. On the other hand, people who didn't still find their love would return the market next year. Nowadays, besides love, people also come to the Love Market to buy and sell goods.