I have read a lot of travel blogs, books, articles and watched plenty of travel shows and the one thing I cannot seem to find anywhere is a clear path to how these nomads went from little savings and a cubicle job to globetrotting the world. Their exotic stories in far flung destinations are incredible but when they backtrack to the planning phase of their trips, the details tend to get muddied.
All of the travel books lay out a formula for long-term travel:
Saving money, living frugally (timing ranging anywhere from a year to five) + extensive trip planning=a long-term trip somewhere amazing. 
With this formula all the books seem to say, "That's it!" As though the reader can click their heels together, throw a pin on a map and fly the very next day.
Perhaps it is as easy as they say but I have yet to find a travel story that doesn't jump straight to the destination but allows me to tag along on the journey and follow as someone works towards that sought after long-term travel.
At 26 years old I have somehow managed to end up in New York City, engaged to a handsome Frenchman and working at a great media agency. In the years since I've graduated college my life has unfolded unpredictably and with it so have I. I have changed, grown and evolved in the years since college but the one constant has been my insatiable appetite for dreams.
True to form, my latest dream is to save up and take time off to travel the world long-term before 30. The 'grand plan' is that my fiance and I will travel the world in between leaving New York City and heading to whatever city we plan to grow "roots" in.
This past Christmas I was given a framed National Geographic map with a quote inscribed across the bottom reading "to travel is to live." I was thrilled to hang my map up and start pinning the places I've been in my 26 years of existence. Admittedly, I have had the pleasure of exploring some beautiful places but as proud as pinning my travels made me, it also made me acutely aware of how much I have left to see.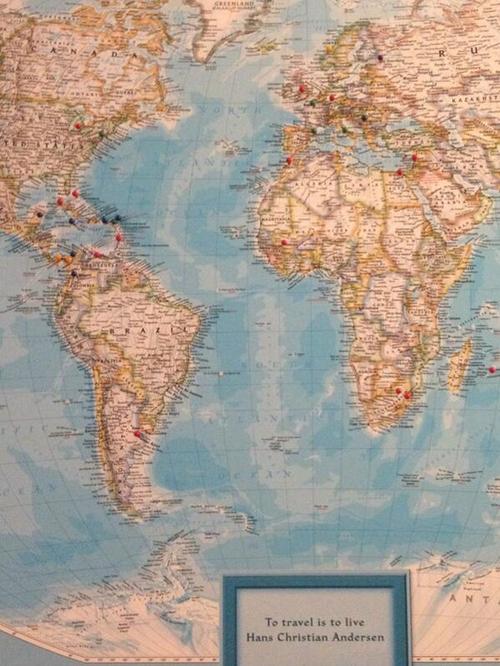 What I've realized is that other people might be wondering how travelers get from point A (9-5 hours, bills and rent) to point B (waking up in a hammock in Indonesia). I have no intention on being a hermit crab for the next 3 years in an effort to save money, nor do I want to watch this dream be relegated to a shoebox of unfulfilled wishes. And so, my 'Pin the Map Project' is born.
Every week I will write about the journey of going from a media professional working in a cubicle in Manhattan to a long-term traveler with an unknown destination. You can follow my progress and other travel adventures here: http://pinthemapproject.tumblr.com/
Wish me luck.
Expert