Taman Negara (Malaysia): Mosquitoes, Leeches, and salt
What do mosquitoes, leeches, and salt have in common? Simple, experience all 3 after rain on any of Taman Negara's jungle treks. Mosquitoes in a jungle are a given, as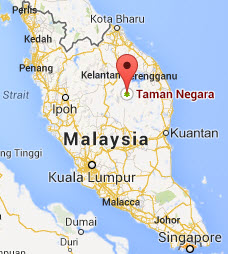 are leeches, but especially abundant after rain, which we had a deluge of the previous night before our trek. The salt is to sprinkle over a leech should one of these blood-sucking slimy slugs wish to use you as a free host until finally discarding you and dropping off! Leeches rise up like spindly rope-like forms from a path, tree, or wherever they're hiding, to sniff any passer-by's blood; eerie to watch. Considering these jungle walks are more like moderate treks and parts of the walking paths become little less than a mountain goat track, clambering over slippery tree roots and mud, then you're bound to pick up one of these free-loaders on your hands, ankles, under a s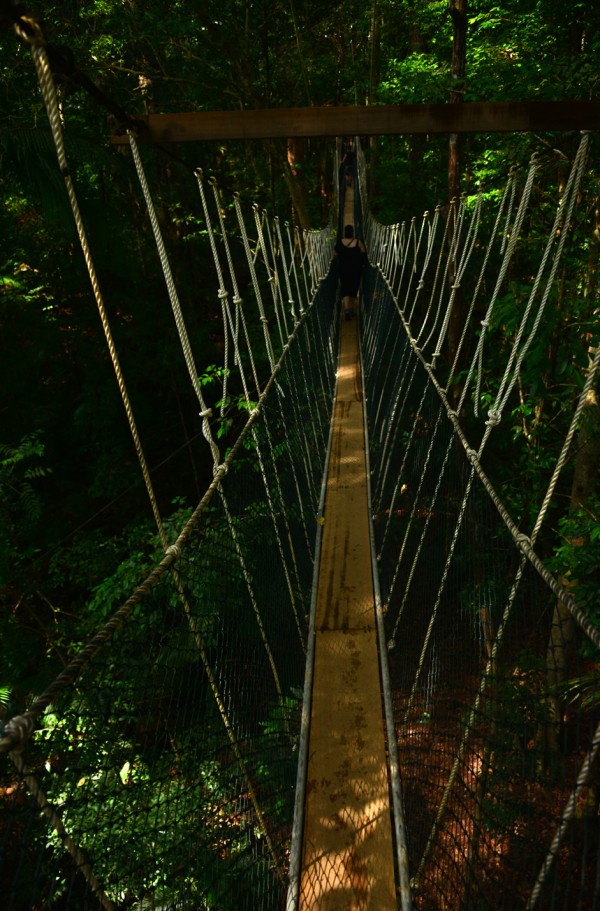 hirt, etc. Apart from these nuisances, the treks offer amazing lush scenery, and unique jungle music. What more could one ask for?
You can also do a spectacular Canopy Walk (RM5), which involves walking 45mts above the jungle canopy on a netted planked bridge for about 550mts. This offers not only a different vista of the jungle but an adrenalin rush in places; if you're not good with heights, or walking on swaying bridges, then this may not be for you. Other jungle activities include swimming holes, night jungle trips, camping overnight or on 9-day treks, fishing, boat rides up the river, rapids, visiting an Asli (Aboriginal) village, and much more.
Taman Negara National Park Permits
The one-time fee to enter the park is RM1 plus RM5 for each camera you take in and this can be paid at the Park Ranger Office or if you travel up the river by boat, purchase both at Taman Tembeling. You receive a "Photographic License" for each camera and a "Park Permit" for each person, so ensure to carry these with you whenever y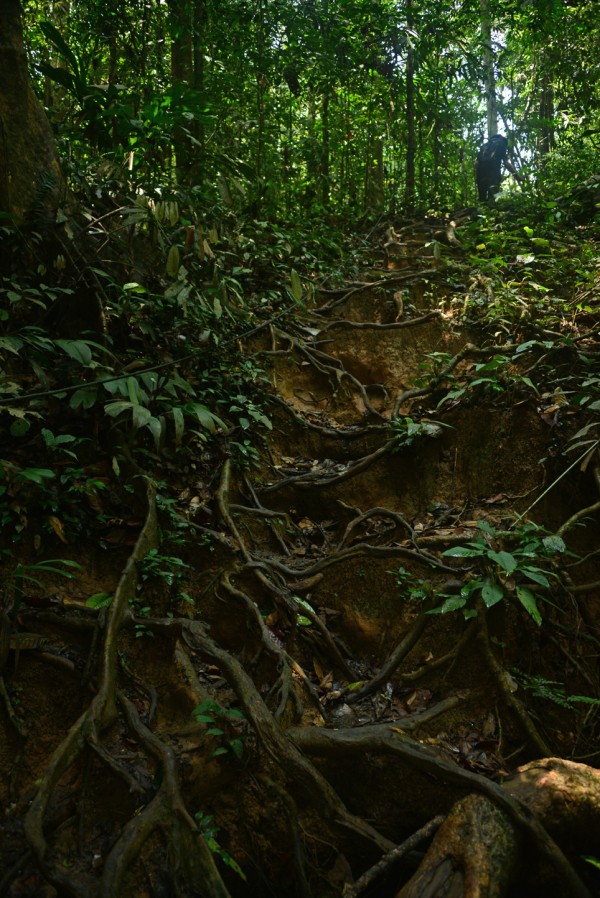 ou enter the park (even on treks) as potentially, it is a RM20,000 fine or 3 years' imprisonment!
Treks
Ask the ranger at the office for a map, which shows estimated KMs for each trek and Hides (crude sleepover shelters). Take note, that distances are not always correct and always allow more time than the map states. Keep an eye out for small square yellow (infrequent) markers nailed to trees, which denotes a path.
A few treks:
Bukit Terisek – continue from the Canopy Walk (approx. 1.5km from the office) to reach Bukit Terisek, which is a further kilometre straight up a hill matted with tree roots, vines, etc. The occasional rope is in place to help you up steep slippery rocks/areas (moderate to hard trek). When you reach the view point, it's a further 2KMs back down the other side to the base (approx. 6KMs including the Canopy Walk).
Lubok Lesong – after reaching Bumbun Cegar Anjing (Hide), Lubok Lesong was nowhere to be found. The path was overgrown and markers were missing. Ended up doing about 8KMs that day but not a straight easy path (moderate trek).
Bukit Indah – about 7KMs round trek (easy to moderate trek), some scrambling over tree roots but pleasant. You can stop off at the river to cool down.
Take plenty of water (and snacks); it's like a sweat bath trekking in this region. Your clothes will be wringing wet and reek following one of these treks. Even the roughest of backpacker will wear their trekking clothes only the once! Wear proper shoes (not sandals), long pants tucked into your socks (helps keep leeches out), and long sleeves/T-Shirt; and don't forget the salt!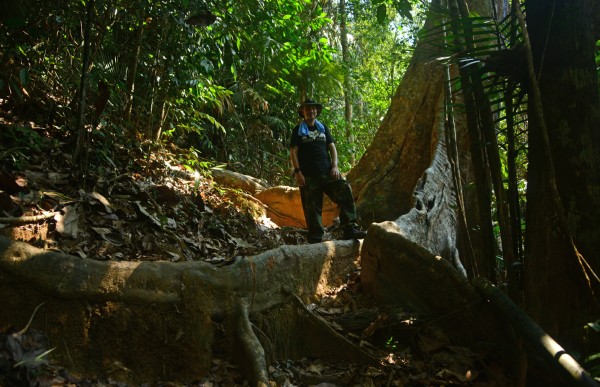 Travel
Apart from direct buses from many places in Malaysia, you can travel the more challenging and picturesque way of a 3-hour river boat trip from Kuala Tembeling (RM35), on hard timber seats topped with miniscule padding, which ensures your butt is quite sore by the trip's end. You won't be disappointed with the river scenery through the jungle and even spotted river Otters (or exceedingly large rats).
Accommodation
After trawling through many really bad reviews on Trip Advisor about accommodation in Taman Negara (expensive and below average), the Woodlands Resort (RM168,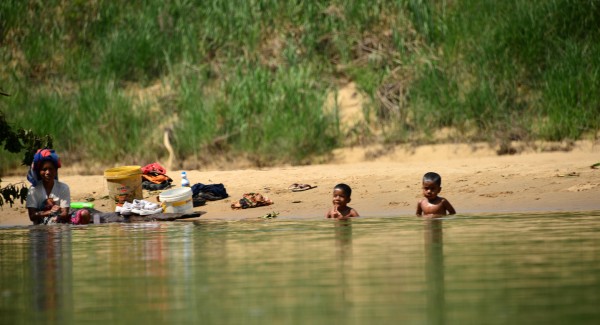 Dbl+bathroom) was a welcomed surprise. The room was clean and large with plenty of bench/table space for big packs; a writing desk and wardrobe with dresser. Hot and cold water is included and Wifi near reception. The air-con worked and rooms cleaned daily, including fresh towels. Very friendly staff and there's a limited-hour restaurant with reasonably priced and good Malay food. Breakfast is included in the room's price, which is help-yourself coffee, tea, orange cordial, toast (butter, jam, caramel spread) but then the surprise is a choice of Mee Goreng or Nasi Goreng (depending on the day) with scrambled eggs, and some fruit (scrambled eggs & Baked Beans if you're a westerner and don't ask for the Malay dish). Dorm beds in town are RM10/night or cheaper, but some of these looked quite "rustic" and grotty…I'm sure there are others around. If you're not staying at the expensive Mutiara Resort in the park, you will stay in Kuala Tehan (across river from park), which is a RM1 boat ride each way and only takes a few minutes.
Food
Apart from the expensive floating restaurants along the river, the Tembeling River View Guest House serves decent food at decent prices. Many restaurants make it a point of including "Western Choices" on their menus. Of course, the further from the riverfront you walk, the cheaper the prices for food. For early risers (and if your abode doesn't include breakfa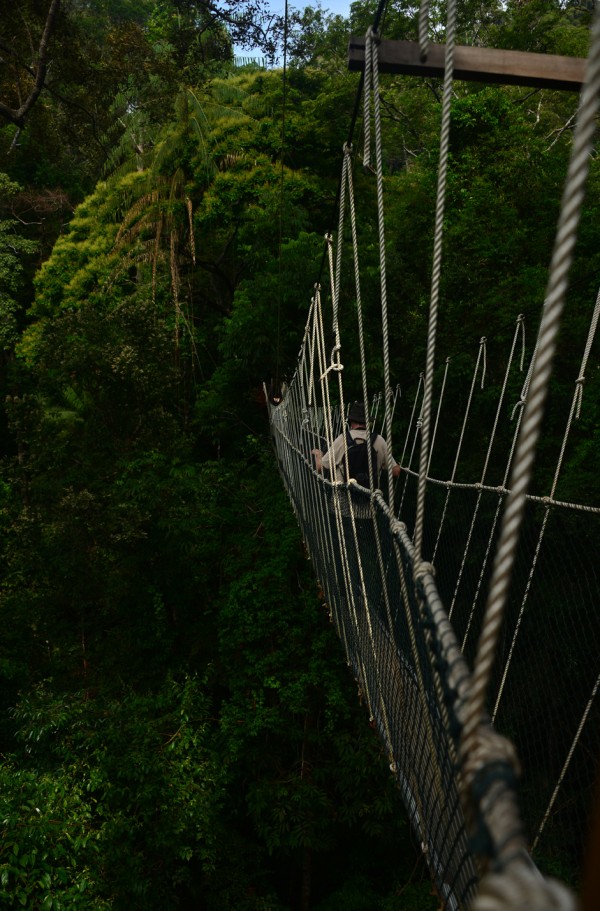 st), you can eat cheap and delicious street food in the town where many women set up little stalls with homemade curry puffs, Nasi Lemak, and much more.
If you're missing alcohol (none served in the town's restaurants), then take a cross-river ferry (RM1) to the Mutiara Resort, which serves alcohol at exorbitant prices!
Cash
Make sure you bring more cash than you need as this town lacks Money Changers and ATMs; after all, it is in the middle of the jungle. The closest ATM is 18kms away in Tembeling (where you pick up the river boat for Taman Negara) or 1.75 hours from Taman Negara. If you decide to do paid activities, then you'll be up for RM25-60/activity, which quickly burns through your cash. Obvious, but remember to leave enough cash for the bus/boat ride to your next destination.
Thoughts
Spending 5 days in Taman Negara, one can't help but notice the vibe of the town, travellers, and the locals. Unless doing the more extended jungle treks, most travellers seem to arrive in this laid-back but busy town in the afternoon, do the Canopy Walk the next day, then leave at sparrow-fart, the following morning. Maybe when people only have 2 weeks holiday, there's an urgency to see and do as much as possible, cramming everything into a fleeting moment. Perhaps if time is an issue, then concentrate on one or two areas only and at least savour what a region has to offer; not just mark a place off your checklist. These same people appear to be miserable with locals and other travellers; no smiles and quite arrogant. If I've learnt one valuable lesson over the 25+ years of exploring the world, is to at least learn a few local words or phrases of wherever you're travelling to as you will be better-received by and have a laugh with the locals, enjoying a richer experience!