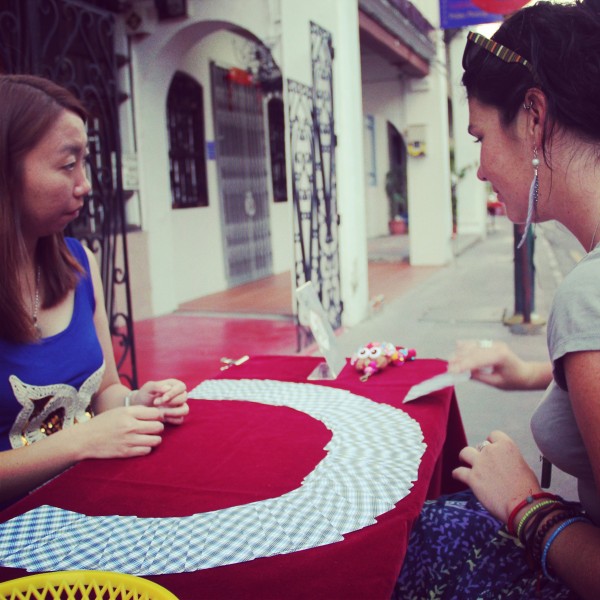 A lover once exclaimed, in reference to my wanderlust, "You can't live your life on vacation!" I'm not sure it occurred to him that my travels are more of a vision quest, and that my roughly calculated steps, which come in the form of countries and cultures, are propelled by whispers of my subconscious.  When I feel inspired or provoked by a picture or a story, I surrender to the flow, aware that its energy is speaking to something deep inside me. As I enter this next phase of life, also called my mid-twenties, Earth spinning, constellations shifting, I embrace my confusion and choppy clarity as part of the process, as keys that unlock the secrets of my future, and maybe of my past.
I walk into a bookstore in Penang, Malaysia and find myself drawn to a book on palm reading that's displayed on the shelf. If our palms, like a whale shark's spots or humpback's tail, are unique and divine designs designated to specific souls, do they have the power to reveal something more?  I hold up the book and ask the bookstore owner if there was anyone in the area who knows about this sort of thing. "No, but there's an Indian astrologer who has an office upstairs," she says. What are the chances? I climb the stairs of the unmarked building and knock on an inconspicuous door. A short dark skinned Indian answers. He speaks little English, I arrange for the bookstore owner to translate, hand over my date and time of birth, and schedule to return in two days for our appointment.
We meet at the book store, so the shop keeper can translate while still tending to customers, and we crouch on boxes amidst stacks of books on the ground. The tiny man opens a small notebook, revealing a grid filled with characters and symbols. He uses his pinky to point from square to square, calculating to himself, wobbling his head before he speaks. "Have you a plan to start a business? Or open a shop?" Well, off to a good start, as a main goal of my trip was to decide if a business idea I had had any chance of success. The anthropologist in me, however, reads into the situation–knowing Indians are notorious for being entrepreneurs, his shot isn't too far in the dark for most. He continues, touching on love, career, health, and family, moving his pinky and making more calculations before continuing from one topic to the next.  Do I believe what he says? Is it a coincidence that his prophecies parallel what the medium told me months ago AND with what the tarot card reader, who I randomly met the day before, told me?  I'm a young female far from home, so it's safe to assume I hold certain characteristics to have put myself in that place, but all three detailed my recent past, patterns of love and money, specifics that had the hair on my arms sticking up and my eyes lightly wet from awe.
"You can go ahead with any plans you have, your fortune is good. Don't fear any emotional or financial investment. The hard part is behind you," he said, "Your star has now shifted and in the year ahead you will shine brighter than you ever have." It was the Chinese New Year, the year the galliant and galloping horse comes in. Aside from calling on specifics of my past, and making predictions of my future, his advice was general, but advice worth heeding nonetheless. "Your past life was a difficult one, so in this life you will succeed at anything you take on," he says. I move my attention from the translator to the astologer, who is still bobbling his head like, well, the popular dashboard figurine.
At the mention of past lives my memory begins to sift through strange experiences, of meeting people for the first time that I'd met before, of being in places I'd never been but been before, and of vivid dreams of scenes and meetings that've come to take on flesh. I recall the image of a woman whose picture I had seen hung up in Cambodia's Tuol Sleng prison, a woman I shared many facial features with, maybe a body on consignment. I recount the medium's accurate physical description of my grandparents, quoting things they'd said to me before passing. Then I looked at my fingers, the intricate swirls and waves of my fingerprints, a design I share with no one else, like a cheetah to its spots, a zebra to its stripes, a butterfly to its wings.
I don't know when this vision quest started, maybe across lifetimes, maybe when I gained spiritual awareness, or maybe when I stepped on that plane four months ago. What I do know? There have been far too many coincidences, too many parallels, too many word-for-word statements repeated by people with no relation, people, questionable spirit guides, whose words are accompanied by eye contact that lingers like they're speaking to a deeper me.
Friends ask me, "Do you really believe in that kind of stuff? Fortune tellers?"
Maybe so, maybe not, but one thing is for sure– I share these fingerprints with no one else, and the stars guide whales, and the sun reaps harvests, and the moon, as far away as it is, makes waves. So maybe it isn't such a far off thought. Will I know when the vision quest is over? No, but I know that relationship sure had to end.