Where to Ski in Chile: The Best Destinations for the Ski Season 2012.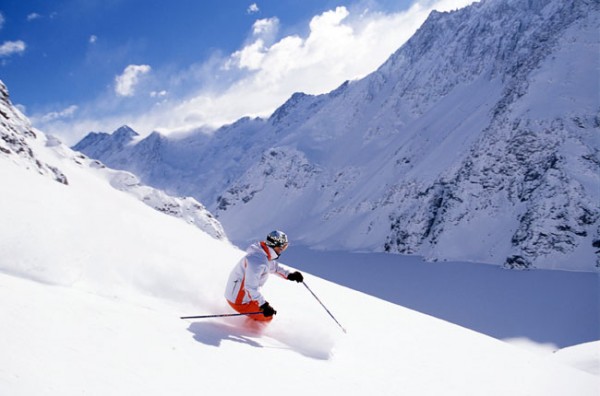 There is no doubt about it. Chile is a privileged country that offers unique alternatives for ski lovers. With an over 3000 km long mountain range, there are plenty of opportunities where to ski in Chile, with various alternatives for all levels of skiers. That's why GoChile gives you the most complete guide with the best destinations for theski season 2012, for you to choose what bests suits your needs and expectations.
Before checking the destinations, we suggest you to visit our ski guide to find a brief summary on the different styles you can practice in Chile, and thus have them in mind when reading our recommendations.
Ski Centers in Chile
From the regions of Valparaíso to Magallanes, Chile boasts ski centers that position it as one of the best ski destinations in the world, a reputation that is confirmed by powerful arguments: quality trails, world class infrastructure, scenic beauty, complementary activities, good roads and accesses, and proximity to urban centers.
In Chile's central area you can go skiing in: Portillo, Farellones-El Colorado, La Parva, Valle Nevado,Lagunillas and Chapa Verde. The ski centers in the southern area are: Nevados de Chillán, Antuco, Las Araucarias, Pucón, and Antillanca, and further south, in the Austral area you will find the ski centers of Cerro El Fraile, and Cerro Mirador.
Let's go step by step:
CENTRAL AREA
Portillo
Located 150 kms away from Santiago, Portillo is one of the most beautiful and prestigious ski centers in Chile, and the oldest in South America. Amongst its attributes you can find a cutting-edge snow making machine, Del Inca Lagoon, and a number of trails which are suitable for all skiers.
The center is equipped with platter, chair, and 'va et vient' lifts, which will take you to the center's excellent trails. Apart from traditional skiing, you can also enjoy other varieties like heliski and snowboard. Furthermore, Del Inca Lagoon is an excellent place for ice skating.
If you are concerned about accommodation, the center has Portillo Hotel, with great quality services, including a heated pool, gym, sauna, restaurants, nursery, transfers, theater, gaming room, and ski school, amongst others.
Farellones/ El Colorado
Farellones and El Colorado form a tourist complex that integrates services and entertainment options that go beyond what most ski centers offer. It's the closest center to Santiago, located only 40 kms away from the city.
Its 19 lifts cover 22 trails with different difficulty levels, but they can also take you to the summit of Colorado Hillto descend its steep slopes.
Both centers have a varied hotel offer, the main ones being Colorado Apart Hotel and Posada Farellones. The latter is one of the oldest ski hotels in Santiago, inaugurated in the 1940s. There are also restaurants, cafeterias, discotheques, transfers, a clinic, ski lessons and so forth.
La Parva
50 kms away from Santiago, La Parva is set right next door to El Colorado Ski Center. It has 14 platter and chair lifts distributed amongst 30 trails for skiers of all levels. Snowboarding and heliskiing are also available for those who like these 'more extreme' varieties.
In Villa La Parva you can find a variety of services like accommodation, restaurants, ski rental, ski school, bar, transfers, cafeteria, discotheque, clinic, and parking lot.
Valle Nevado
Located 60 kms away from Santiago, and also a close neighbor to the two centers above, Valle Nevado is the newest ski center in the central area (inaugurated 1988) and the largest in the country. Its infrastructure and diversity make it a competitive option even compared with the most modern centers in the world.
Valle Nevado has 9 lifts and also a 'baby' lift, distributed amongst its 27 trails, covering a skiable area of 31km2. There are also areas for sports like heliskiing and helisurf, motorbike and sledge trips, paragliding, and snowboarding.
It also has three hotels (five, four, and three stars), seven international cuisine restaurants, a shopping mall, an arts centre, bars, pub, discotheque, heated pool, transfers, gym, nursery, and a ski school offering private and group lessons.
Tip: The sum of the skiable areas in Farellones-el Colorado, La Parva, and Valle Nevado, make up the largest skiable area in South America, letting you go  from one center to the other, and enjoy 102 different trails for the price of just one ticket.
Lagunillas
Located 17 kms northeast of San José de Maipo and 67 from Santiago, Lagunillas Ski Center is much smaller than the other ski centers in the area, but it has a much more tranquil and familiar environment. It has three platter lifts and three trails: La Lola, Pancho, and Novicios. It also has the refuges of Digeder and CEAL, and it's a venue for Club Andino de Chile and Club Suizo.
Chapa Verde
This center is located 60 kms northeast of Rancagua, the capital of Región de O'Higgins. It is important to mention that the access is restricted and the only vehicles allowed are the ones belonging to the center. They leave for the center everyday from 665, Miguel Ramírez Ave at 9:00 and at 8:00 on Sundays, Saturdays, and holidays. Returns start at 17:00.
Chapa Verde has three platter and one chairlift for its eight trails. The center is well known for the trees present in their skiable areas. Amongst its services you will find a refuge, a restaurant, a cafeteria, ski rental, ski school, repair workshop, patrols, and first aid.
SOUTHERN AREA 
Nevados de Chillán
This center has some of the most beautiful views in South America, and it features a Thermal SPA that has become even more popular than its ski center.
Situated 480 kms south of Santiago, and 82 kms east of Chillán, Nevados de Chillán has a skiable area of 10.000 ha distributed in 28 trails. In them you can practice several varieties of skiing like alpine, Nordic, and randonnée, bout you can also go snowboarding or heliskiing. There are as well circuits for snowmobiles and sledges, and trekking, horseback and bike riding excursions  to Chillán Volcano.
As far as accommodation goes, the center has Gran Hotel Termas de Chillán and Pirimahuida, with excellent services like pools, gaming rooms, bar, discotheque, gym, transfers, nursery, hairdressers, squash court, and thermal Spa.
Other accommodation alternatives that also allow you to ski in this center are located in Las Trancas Valley:Rocanegra Mountain Lodge, with excellent facilities and activities to complement skiing.
Pucón
Pucón Ski Center is located in the middle of Araucanía, on the slopes of Villarrica Volcano, a place with a privileged view of the lakes surrounding it. It is located very close to the towns of Pucón and Villarrica, one of the most attractive tourist areas in Chile, a place with lots of activities and a lively nightlife.
Managed by Gran Hotel Pucón, this center has nine lifts and trails covering all levels of difficulty. The center also offers a variety of services intended to make your stay more pleasant, such as a cafeteria, bar, restaurant, ski rental, parking lot, ski school, and much more.
Antillanca
Antillanca Ski center is located within the borders of Puyehue National Park, on the slopes of Casablanca Volcano, 98 kms east of Osorno. It stands out for its excellent trails and its panoramic views. It has four platter lifts and one chair lift covering 10 trails with different difficulty levels.
Besides, it also has services like accommodation, cafeteria, restaurant, sauna, heated pool, gym, gaming room, and discotheque. On the way to the city centre you can also visit Termas de Aguas Calientes andPuyehue.
Antuco
Located  in Región del Biobío, within Laguna del Laja National Park, and 89 kms from Los Ángeles, this ski center is equipped with three platter lifts and has private refuges, a cafeteria, bar, ski rental, and ski lessons. You can stay at Club de Esquí de Los Ángeles.
Las Araucarias
Las Araucarias Ski center is located 78 km east of Temuco, within the borders of Conguillío National Park. With two platter lifts, set on a breathtaking natural landscape, this center also offers cafeteria services, ski rental, ski lessons, and accommodation in the center's refuge.
AUSTRAL AREA
Cerro el Fraile
One of the main attractions in Cerro el Fraile Ski Center is the chance to ski amongst lenga, pine, and ñirre trees in an area of 577 hectares. Located 29 kms southeast of Coyhaique, the center has 2 platter lifts and 5 trails. Also, its services include first aid, cafeteria, ski rental, and workshop, amongst others. The center's operation is subject to the weather conditions, so make sure you check if the center is open before visiting it.
Cerro Mirador
It is located 8 kms west of Punta Arenas, in Región de Magallanes. Cerro Mirador has two lifts and 11 trails. Its services include ski rental, first aid, a ski school, and a restaurant. From its height you can have an impressive view of the city, the Magellan Strait, and Tierra del Fuego.
Find more information about where to ski in Chile and the Ski Season in Chile 2012 checking our ski guide by clicking HERE.
Expert