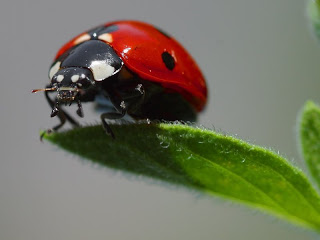 Creativity is part of being here (where ever here is). Demonstrate one of the many facets of creativity by planting a plant or two. An edible plant makes for perfect practice, but you can also try your hands at an herb or non-edible flowering plant. You can even give it a go with a "weed" cutting. You're probably saying… "But, Pharoh, I don't have a green thumb!" I should hope your thumbs are NOT green, and if they are see your Naturopath immediately! Either that or lay off the green Koolaid. Anyway, this is the start of Spring and the perfect time to start an indoor seedling. It's also a great time for you newbie and avid gardeners to start creating your organic, non-toxic pesticides. No offense to insects, but some of you are not too kind to plants that we humans like to grow for food.
Here's a quick easy and fun pesticide that you can make at home.
Get some dead bugs (no roaches, mosquitoes, flies or other bugs that live off of blood)
Collect about 20-30 carcasses.
Place the carcasses in a spare bowl (one that you do not really want)
Use an old spoon or other tough flat object to slightly crush the bugs (they are dead so they feel no pain)
Add a little bit of witch hazel and 1.5 cups (.36 liters) to a clean, empty spray bottle
Add the dead, crushed bugs
Let this concoction sit for up to 48 hours. The longer the better up to a few days
Strain the bugs from the liquid and dispose of the bug parts.
Re-add the bug-free liquid to the bottle
There you have it. Non-toxic bug spray. You can spray this safely on your plants as it contains what most insects do not like and that is the scent of dead bugs! Get empowering information more at PharohsHouse.com
or like me on Facebook!
Expert