LAS PALMAS – 30/10/13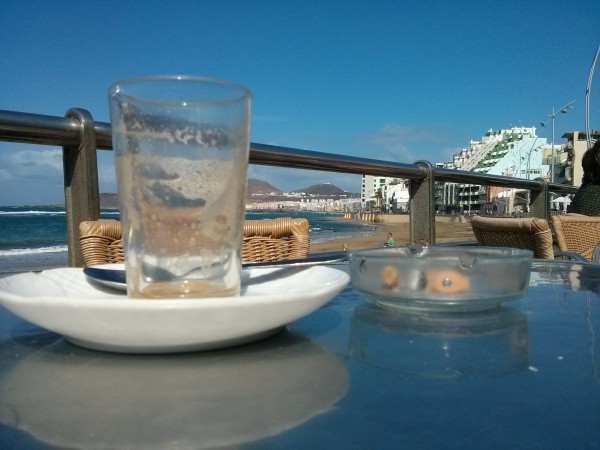 While sipping on a coffee in the warm October sun of Las Palmas everything feels abnormally normal. I have not acknowledged the huge, fluo elephant in the room: for the next couple of years I will be traveling around the world, no itinerary, no schedule, the only limit will be the money in the bank that are bound to finish one day.

This trip is something I have wanted to do for years, but it always assumed the undefined shape and color of a distant, brighter future. It was the happy thought I ran to when I was swamped in that unpleasant routinal life we are all subject to in different forms.
Turning this concept of absolute freedom into reality and having it match the expectations of a life time presented so many difficulties, that I decided to dismiss them all, just go.
So I bought some sturdy shoes, a camera and a broken laptop and pretended I was ready. I gave up very soon the idea of having an itinerary, I never had a scheduled return date, and blind luck set a departure date for me, putting an end to my continuous postponing .
The night of departure I said my goodbyes hosting a dinner in the closest place I have to a home, my father's house.
During that dinner I squeezed together all the scattered personalities that formed mine. I counted two fathers, two mothers, two brothers and a quarter, two cousins, four between aunts and uncles, one grandma, half a grandpa, two friends and a dog. What resulted from this mix was such confusion that I managed to avoid all the questions regarding my trip around the world, questions for which I had no answers.
During that dinner I realized that the sum of those characters is what I call family, from that mess I learned who to be, how to love and what to prioritize.
Once dinner was over I packed, and suddenly it was time to go. With my backpack on I crept into my brothers bedrooms while they were asleep and said goodbye. I broke up in tears and cried like a child.
I dried my eyes on the way to the airport, while the conversation between my father and me took the long path to get to a felt "I love you" that was only pronounced right before the metal detectors.
Then the plane. I slept. Then I slept some more on the terminal one floor in Barcelona. I woke up and met my cousin. Then I slept again on the plane to Las Palmas. All the actions between Rome and Las Palmas were performed in a trance, the border between dreams and reality mixing and then slowly fading, until the moment in which I landed into my future.
All that matters right now is tomorrow, the next experience, the catamaran where I will wash dishes from Gran Canaria to the Caribbean, all the faces of new and old friends I will meet along the way, all the opportunities I will choose to seize or not.
And then, maybe, one day I will find some answers to the those questions I don't know how to formulate.