Ok so I haven't traveled extensively but I have been to a few places – this realisation usually comes after I have been talking to friends and they often say "Wow, you've been to a few places, haven't you?"
I realised that compared to some, I have been to very few places but considering that my first overseas trip was when I was 26 and that was only to Tasmania! I think I have made up for it slightly in the past 14 years.
New Zealand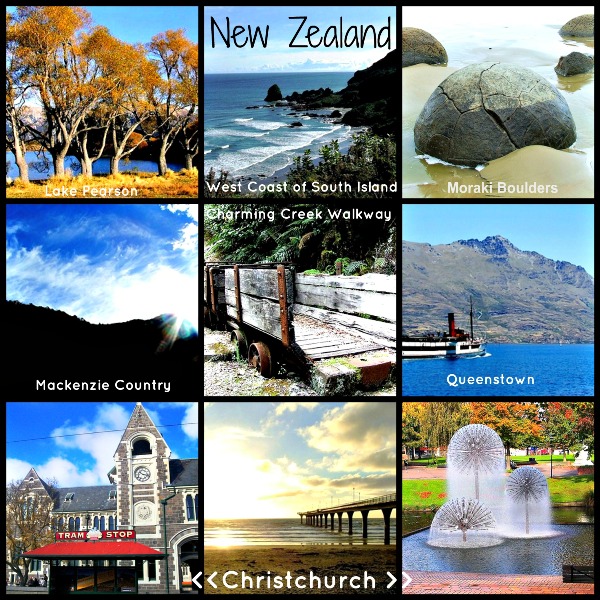 Well I have traveled a lot throughout NZ but even then I haven't seen it all.  I would love to pack up and just travel everywhere in NZ one day – that is my ultimate bucket list item.  Just to see my homeland as much as I possibly can.   I have been to the major towns at least once and to some smaller towns especially around the South Island.  A lot of places I've been in NZ – especially the North Island was before digital cameras!  So I think I need to go back…. and soon!
Favourites: Well Christchurch of course!! Coromandel, Canterbury, Aoraki/Mt Cook
Australia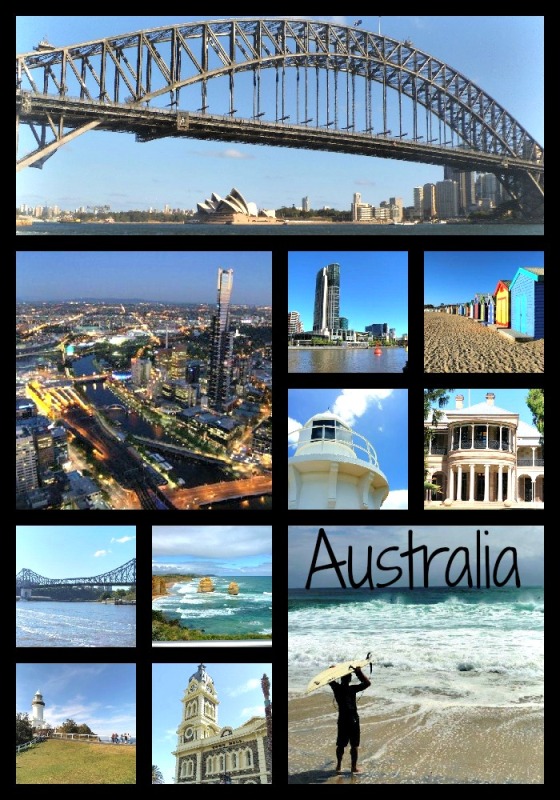 My first overseas trip ever was to Tasmania.  I got a lot of laughs when I told people that's where I was going but truth be told I loved it.  Port Arthur is a MUST visit destination in the world.  So much history and an amazing place to visit.  I have lived in Brisbane for the past 10 years but I haven't even begun to crack this mighty country.  Yes I've been to Sydney, Melbourne and even Adelaide but I have been no further north then the Sunshine Coast and no further west than Adelaide.
Favourites: Port Arthur, The Great Ocean Road, Melbourne, Sydney Opera House, Sydney Harbour Bridge, Customs House in Brisbane, Byron Bay
Vietnam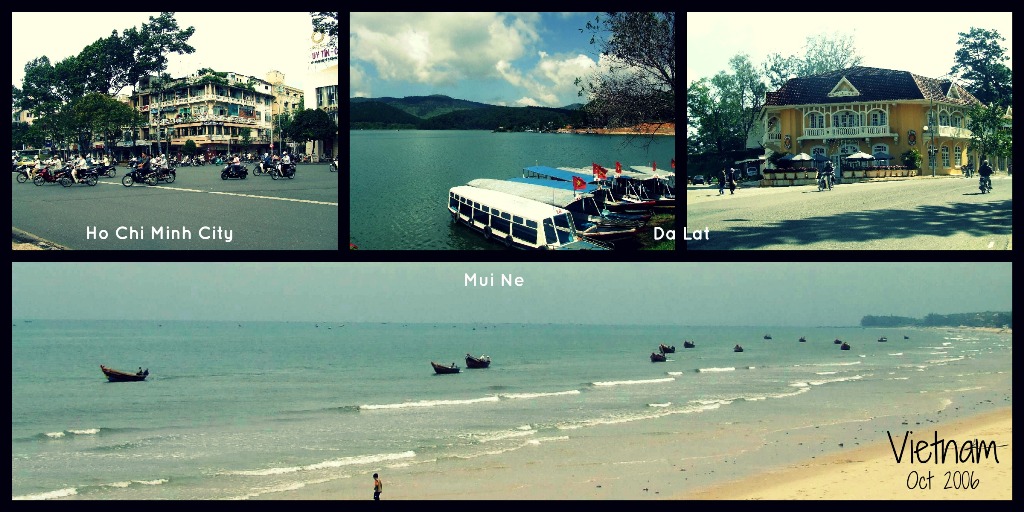 Ok so I have to admit, the only reason I went to Vietnam was because my brother got married – which was an experience in itself.  It was never a place I wanted to visit and whilst I had an ok time, I don't think I would visit again to be honest.  It just wasn't my cup of tea.  In saying that, it was definitely an experience!  I was very surprised at how strong the French influence was but not as surprised as I was when we found a NZ ice creamy at the beach in Vietnam!!
Favourites: Da Lat, Mui Ne, the NZ ice cream shop at Mui Ne!
I have said it before and I'll say it again… I <3 the UK!!!  Ok so I have only been to London and a couple other places in the South of England but I think that if I loved every single minute I was there in 2010 then I am pretty sure I will probably like 99.9999% of everywhere else I end up going in the UK.  I am in the process of planning another quick trip to London and possibly York – whilst I would love to spend a lot more time there than two weeks, I have two important factors holding me back… lack of money and lack of time.  So in 2010 my sister and I spent 10 days in London, 8 days driving around the South West of England basing ourselves in Exeter… we did day trips out of Exeter to Bath, Sherborne, Lyme Regis, Goldworthy, Clyst St George (where our father's family comes from) to name a few.  On the way from London we went via Oxford and Stonehenge.  Heading back to London we went via Corfe Castle and a night in Christchurch.  It was seriously one of the best times of my life.  I got to see the mighty All Blacks play England.. at Twickenham.. on my birthday!!!  Even the weather behaved itself.. mostly
I think it's going to be hard to choose my favourite places!!!
Favourites in London: Greenwich, Apsley House, NZ War Memorial, view from NZ House, St Paul's, Tower of London, Tower Bridge, House of Parliament
Favourites Elsewhere: Bath, Lulworth Castle, Corfe Castle, Christchurch Priory, Lyme Regis
France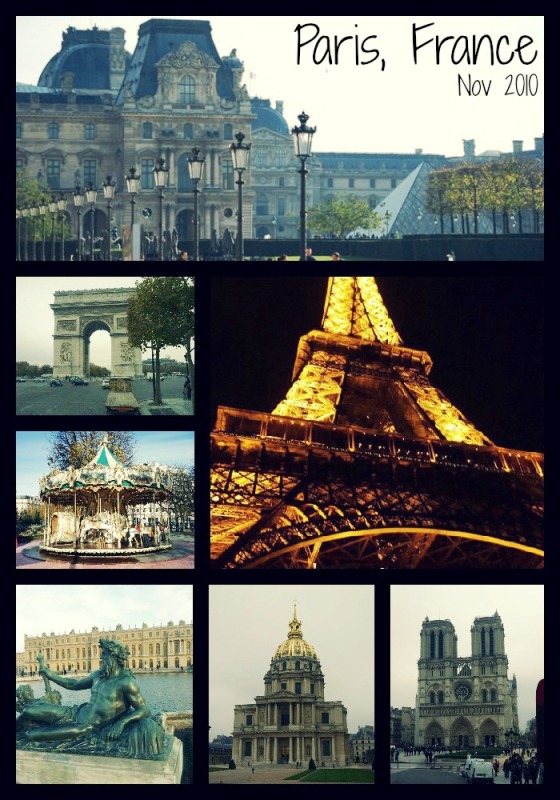 Ok so it was 3 days in Paris so I guess it doesn't really count!  I have to be honest here – not my favourite city in the world.  I think because I was so enamored with London, when I got to Paris I was kind of like "Meh".  I know a lot of people would be "WTF????" but to me it really wasn't anything special.  Admittedly, it was 3 days at the end of a 3 week trip so it might have been more "I just want to get home and into my own bed" and I did kind of leave saying I would never go back.  I have now retracted that statement and I would like very much to go back one day but it just isn't at the top of my list of places to go back to.  In saying that, I think we did ok in seeing things.  Did a half day trip out to Versailles… so not enough time!!!  A full day trip would have been way better.   My absolute highlight was seeing the Eiffel Tower for the first time (I still remember the feeing!).. it was half covered in fog but that did nothing to diminish the amazingness (yes it's a word!) of the structure.  When I finally got to see the whole tower it impressed me even more – and then at night!!!!!  Wow!  Just WOW!!!
Favourites: Eiffel Tower (especially at night), walking down the Champs Elysees from the Arc de Triomphe to the Louvre, Versailles
United States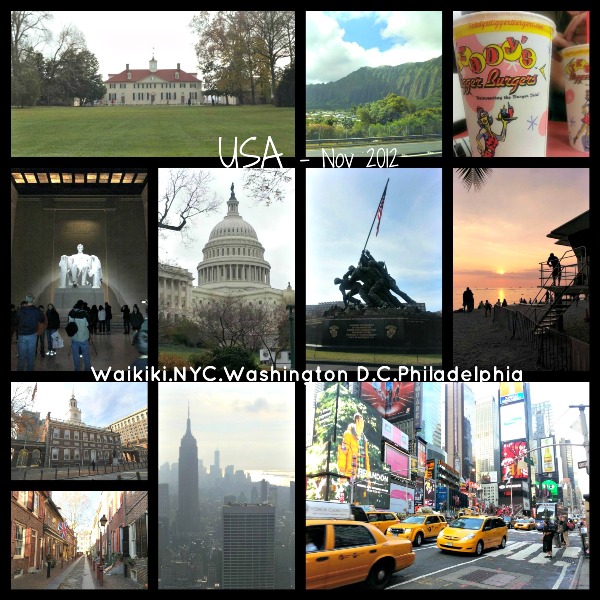 Again, I have not been to many places and the US is freaking huge so considering I haven't been everywhere in my own little country, it would be a VERY long time before I see everything.  Right, so this was for my 40th birthday.  I didn't necessarily wanted to be in the place I actually was for my 40th but the people I was with made up for everything.  Two of my nieces and I spent 7 days in Waikiki where I spent my birthday. Oh the things we did!!  I honestly don't think it would have mattered where we were but the fact it was the 3 of us, I think, made the trip. We stayed at this great hotel a couple blocks away from the beach, down the zoo end of Waikiki… and it was great!  From the moment we arrived it was a great holiday… we did a round the island tour, went to Pearl Harbor (where funnily enough we met some NZ Navy people who knew my brother!!!), Ala Moana Mall, shopping! and so much more.  Probably the best part of the whole time was discovering Teddy's Burgers… O.M.G!!  They are seriously one of the best burgers I have ever had!  They were so good we had them about 7 times!!!!
Favourites in Hawaii: Pearl Harbor, Sunsets on Waikiki beach every night, Cousin Duke on the round island tour, TEDDY's BURGERS!!!!!
Then one of my nieces flew home and the other one & I headed to NYC… I have mentioned this before and even now I don't know why but I struggled in NYC.  Don't get me wrong, it's a great city and I did enjoy my time there and I can't wait to go back!  But there was just something about that didn't do much for me.  In saying that, I did get out and see stuff… every single day.  I have this thing that if you are on holiday somewhere, you need to go and see stuff.  I paid good money to get there so I didn't let my attitude towards the city ruin my time there.  I went up the Top of the Rock and took my most favouritist photo ever! I went to the awesome Rockettes Christmas Spectacular, I braved the Met (well the first floor and that took me a couple of hours!), Staten Island ferry, Brooklyn tour, Time Square, saw Jake Gyllenhaal in a play, had the best hot chocolate I've ever had and discovered a love of bagels!!!  Best part?  Being able to go to famous hotels to use the loo… Thank you Waldorf Astoria!
Favourites in NYC: Staten Island Ferry, Danish hot chocolate from Gigi's on 34th, Rockettes, view from TOTR, Brooklyn Bridge, Macy's (impressive because I hate shopping!)
From there I was on my own and I headed on the Amtrak train to Washington DC… only 3 hours by train but it was a great journey – had a glimpse of Philly which I was heading to next.  Got to Union Station and walked to my hotel (looking at a fantastic view of the Capitol Building the whole time!) – Hyatt Regency Capitol Hill.. where I had to do a running jump to get onto my bed… haha – the joys of a short traveler!  Did a night tour , which was awesome and the next day, a full day tour to Mount Vernon & Arlington, which was really awesome.  Walked from Capitol Hill down to the White House. Got to say, I really liked D.C, really enjoyed my time there and would love to go back.
Favourites in D.C: Seeing the Capitol Building each time!, The Lincoln Memorial (one word "AWESOME"), Mount Vernon, seeing the White House, the view from the top of the Old Post Office
I then headed to Philly for one night and it was NOT enough time!!!  I had the privilege of having a private tour guide, which was fantastic but one day was so not enough time to take in the awesome city.  It was definitely my favourite place on this trip.  I really loved the colonial look of the city and it was fantastic having a private tour guide.. we walked around the old city then went for a drive around some other parts of the central city and went to have a look at the ballroom at the Bellvue Hotel (so something I wouldn't even think of asking to do!)
Favourites in Philly:  Christ Church, Independence Hall, Carpenters Hall, City Hall, my hotel – Best Western Independence Park, the weather!
South Pacific

I keep forgetting about this!  I did a cruise in May 2012 for my nieces 18th birthday.  It was a 7 day cruise from Brisbane > Noumea > Lifou > Port Vila > Brisbane.  To be honest, I struggled with the being at sea part of the cruise (yes I know it's kind of the point!) but I found it hard not getting out each day and seeing things.  We had about 8 hours in Noumea so didn't really get to see much of it but did do a bus tour up to a lookout which was pretty cool.  Lifou is basically an island in the middle of the ocean – but it was probably my favourite part.  You are tendered so you have to get a little boat to/from the jetty.  Most people stay on the boat side of the island but I didn't.  We went for a walk to the top of a hill and then after the others went snorkeling I found an awesome little church and then went on a bus trip to the other side of the island to a pretty much secluded beach… it was amazing!!  Port Vila for me was a bit 'meh' for me so I just went into town for a bit and then back to the boat – where I pretty much had it all to myself!  The cruise itself was pretty cool, I mean if you don't want to spend money then you really don't need to!  Everything is paid for if you want the basics – which is what I was pretty happy with.  It was a great time regardless of if I found the sea days a bit painful.
Favourites: Lifou, sunrise & sunset from the back of the boat, the pancakes for breakfast!!, entertainment each night was outstanding
So there you have it.. those are the places I have been in the world… so far!  I am currently counting down to my Sept trip to Vancouver & an Alaskan Cruise… can't wait for that!!!  Plus I have my London trip next year to look forward to..
Expert