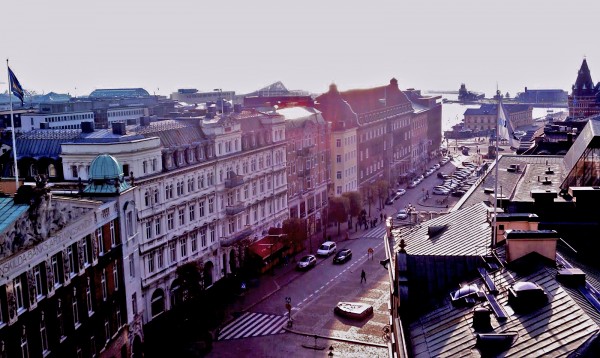 America is number one.  I've grown up hearing this, and I'm still hearing it now, but if there's any confidence in the voice stubbornly shouting it, it's shaky and uninformed.  As a middle-class, college-educated American who has also been to other countries, this proclamation of America's greatness seems increasingly irrational to me, similar to cheers of football fans whose team is so far down there's no way they can come back, yet the foam fingers are still raised high.
In fact, you'd be hard-pressed to find anything that America is still Number One in other than military spending, rates of obesity and of incarceration.  Other countries are much better than us at things that really matter, such as healthcare, infrastructure, and happiness.  The first step to actually becoming the greatest again is recognizing that we're not, and taking a long, hard look around the globe for some ideas that would help us get there.  Because, you know, there are some good ideas out there that didn't originate in the U.S.
Calm down for just a second
Let me stop you here, pick-up truck driving, baby Jesus worshipping, red-blooded defender of liberty who could be anyone living in a 15-mile radius of me.  I will need to point out that I'm not simply shitting all over America; I'm making a critical, nuanced argument addressing some things that need to change in a country that I very much love so that it can continue to succeed.  I'm being patriotic, whereas you are being quite un-American by trying to silence anyone that is pointing out and offering possible solutions to obvious flaws with our country.  I offer criticisms grounded in factual data, you push back with an emotional argument that only encourages problems to fester, ignored and any progressive dialogue to stagnate before it gets off the ground.  Maybe I shouldn't have used "progressive"; I know that's a bad word to you, but I digress.  Hear me out (if I didn't completely alienate you with the baby Jesus comment).
America is a great place and I'm grateful for the freedoms we have, and maybe I am just jaded from growing up in a state (NC, 49th in edumuhcation, represent) where nothing less than zealous, pro-America rhetoric is subject to suspicion (or worse).  But I have indeed grown up and looked at the world and the events currently unfolding within it through a lens defined by my own terms, not the beliefs, political or otherwise, that are common, if not the rule, of where I grew up.
Paradise…outside of America?!
I have traveled to socialist countries, and instead of finding an oppressed population ruled by  zombie Hitler, I saw a lot of happy people enjoying the services their government provides them with, and were happy to pay the price for.  I like to think I've been somewhat enlightened by that, or at least to the point that I don't see a different country's system as inherently bad, just because it's different.  Actually understanding the definition of socialism helps too (that moment when you realize socialism can't be used as an interchangeable term with communism and fascism).
We frequently hear about how happy these social democracies are; you would think they are little frozen slices of heaven whenever the World Happiness Index numbers come out.  Strange, then, that they pay uber high taxes, have heavy government regulation in some industries, and are largely secular.  Cletus is suspicious; you can't be happy without God.  I joke, but this is the actual refrain from the right.  Because these countries are secular, that will lead to moral relativism which will, of course, lead to another holocaust (#CantMakeItUp).  Any productive dialogue ends there.  And we know how they feel about government regulation in business.  The market should be free as a bird, so free that it should be allowed to do away with those pesky government regulations that are definitely not there for a good reason.
Happiness is health
I've thrown in enough witty, albeit factual slights to make progressives smirk and conservatives make a rage-face.  Let me cut to the meat of the issue, which is the aforementioned happiness.  I postulate that out of all the social services, the perfect Nordic goddesses that populate these countries and their exceptional baked goods, health has the strongest correlation with happiness in these countries, and our own.  The first obvious point I'm making is the superiority of the healthcare system of countries like Norway and Sweden.  It's all (mostly) paid for.
In contrast, the leading cause of bankruptcy in the United States, a first-world country, is medical debt.  Many will say, "I bet most of those are the filthy poor and jobless who don't even have insurance."  You'd lose that bet.  According to a Harvard University study, 78% of those who declared personal bankruptcy due to their hospital bills actually had insurance but were still overwhelmed by medical costs that their provider didn't cover.  You know who doesn't have to worry about this?  Only everyone else in the developed world.  And they're happy about it.
They lifestyle tyranny of US health care
Effective, efficient healthcare controls the ebb and flow of happiness.  It's all-encompassing.  Medical coverage is very much tied in with the employer in America, inevitably leading almost everyone to cave into their well-founded anxiety, taking a job that does not fulfill them, or even remotely use their skills and knowledge that they developed in college or training schools, just so they can be insured.  It's terrifying living without insurance.  All it takes is a drunk driver running a red light and then you and your family are in medical debt for life.  Forget ever traveling again; you can't afford it.  It was enough to make yours truly take a teaching assistant job for year even though I graduated with a graphic design degree.
Even if you have great insurance provided by the job of your dreams, you're still living on a knife's edge of your life being completely devastated by events completely out of your hands.  A new federal database mandated by the Affordable Care Act (Obamacare) just released an index of common hospital charges across the country.  It's completely perplexing, as well as infuriating.  If it doesn't make you angry, then you are either a Romney or not very smart.  The official treatment cost for the respiratory disease known as COPD at one hospital in New Jersey is $99,690 while, 30 miles away in the Bronx, a different hospital charges $7,044 for the exact same treatment.  Making the wrong choice of hospital would be life-altering.
This is what you get when you marry healthcare and capitalism.  The hospital will fix you, as long as you become a very dependable stream of income for the rest of your life.  So sacrifice your happiness for the first job with benefits that comes your way, even though it still may not be enough if you choose the wrong hospital.  I just sufficiently depressed myself.
And this is related to travel how?
What the hell does this have to do with travel?  A lot actually.  Your mission is not limited to Instagraming that very authentic meal at the totally not touristy hole-in-the-wall that surely only the locals (and definitely not Lonely Planet) know about.  You have a duty to your home country to report back on how all of the mundane things are done in your destination country.  Talk about how smooth the public transport was.  Why was it so smooth?  If you worked there, how much vacation did you get (spoiler alert: more than in the US)?
Sometimes I think that a Travelers for a Better America committee could exist and participate in a great deal of innovative thinking on which direction America should be heading.  If there's anyone out there that can put forth some ideas to make America great again, it's expats who have had feet on the ground somewhere else long enough to fall in love with a different country's way of doing things.
My experience with healthy Sweden
Sweden is my baby, my paradise.  I only studied there for half a year, but wow, I would move their in a second if it was possible.  I can go on and on about how awesome it is, but I'll stay on topic and stick to healthcare.  The system is pretty straight-forward; I only had to use it once.  Unfortunately as a foreign resident I had to use my travel insurance, although healthcare benefits are coming for foreign residents and even illegal immigrants soon.
The process is relatively the same as in the US; you request an appointment, which you are guaranteed to have within 3 days of calling.  There is a copay of $20-40, BUT, a ceiling for medical fees that the private citizen is responsible for is set at $160, after which healthcare is free for the rest of the year.  The majority of Swedes never make it to this price cap because of the second roundabout point I'm making on health and happiness.  They value their health!  They eat right!  They exercise!
The philosophy is very different.  In some ways, big Pharma (more capitalism in healthcare, yay!) has been very effective in ingraining the 'just take a pill' philosophy in most Americans.  You will not see this with Swedes.  I was met with a lot of surprise when I asked where I could find something like NyQuil.  When they do get sick, they simply wait it out and try more natural remedies like drinking orange juice, and even a special drink infused with cayenne pepper which has been used for it's health benefits for thousands of years.  This is the way to go.  Although meds will give you instant relief, just recall any drug commercial and you know there's a long list of opportunity costs (often on your liver, and by God, I need that one).
Put a bow on it already
Hopefully I've given some readers here that are not from the US some insight on how screwy our healthcare system is.  In my opinion it's quite easy to see the contrast in our happiness level compared to other countries with very innovative healthcare systems and a focus on preventative measures rather than immediately heading for the pharmacy.  I also hope that Americans abroad will continue to report on ways the government of the country they're currently living in handles things.  If you have anything to add to what I've said here, completely disagree with me and think I'm an idiot or have some experience with social democratic policies abroad, feel free to sound off below.
Expert