There are many reasons why someone should travel to France. For me, the main excitement of a short two day trip was the promise of shopping in the La Rochelle food market.
I had only seen pictures of French food markets or read about them and I had dreamed about them. My dream in which I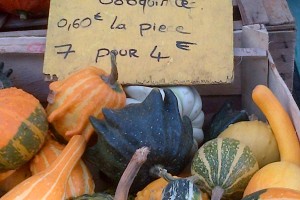 swing a wicker basket as I walk and shop with French style and grace, looking for the best fresh produce available. This was my pull, my calling, the wet dream for a  nutritional therapist like me  who places food as an integral part of their life. However, first I had to find it.
In my usual way (my first morning of a trip to a new place is simply spent walking) I spent the morning walking and I was walking and walking and walking to the point where I was tired of walking in La Rochelle. I could say that I was lost but of course I will not. As then I would have to admit just how often I do get lost. I could simply say that I was walking to lose myself and absorb the French town but in truth I was very down hearted and cursing my terrible sense of direction. Eventually I became confident that I was in fact heading in the right direction for the  town centre and I was in desperate need of coffee. This is what I was searching for when I saw it. It was sneaking out from a side street. A tall, thin, grey building.
It was not a building of grand elegance by anyone's imagination but this building was different from the others that were stacked up tight around it. A tall tree was taking guard by mirroring it's tallness. I have no idea why it spoke to me but speak to me this building did and to this building I am eternally grateful. I did not hesitate in turning right  to take a closer look. I wanted to take a picture but cars where in the way so I walked on a little and crossed over the road and then I seen the flap of a green and red cover on metal poles. A market stall jutting out of the bottom of Rue du Amelot. I had found the local food market.
La Rochelle Food Market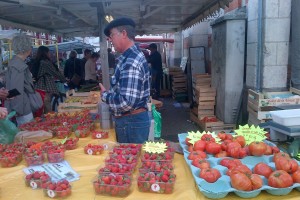 On Wednesday and Saturday mornings in La Rochelle, a food market takes over the streets surrounding  La Place du Marché, where you can find the permanent indoor market. Streets criss cross over the square like the canals of Venice and on markets days they ripple with the colours of fresh produce.
On this October morning, autumnal France was on display. Huge pumpkins, courgettes of orange and green and big burnt beetroot sliced revealing their blood red insides. Boxes of garlic and lines of dark purple grapes and the old town was hungry with shoppers. The indoor market itself was also a delight. Lines of cheese with names I did not recognize looked at me and chickens which still had their heads on also stared.
I returned to Rue du Amelot to sit and have a coffee and to watch the people of this French town shop. Did they know how lucky they were to always be able to come and shop here? I was in food heaven and I quickly fell in love with Rue Du Amelot.