Why Youth Matters in Progressing Development
The world keeps saying that the "youth is our future," but if the world largely believes that youth should be detached from the process of building and laying the foundation for the present, then what future do we hope for them to have?  Do you start building houses or giving food aid in villages without asking the villagers what they actually want? No, so we should not do the same to our youth. We must ask for their opinions and input. Youth have always been underestimated, but they have an important hand in driving economic development within and beyond their country's boundaries. In the last decade, our world has seen bloody wars and conflicts, intense natural disasters, melting financial institutions, political unrest in the Middle East, and increasing inequality in the developed and developing world. With approximately 60% of youth living in Asia, that region is especially in an important position to develop their young leaders to achieve the goals of development.
In the field of economic development, poverty is quite hard to define, but what exactly perpetuates this poverty is a mixture of factors that those living in the developing world encounter in their day to day life. From the issues of illiteracy and education, access to medicine and doctors, public health, gender concerns and violence, hunger and starvation, war and conflict, and economic growth, these are all things that contribute to crippling poverty. But there is something incredibly scary, yet exciting and wondrous about the future of our world because of our circumstances today. Like no other time seen in our world before, globalization has manifest itself in different forms and permeates into the tiniest cracks of our societies to form a global society of opportunities, but also instability. Youth and children, whom are nearly 40% of the world's population, grow up in the age of globalization, and are uniquely positioned to drive economic development if we are willing to invest and involve them.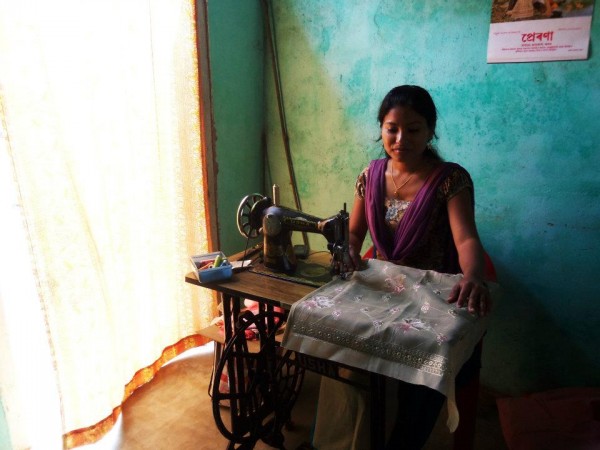 Take this young woman for example (shown in picture above).While I was interning for REACH India, a women's empowerment organization, I met her during a field study trip to the small village of Guwahati, Assam. As I interviewed women who participated in our USHA Sewing Machine training program about the impact of their extra earned income, I also wanted to interview the person who trained these women. My supervisor immediately pointed to a small shack next door. I walked right in with my notebook and camera.  Pulling the blowing curtains to the side, I saw this young woman, looking no older than 25 years old, in the room, sewing. This young woman was responsible for training all these older women how to sew!
What made her able to take on such a role? The thing is that she had the time to continuously learn new methods of sewing and stitching, while also training other women because she didn't have any children or large family obligations. She's  a young leader who is empowering women through education and skills. This is a prime example of how youth are empowering others to drive economic development.
Whether it is through participation in government programs, grassroots NGOs, or in their community, youth can make an impact. In the field of development, the question is always "what method or program is the most effective in poverty reduction?" and this is where youth can matter. Their creativity and brainstorming power can potentially solve society's most pressing issues. They can make the perfect social entrepreneurs. Think about it. Social entrepreneurs come up with innovative solutions to problems by applying new technology or the available resource to maximize impact.
Honestly, I don't know any group of people more resource scarce and imaginative than the youth!
In all seriousness, this is a group of people, a part of our population, that have yet to really be involved in the decision making process of creation and crafting of policies that can have great social change. When we allow the youth to involved and to become leaders in areas that they can thrive in, we are really allowing everyone's potential to unleash.
As we have seen in the recent years, when the youth feel they are ignored and voiceless, they organize and march to demand government transparency and change, or, in their hopelessness in the system, they turn to violence. In conflicts or wars, the youth are greatly affected; their life and development as productive citizens is lost in the midst of political violence and instability. Instead of allowing the potential of youths to go to waste, we must channel their creative power and enthusiasm to progress economic development and equality. This is a population that has the capacity to become powerful agents of change, and the more we involve our youth, the more they can practice democracy and see that democracy really does work.
Youth can contribute to development in a way they haven't before if we invest in them and develop their leadership skills. Most importantly, we can't achieve development goals without including youth in this process because real empowerment starts with the active participation.