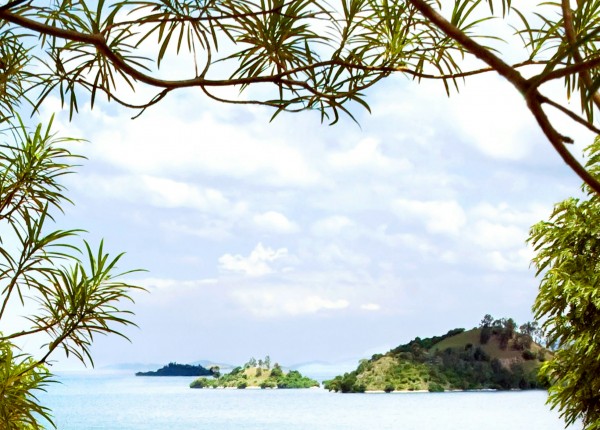 It was nearing sunset, and we had been paddling on and off for two hours without reaching our destination.  It was one of many remote islands in, what seemed to be, the relatively near distance.  Without food, a light in the canoe or much water… we were out on Lake Kivu in the middle of nowhere when we realized the time.  Stefani and Apollo, our Academic Directors, would be expecting us for dinner any minute.
We were a group of students from all over the US, studying in Rwanda.  Fortunate souls, we were spending the weekend on Lake Kivu in Kasubi, allowing nature's beauty to calm our minds.  It was an intended get-a-way planned by Stefani and Apollo, giving us needed time to process our visit to the Murambi genocide memorial.  On our last full day in Kasubi, four of us rented a canoe for a day trip to a decided Island in the distance.  When we were thought to be halfway I looked back, our guest housing appearing remarkably small.  Though, we were all-too determined to reach the far off, unnamed Island.  Thankful for one of our companion's idea to bring her phone onto the canoe, we realized we were going to miss group dinner.  We warily dialed Stefani.  Her voice was of a frightened woman who simply couldn't believe our words.  It was one of those, "What the hell were you thinking?!" reactions, where she sternly told us to get back to the mainland- safely and immediately.
But we just had to finish our adventure and quickly explore the Island we so desperately wanted to reach.  It wasn't until two and a half hours of paddling away from 'home' that we made it, tying the canoe to a bowed tree canopying over the water.  It was a highly vegetated Island with an awfully steep incline.  I was unable to partake in the quick climb to the top due to a healing, dislocated patella.  While the others quickly made their way out of sight and into the thick brush, I decided on a relaxing dip in the remote location I was exploring.  With untouched islands all around me, I swam out a bit.  While floating on my back and enjoying the changing colors in the clouds above, I spotted a swarm of black dots come around the top corner of the island, quickly increasing in diameter.  For some reason, my first thought was, 'Birds?'  Until the head of the swarm came closer and their features showed pointier, I realized the unknown flying objects as none other than… bats!  The thing was, they just kept coming.  Thousands and thousands of bats were approaching, some landing on trees and most continuing past just a few feet overhead.   I was all alone, beside the unknowns surely swimming beneath me, floating on Lake Kivu somewhere between Rwanda and the Democratic Republic of Congo.  I was at peace with the world.  Surrounded by an orange-blue-yellow sky and… bats.  I felt so incredibly connected, as I was viewing a raw moment where nature was taking its course in such an untouched way.  The bats, the setting sun, the water, the air… didn't even realize my presence.  I was a lucky pebble, witnessing the beauty of our everyday Earth.
My venturing friends eventually made their way down the Island and when Jeremy saw me in the water, he immediately joined, headfirst.  We swam until the moon and stars shown bright.  On the journey home we sang theme songs and Christmas songs from our childhood, our spirits absolutely unbreakable.  With no lights on our canoe, we used the starlit sky as our guide home.  And just when we thought we couldn't possibly get any higher, I turned around in the canoe to see a glowing volcano showing herself in the distance behind us.
Take the time to discover nature.  And be sure to open your eyes to see the beauty that is all around and within you.