Why Berry Farms are Better in Forecasts of Rain
"LIES!" I blurted as my boyfriend and I drove into the gravel parking lot of Terhune Orchards, a popular berry farm in Princeton, New Jersey.
At arrival, we soaked in the sunshine and high 70 degree weather. No rain in sight. "Beat that Weather App! Hmph."
Do not trust the iPhone weather apps — especially in a northeast late summer. Earlier that morning I drove into Manhattan in heavy rainfall with no sign of it stopping anytime soon. All weather sources forecasted scatter thunderstorms all day throughout New Jersey and New York. We left for the farm anyway.
My boyfriend and I were psyched to finally go berry farm picking right before summer ended. I've recently adopted a berry addiction from my sister when she became a health freak — constantly buying pounds and pounds of cherries per week — while my boyfriend was ecstatic to pick his favorite fruit, blackberries. You can imagine our faces as we watched the sun's warmth vaporize rain droplets on my windshield as we traveled further south.
When we passed the farm store at the entrance, the goats greeted and invited us to stroke their coats. Their sticky tongues sucked the dried corn from our palm and between our fingers. While I was cozying up to the goats, my boyfriend chased after a white peahen (like a little boy may I add). Thank God it was just us and a small family playing by a nearby playground — for those first few minutes, my boyfriend and I reverted to our kiddy mentality, completely mesmerized by the petting zoo.
I felt as if I was lost in a cornfield. It's scary at first, but then it turns into clarity — where the silence is serene.
Swinging our cartons over to the berry farm, we explored the empty aisles of mulberry trees. It was a bit creepy. I thought about how many teenagers come here at night and run aimlessly drunk through each of the rows, or a couple who would find a cozy place to look at the stars and have sex. Then I imagined Freddy and Jason jumping from behind the apple trees, killing them, and turning their bodies into scarecrows. I know that sounds neurotic. I rarely experience total silence and isolation. Kids from urban areas do not have the luxury.
 I remember last summer when my family and I jumped into the SUV for a good ol' cherry picking outing in upstate New York. Parking was a bitch. We barely fit on the hayride. I had excellent nasal congestion from the rainbow of aromas from sunblocks. Tons of tantruming toddlers. And way too many family pictures. The cherries were delicious and yes, the family had a great time. But the crowds take away from that eerie silence that you can find on a farm.
I felt as if I was lost in a cornfield. It's scary at first, but then it turns into clarity — where the silence is serene.
We wasted our time going through each berry tree and picking only the most perfect specimens. Plopping some fruit in our mouths, we chatted about what it would be like to live on the farm. To both of us children of the New York City metropolis, the idea of farm life is a paradise, free from the roars of rushing buses, speed-walking, and time.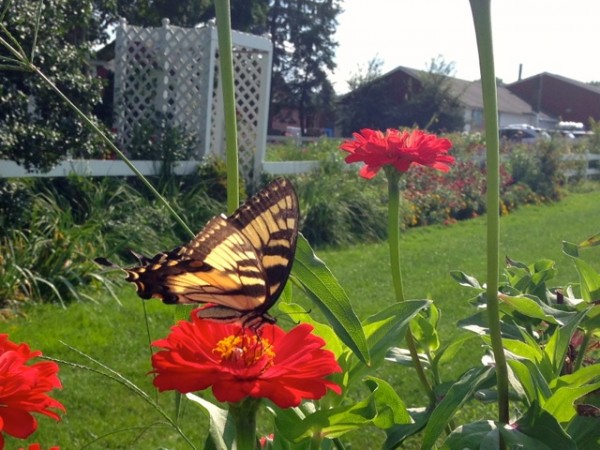 "I think I would like to live on a farm — live the simple life," I said. I imagined growing fresh chives in my backyard along with raising chickens to lay delicious free-range eggs. In the morning, I conjured the best chive omelette you've ever tasted.
"I think I would like to live on a farm — live the simple life," I said.
But we both knew that I didn't have the mental stamina to get up every morning to work on the garden, feed the chickens, collect their eggs, and pick the produce. I'm also not a big fan of picking up poop and long-term hard labor. For me, farm life will just be a thought. At the moment at least I can still play with the farm animals.
Did you ever travel somewhere in the worst weather, but ended up having a blast? Tell me your story in the comments. Don't forget to follow me at wanderlustnotes.com for more thoughts on places.
Feature photo credit: Werner100359
Expert