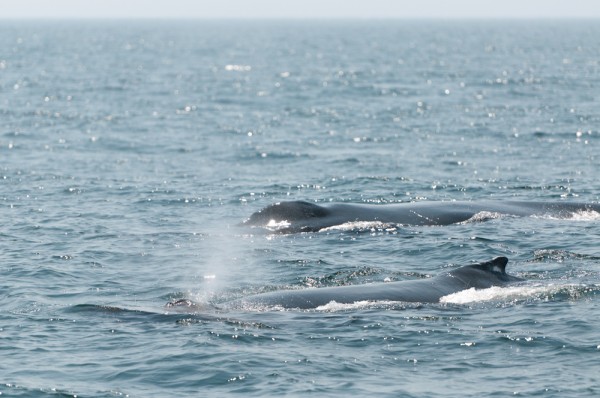 It was a hazy morning on the Bay of Fundy. Not foggy, you could still see the sun above. But hazy like looking through a curtain of the lightest fibers.  This makes spotting a blow quite difficult, according to Whales-n-Sails owner Allan.  So we sped through the sea, sails hoisted high with our eyes on the horizon.
Alan an I traded whale stories while we searched; he did most of the talking.
In their years in operation they had seen thousands of whales, and seen the industry rise and fall on the island. At one time their were seven whale watching operations out of Grand Manan Island. Now there are just two.  This is a trend across Grand Manan, less fish means less jobs, for both fishermen and tourism companies, because less fish also tends to correspond with less whales, and less whale watching.
But today we are lucky, the Captain, Allan's daughter Sarah, has spotted a humpback whale breaching miles away from the boat. We head farther North after the breaching whale.
The whale breached once and was done. But another 30 min later, after searching the preverbal needle in a haystack for a whale, we found them.
            A mother humpack and her baby were spotted, and soon made their way to the boat.  The baby swam underneath us, and both took their time to check us out.
            If you have never seen a whale up close, it is shocking. It's like being in Jurassic Park; these things are huge.
            Faces lit up instantly once we spotted the whales. The excited whale watchers, mosly older Canadians on vacation with the family, crawled around the boat to get the best view of the hulking mammals.  Unfortunately, on the hazy day's the whales blows became almost invisiable, so despite the thousands of cubic feet or air being released by the whales, almost no blow could be seen.
            The two whales hung out with us for around thirty minutes, showing us their flukes a coupe of times, and we saw the baby trying to surf a tital surge on the surface.
            We left them and steamed off again, hoping to find more whales. Northern Right Whales, the rarest of all baleneen whales with only 4000 left, call the Bay of Fundy home.  Each August the whales can be seen in their courtship rituals, which sound pretty kinky. Apparently several males will attempt to mount one female, the results being lots of splashing and heavy breathing by the whales.  I will have to come back for this natural spectacle in the future.
            Back on borad, we find one more mother and calf pair, although this couple doesn't seem as interested in us as the last ones. They swim off the other direction when we come nearer, and we let them go. For a day with a hazy sky, we had done very well.
            The cook comes up on deck with cups of steaming hot clam chowder, signaling it was time to head home. We eat the hot chowder with pieces of sour doe, and turn the vessel around.