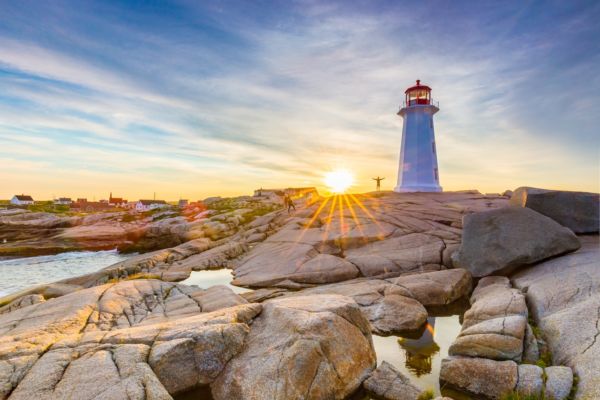 4 provinces, 1 unforgettable trip: Atlantic Canada
In Atlantic Canada, original lighthouses still dot the rocky coasts. Tiny fishing villages still practice traditions of the past. The trees still far, far, far outnumber the people. Gaelic, French, and Scottish customs still pepper the local culture. And the seafood? Still as sublime as ever.
Canada's four Atlantic provinces make for one epic road trip, heading north from Maine into New Brunswick, then on to Nova Scotia, Prince Edward Island, and Newfoundland and Labrador (with a few ferries thrown in, of course). You'll quickly find that each is vastly different from the next, but they do share one quality: timeless adventure. The world's most extreme tides, icebergs bobbing between humpback whales and puffins, red-sand beaches fit for lobster picnics, forests that descend into fjords — it's all just a road trip away in Atlantic Canada. Here's how to do it right.
A
trip to New Brunswick reads like a mystery novel: sea caves and ocean floors that disappear with the tide, lighthouses that "whistle," the country's warmest saltwater, forests hiding alpine blueberries beneath countless trees. When you've solved all the riddles, make your reward a fresh lobster roll.
Newfoundland and Labrador
A
s Canada's easternmost province, Newfoundland and Labrador has always been a crossroads for adventure. There's enough coastline here to stretch across the country four times over — and more than enough to stretch your imagination. Whales and icebergs crest the surface of offshore waters, ancient footpaths parallel the main roads, and tiny fishing villages speak dialects that allude to another time.
J
ust across the gulf from Maine, time weaves a story through Nova Scotia. UNESCO sites marking historic harbors, sea cliffs covered with fossils, coastlines worn smooth by millennia of waves, hiking trails through ancient, old-growth forests — it's all here. This province is an adventure for the curious, the undeterred…and the hungry.
B
y ferry from Nova Scotia, across the dramatic Confederation Bridge from New Brunswick, or via air from anywhere, you've found your island. Zigzagging coastal drives along red-sand beaches and past lighthouses are a quick intro to PEI — deeper immersion can be had trekking through coastal forests and counting constellations in the pleasantly dark nighttime sky.