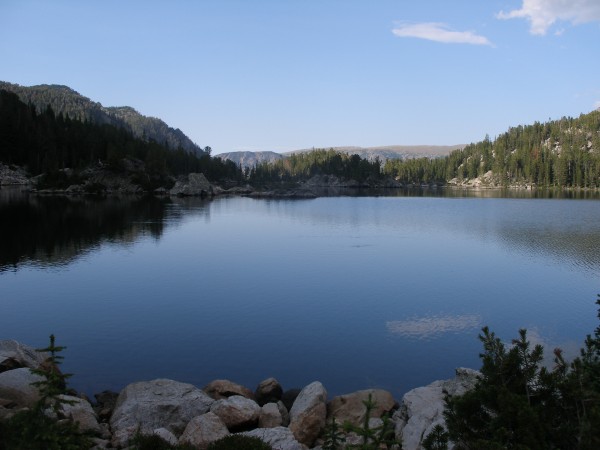 I remember that my obsession began after I asked an old codger I knew–a back country horseman–if he had ever been to Kaufman Lake in the Absaroka Mountains.  "Sure I've been there," he told me.  "It was the best trout fishing of my life!"
That was enough to entice me.  I had to find this fishing paradise!
I knew it wasn't going to be easy.  The mile-wide lake resided at the heart of the Absaroka Mountains, a ruggedly beautiful Montana range flanking the Paradise Valley just north of Yellowstone National Park.  According to my quadrangle maps, it nestled within a large glacial cirque and lacked any sort of maintained trail. It was also at least 14 miles from the nearest road.  A true wilderness lake.
Despite the daunting task, I was determined to discover if the legendary fishing of Kaufman Lake was indeed true.  I believed the old codger's story: that he had caught a fish on every cast.  I believed it in my bones.  I also wanted to believe that fish were jumping into his lap (but I'll believe any fish tale when I get excited!).  Needless to say–I had already made up my mind to venture to this paradise–this Shangri-La.
Little did I know that it was beyond anything out of my wildest dreams…
In Tibet, there is a legend (thanks to a British author) of a secret paradise in the Himalaya mountains.  This place is difficult to find–if not impossible–and it is said that an enlightened people live there in harmony with each other & with nature.  It is a place that people yearn to visit–possibly to live forever.  It is called Shangri-La.  I knew of this story from my youth, and it fed my romantic longings of finding the best alpine trout fishing on the planet.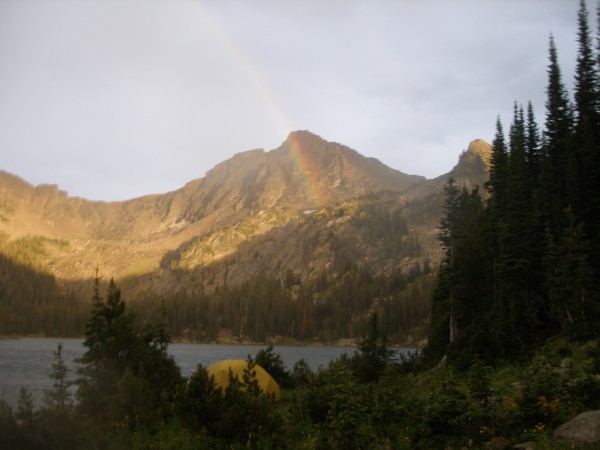 And so I made my plans and plotted my course, figuring the best way to get to the lake was by using the most direct route: following the outlet stream.  According to my map, Kaufman Lake emptied into Falls Creek, which in turn flowed into the larger North Fork of the Boulder River. My plan was to follow the North Fork about 12 miles on a nice, well-maintained trail until it met Falls Creek, then bushwhack up Falls Creek another 6 miles until I eventually would stumble upon the lake.  And hopefully I would find an unmarked horse trail that my old codger friend used.
It was a risky plan.  I did not know what the terrain would be like up Falls Creek.  It could be swampy.  It could be thick with dead fall.  It could be dreadful, impossible terrain.  But I liked the challenge of studying maps and going into the unknown for the sake of a new adventure. It was a thrill for me to explore.  So, I packed my trusty backpack for a week of wilderness travel, and headed for the North Boulder Fork trail head with my trusty 4-piece fly-rod snugly tucked into the bindings.
My adventure was just beginning.  And it wasn't just Goldilocks who ran into 3 bears…so did I!
To read more about my quest for Kaufman Lake, read the next blog, Finding Shangri-La (Part 2)