"Under cherry trees/Soup, the salad, fish and all…/Seasoned with petals" -Basho
The warming weather of March and April is a harbinger of a wondrous time in Japan: sakura (cherry blossom) season.  Though the Japanese are justifiably proud of their four distinctly magical seasons, sakura season is the most hyped.  The delicate blooms emerge on the branches before the green leaves, giving the trees different textures depending on the variety.  The white blossoms tinged with pale pink of the Yoshino or yamazakura varieties create a fluffy cotton candy texture, while the branches of the weeping cherry fall in long, magenta tresses.  The blooms give off no scent, unlike the perfumed ume (plum) blossoms that peak immediately before the sakura bud, but their surreal beauty makes up for any lack of olfactory experience.
There are entire websites in Japan dedicated to sakura zensen, or the cherry blossom forecast.  The Japanese Meteorological Agency tracks when the trees will bloom in certain areas, and the local news provides a daily update.  The weather is monitored closely; a sudden rainstorm or strong wind can completely denude the cherry trees, cutting the brief season even shorter.  The warmer the climate, the earlier the trees bloom.  Thus, the islands of Okinawa boast the first blooms as early as January, and Hokkaido closes the season in May.  Many recommended spots for cherry blossom viewing exist; however, the premier destination is Mt. Yoshino in Nara prefecture, where the green mountains are punctuated by pink.
At the beginning of March, cherry blossom memorabilia floods the stores: ceramics, stationery, textiles, and sakura-flavored foods.  People who have been huddling around their heaters all winter reemerge to indulge in the national pastime called hanami, picnicking under the cherry trees.  They awake at dawn, armed with tarps and blankets, to secure themselves a prime space.   Hanami drinking starts early, and the day is spent eating and imbibing in a manner more reminiscent of a Bacchanalia than present-day Japan.  Then everyone quiets down for a nap before starting all over again.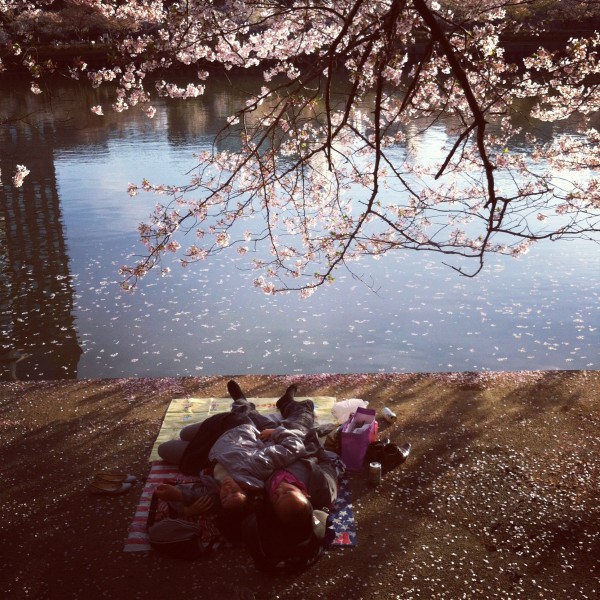 The reverence for the sakura transcends aesthetics; more than just a pretty spectacle, they embody a philosophy, a basic truth about life.  The blooms are so fragile and short-lived that they come and go over a matter of days.  To the Japanese, this is a metaphor for our existence: fleeting.  Even the demise of the cherry blossoms is poignant and beautiful.  The blossoms fall, carpeting the ground in white and pink, and petals swirl confetti-like in the air, and then are gone.  The cherry blossom constitutes a frequent motif in Japanese art, literature and poetry, and when you're surrounded by them, it's easy to understand why they are so celebrated.  There are some things that are so exquisite that you can't help but be moved by them, that make you feel as though you're in the presence of something miraculous.   As the great poet Basho wrote:
all the more I wish to see
in those blossoms at dawn
the face of a god
Expert