January 10-12
I'd prefer to just call it Hungry because I'm pretty sure I was hungry the entire time. Maybe it was from traveling for nearly three weeks and I was on my last leg, or because I was still sick. It didn't make matters better that I could not drink straight from the faucet. I filled my water bottle when I first arrived and the water was disgusting. Not like tap water in L.A. disgusting, but non-filtered water traveling through rusty pipes disgusting. I assumed that it was all throughout Europe that I could drink from the tap, but I was wrong; Not in Hungary.
Aside from my water disappointment, I was still not really impressed with Budapest. I'm pretty sure Alex and I got ripped off by the taxi driver because according to a local it was supposed to be way cheaper than what we paid.
That was disappointment no. 1. No:2 : Our hostel was complete crap. I mean the owner was really nice in a creepy way but the rest was bad. I felt so awkward letting any body part touch the "bed" (it was actually a really gross sofa) that I slept in my jeans and sweater with my hood on. I had to make sure I wouldn't catch any hostel bugs.
Okay, enough dissing Budapest. They have THEE best Turkish baths ever. I have never been to anything like it:
These photos do not even give the place justice. The ground was covered in snow, it was freezing outside and I had to run from inside to the outdoor heated pool. After wadding through this giant warm bath, Alex and I crossed to the other side to go to the other indoor saunas and pools. There were various pool at different temperatures in the most beautifully designed buildings. I could have sat in there forever, but we had to move on and enjoy everything else. There were saunas so hot that I could not stand being inside for more than 5 minutes, some I could not get enough of and one that had a color changing lightbulb to expose our skin to different UV rays. My favorite part was going from the extremely hot dry/wet sauna (which no one was ever in because it was so hot) and jumping in the pool of freezing water. It was such a jolt!
I'm pretty sure it was around $20 to get inside the baths but we are allowed to stay all day if we wanted; From opening to closing. I wish we did that. Alex and I were convinced that if we stayed in the really hot saunas it would get rid of our colds. It didn't.
But at least they had a colorful 1000 banknote:
(1 Hungarian Forint=$0; 2 Hungarian Forint=$.01; This 10000 HUF=$44) Oh Hungary.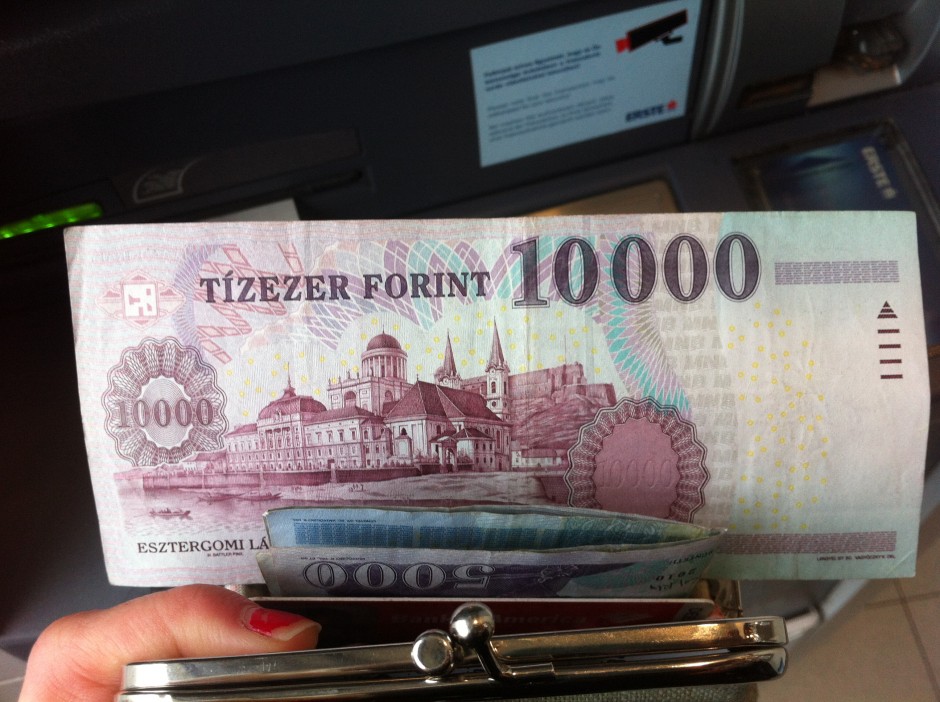 To be perfectly honest, Alex and I pretty much did nothing in Budapest. We were too sick to even think about going out at night so we just walked the city during the day, did some cheap shopping, ate some "Mexican food" and spent at least six hours in the mall killing time. At least I managed to find myself a pimp coat at this really cool thrift shop. Everything was so incredibly vintage and clothes I would never wear (except fur my coat of course):
Since I was only in Budapest for a couple days and didn't do much worth commenting on, I'll just show some photos. Actually, Hungary was the first time during our travels that we had seen so much sun, so we walked across the city to the river to soak in the Vitamin D:
Three weeks of traveling definitely took a toll on both of us. Not to mention, the 14 hours we spent at the airport because we didn't want to spend the money to stay at our crappy Mandarin Hostel and wake up early to catch our flight. Instead we slept on a tiled floor, coughing and sneezing uncontrollably until we could check in at 11 a.m. I wasn't sure what the rules were about sleeping on airport floors so every time I heard someone walking by I would jerk awake looking around really confused.
I was so glad when we were able to board our Ryanair flight. I'm not sure if it is because Ryanair is so cheap or BUD (Budapest Airport) but we had to take a bus from the terminal to our plane and walk up a moveable set of stairs.
Despite our sick spell, it was the perfect ending to a perfect trip. I had the time of my life and will never forget the memorable moments ; )
<3 <3