The new Dubai mall hotel: A perfect concoction of shopping and stay
Dubai is rewriting the trend books. It is no secret that this city in the Middle East is amongst the hottest shopping destinations in the world. Dubai tourism has reached such heights primarily for its large gaudy malls and the strategically organized Dubai shopping festival, a big annual draw for the shopaholics and credit card owners.
The latest trend, of course, is to offer a combo of hotel and mall. Hence a number of hotels are cropping up either as a part of the malls or situated just beside the mall. This mantra has already proved to be a big hit with tourists since it spares them the hassle of making road journeys from their hotels to the malls every time they wish to shop. Not to forget, the arrangement also suits the frugal travelers who don't quite enjoy the wallet-crunching cab rides from the hotels to the shops and back. Besides, women have this strange notorious habit of walking out of a mall with a dozen of garish shopping bags each time they enter it. Easy to see that they would relish the idea of a mall-cum-hotel since they won't have to carry all those weighty baggage every time they are in the splurging mood.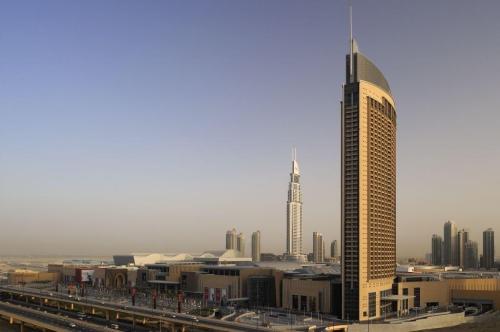 With Dubai shopping festival 2014 round the corner early in the year, the Dubai Mall Hotel has started receiving a heavy number of bookings and reservation requests. This hotel enjoys a special stature of being in a hugging distance from the Dubai Mall, the largest shopping mall in the world and the biggest money-minter for Dubai tourism packages.
Dubai Mall Hotel is special coz it is the only hotel which enjoys being so close to this retail hub. No other hotel or resort has been given permission to set itself up within the territories of this mall.
Staying at this hotel may cost you quite a bounty but if you are rich enough to afford its rooms, there is no better place than this hotel. Quite luxurious and reputed, Dubai Mall Hotel is simply a pioneer to a trend which is all set to take the Middle East by storm over the next couple of years. Trade pundits opine that this concoction of hotel-plus-mall is working really well with Dubai's image and is bound to grow from here.
So, if you call yourself a shopping maniac and are squealing in anticipation of the upcoming Dubai shopping festival, you should try booking a room at this hotel. In case you are too much of a miser (or broke), there are other less expensive hotels at a little distance. So, keep calm and go to Dubai!