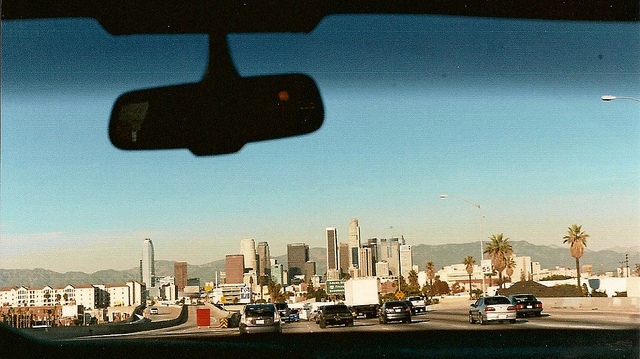 One of America's greatest wandering souls, Mark Twain, once said of Los Angeles: "It's a great place to live, but I wouldn't want to visit there." I sympathize with travelers to my beloved city because, over a century on, Twain's words are truer than ever. Marooned without a car somewhere near LAX, holed up in their hostels terrified by Inglewood horror stories, travelers here seem all too often like lost foals in a stampede. When they finally make it to Hollywood Boulevard, as their guide books probably suggest, they gasp with revulsion at its callousness, its poverty of spirit, its utter decrepitude.
And for good reason. Los Angeles has been, since its inception, a city of myths. No metropolis in modern history has a bigger discrepancy between the image it projects to the world and the reality of life within its limits. In the early 1900s, even before the studios moved to town, L.A. was the fastest growing city in the world, attracting thousands of Midwesterners seduced by the promise of perpetual summer between the orange groves. The city was sold as the ultimate realization of America's Manifest Destiny, where the air was pure and the possibilities endless. Behind this idyllic façade festered a powerful counter myth: Noir. In the 20s and 30s writers and filmmakers presented Los Angeles as a place of malevolent beauty, a rose bush growing over a hidden corpse, a dystopian world in which people, as Evelyn Waugh once put it, live in "profound oblivion," rotting in the sun.
These conflicting myths settled the city's identity as it emerged from adolescence after WWII, and they have since evolved modern derivatives. The booster myth peddled by the city's first developers a century ago has now been usurped by the perceived glamour of the film industry, and while it usually attracts the tourist and not the traveler, this vision persists nevertheless in the imagination of all visitors. The popular counter myth is that Los Angeles is a plastic, cultureless city mired in the shallows of narcissism, coupled with apocalyptic traffic and crime.
There is some truth in the clichés, of course. There is smog, there is traffic, there is crime. There are freeway pile ups and some people with disturbing tastes for fame and attention. But the other extreme is also true. The sun shines 300 days a year. The jacarandas bloom in the Spring, forming an ultraviolet treeline above the boulevards. The San Gabriel Mountains rise like a white wall to the Northeast, imperious on those pristine mornings after January rain.
Both extremes are oversimplified versions of Los Angeles, yet many visitors come expecting one or the other and leave with their prejudice compounded. This is a disservice to a city which is complex and abound with rich idiosyncrasies. In Curtis Hanson's L.A. Confidential, Kim Basinger played Our Lady the Queen of the Angels herself. "She's a natural beauty with a phony image, a disguise that's all about selling it to the suckers," said Hanson. "But when you go beyond the image, as when you go beyond L.A. as the city of manufactured illusion, the character is not only beautiful but totally self-aware. Underneath, she knows the truth about who she is. Everybody else is struggling to figure it out."
Maybe we should stop trying. When you visit Los Angles for the first time, the only thing you should expect is a city garishly alive, rife with contradictions. Expect to meet some people broken by the Californian dream, some still fighting for it, and some who find the whole thing very funny, getting drunk in Griffith Park.
Expert