… of an English friend, only slightly older than I am, who has died of lung cancer.  She was a heavy smoker, and although she gave up some ten years before she became so ill, it was the smoking that killed her.
Everybody knows that smoking – cigarettes, joints, spliffs, cigars, pipes – whatever – causes lung cancer.  And several other cancers.   Everybody knows that you will probably get cancer, have to undergo horrible treatment, and perhaps die.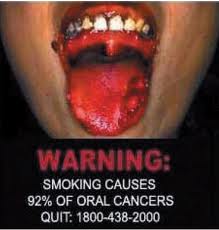 Yet we all make excuses.  In my smoking days I used to too :-
- my Uncle Bob smoked a pipe almost constantly from when he was 19 to when he died aged 94, and he was never ill
- my cousin, now aged over 70, does the same and is never ill
- my gramps smoked 20 or 30 cigarettes a day from age 16 till his death aged 93
- my gran breathed in that same smoke every day, all day, till she died aged 95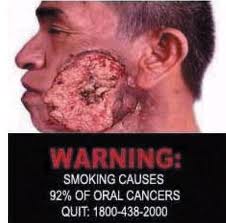 But this does not stop me from recognizing that smoking kills most people.  Sooner or later, most of you, it will get you.  A lot of us don't realize:-
- young people get cancer from smoking too – the picture above shows a man of 38 and the one above that of a woman of 33. Both cancers were the direct result of smoking
- a lot of cancer sufferers stink dreadfully
- it is dreadfully painful
- being in such pain makes you bad-tempered and depressed and even more difficult for your family
- even if you are treated and "cured", the process of that in itself is painful and unpleasant, can drag on for years and affect you forever
- the effect on your family can be devastating and so so unfair.  Not just your dying but the months and years of your illness.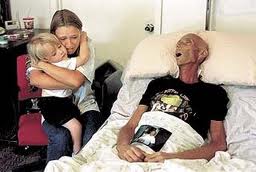 You – yes, you! – have no right to put those that love you through this.  The selfishness of it beggars belief.  There are so many other cancers and other causes of grief, that to do something which YOU KNOW IN ADVANCE will probably do this to your family, is stunningly unkind.
So stop it.
- See more at: http://www.turquoisemoon.co.uk/blog/tomorrow-i-am-going-to-a-funeral/#sthash.BOVsufT3.dpuf
Expert