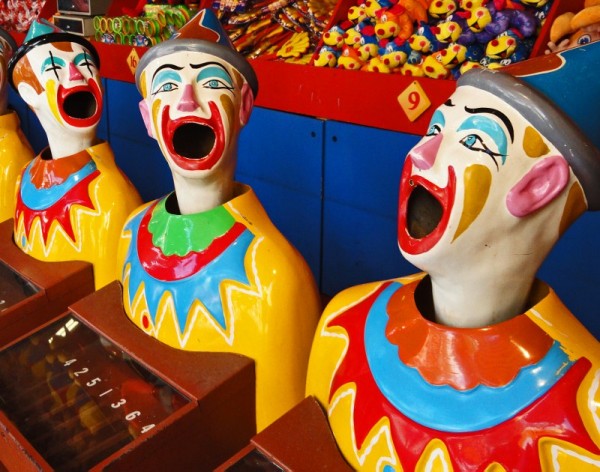 We've been traveling around the world for six months now but that doesn't mean we don't occasionally make stupid mistakes. Here are our top ten travel mistakes from both this journey and earlier trips:
1) Always check your wallet ~ Three days before we left for our global adventure Michael realized his credit cards, debit card and driver's license were missing from his wallet. He upended everything in the house to find them. After an hour of turning the house into a shambles he remembered that a few days earlier he had looked at new wallets at Robinson Luggage in Philly. He stuck his cards into various wallets to see if they fit. He called Robinson and sure enough, they had a wallet on the shelf with all his cards in it.
2) Always empty your pockets ~ We rented a car in England a few years ago and woke up one morning to find our hub caps had been stolen. (In the idyllic Cotswolds no less.) When we returned the car to London we were hoping no one from the rental car company would have reason to notice it. Four hours later we were somewhere over the Atlantic Ocean when Michael heard a jangling sound in his pocket. He reached in and found the rental car keys. The car, which we were hoping to slip in unobtrusively, ended up blocking the hectic Hertz rental lot at Heathrow Airport. They noticed.
3) Many umbrellas look alike ~ After checking out of a hotel in Zurich, Michael took his umbrella off the counter and walked away. The elderly man who had been standing next to him started berating Michael in German and tried to grab the umbrella. Even though he took German in college Michael had no idea what the man was saying, held onto the umbrella and stormed off. That night as we unpacked we noticed we now had an extra umbrella. If that German gentleman is still out there we're truly sorry.
4) Be careful in the toilet (part 1) ~ Larissa has already written about her toilet antics on the train in Malaysia. What we didn't realize when she wrote that post is that there is a "Miss Larissa" out there who, um, toilet trains adult men. Google finds it hard to tell the difference between Mrs. Larissa of Changes In Longitude and Miss Larissa the Dominatrix. Needless to say we've been getting some unusual traffic to our web site.
5) Check the rear view mirror ~ We were leaving our hotel in the French countryside for a three-hour drive to Paris and an early flight the next morning. As we pulled into the street Michael happened to glance in the rearview mirror and saw one of our suitcases sitting forlornly in the driveway. That little glance saved us a six-hour roundtrip to retrieve the suitcase.
6) Don't leave fresh produce in your suitcase ~ After one vacation Michael left a banana in his suitcase…in the attic…during the summer. Unfortunately we didn't go anywhere for another six months. Not only was the suitcase ruined but the banana wasn't any good either.
7) Don't board a soon-to-leave train without your traveling companion ~ Michael boarded a train in Switzerland while Larissa was off doing whatever it is women do in train stations. He hadn't noticed that the train was about to leave so he was quite surprised when a few moments later the doors closed and the train took off, leaving Larissa behind at the station. Which leads to our next dumb moment.
8) Always split your cash ~ Not only was Larissa abandoned at the station with none of her bags, Michael had just gotten local currency but hadn't shared it yet. Fortunately he did remember to come back for her.
9) Check visa requirements ~ We were almost denied entry to New Zealand and faced possible deportation because we didn't realize they required an outbound ticket. They threatened to send us back to the United States, which wouldn't have done us much good on a westbound around-the-world trip.
10) When staying in rustic accommodations always check under the toilet seat ~ We had a wonderful stay on a cattle farm in Australia. One of the quirks though was that not only was the toilet outside, it was a favorite resting spot for the local frogs who thought it was a pond. On our first night there Michael inadvertently flushed a blithely unaware frog down the toilet. He felt bad about that, it even replaced the guilt he's been harboring about the old German man from whom he swiped the umbrella.
Extra points to anyone who notices a pattern about who is providing the most bloopers.
Who would like to share any of their travel mistakes?
Larissa and Michael Milne have sold everything to travel around the world for a year. Follow their adventures at www.ChangesInLongitude.com They are also writing about their journey for the Philadelphia Inquirer.