It was a cold March afternoon in St. Andrews.  The wind howled and intermittent periods of snow and ice fell from the dreary sky.
A good friend of mine studied at the university for a semester and her excitement upon her return was infectious.  She raved about the cathedral ruins and said that I had to visit them.  So I took a train from Edinburgh, got off in Leuchars, and hired a cab for a ride to the city's center.
I walked up North Street.  Arriving at a stone gate that separated me from the holy ground, I saw scores of tombstones, the lonely eastern façade, and the remnants of the nave of what used to be Scotland's finest cathedral.  To the North and East is the sea and to the South, crumbling stonewalls are the remnants of cloisters that housed priests and monks.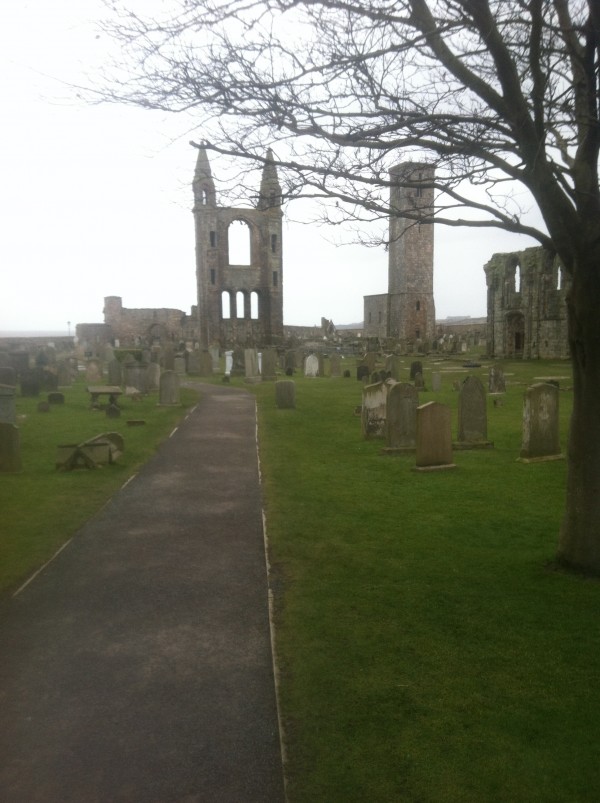 I found it stoic and strangely familiar.  While surrounded by scores of the dead and the decaying edifice, I walked East and proceeded down the former and took the stroll that so many had done centuries earlier to venerate the remains of St. Andrew.
I peered through the gaping hole of what used to be a magnificent stained-glass window into the gray abyss that lay beyond.  Teeming with curiosity, I then directed my eyes to look around the grounds.  Tombstones and markers the color of sand and stone occupied every nook and cranny.  And in that moment, I stopped, took a breath of the crisp air and strangely felt alive despite being surrounded by the dead.
Adventure filled my veins and I started to become excited.  Carefully observing each tombstone I came across, I felt a little bit like Sherlock Holmes inspecting a crime scene.  Every inch of each tombstone told a story.  Angels, skulls, crosses alongside beautiful epitaphs and countless dates paid homage the man, woman, or child buried in the lush grounds.
I came to one in particular.  A Celtic cross stood almost formidably as if a sign to evoke some sort of reverence.  And as my eyes searched the stone for an engraved name, something wondrous happened.
Time came to a standstill.  Snow continued to fall and the wind continued to gust but I became completely mindful of my insignificance in the universe.  Judgment and expectation no longer existed; they seemingly dissolved away into the whispering wind.
Some say that in death, there is life, and as each minute passed, the chains of my ego and insecurities eroded and decayed, like the small pieces of rock from the cathedral's crumbling walls and the bodies of dead that rested six feet under my boots.