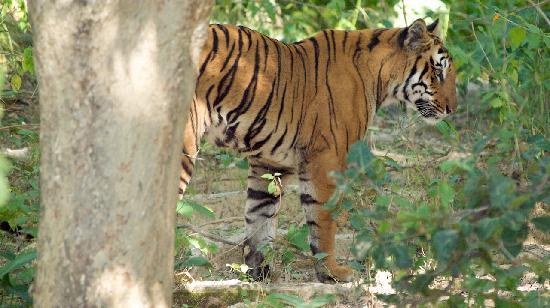 3-18-2013 At the edge of the universe, wondering how I'm going to land this thing. Scared, low on oxygen, my home planet nowhere in sight.
3-18-1963 Stacyville, Iowa
… At the center of the universe. Content in my sandbox, designing the future.
3-18-1862 Franz Xavier Smith, my great-great-great grandfather, eight years after emigrating from Germany, purchased the NW1/4 of Section 28 in Adams Township, Minnesota, from John Fagan for $175.00.
3-18-1989 Jim Corbett National Park, India – from my journal
Woke up in the middle of the night, sick, diarrhea and vomiting. Took an antibiotic in the morning and some Danish painkillers donated by Henning, my tent mate. Feel better. Went to the observation tower in the afternoon. Came back and had a nap. Went on an elephant ride in the evening with Mike, Les, Kim and Patty. No problem. We spotted a tiger. It was stalking deer. We saw it for a minute in the shadows, with one good look in the sun. Many other animals. Slept.