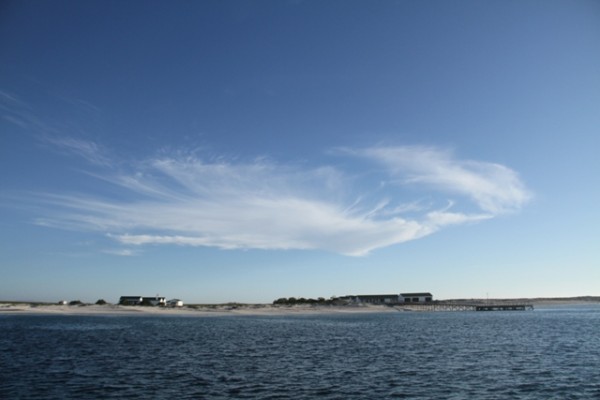 http://matadornetwork.com/community/espiritulibre/first-voyage-on-white-eagle/img_2953/
http://matadornetwork.com/community/espiritulibre/first-voyage-on-white-eagle/img_2962/
Fishing and crayfishing is quite popular in this rich area of the sea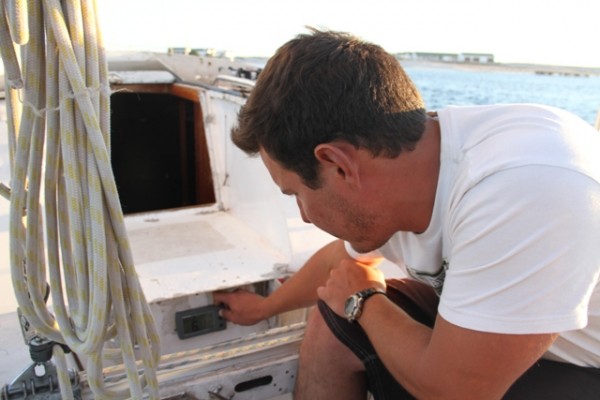 http://matadornetwork.com/community/espiritulibre/first-voyage-on-white-eagle/img_2955/
When at anchor for the evening, it is a good idea to set a depth upper and lower tolerance where when breached, an alarm will sound.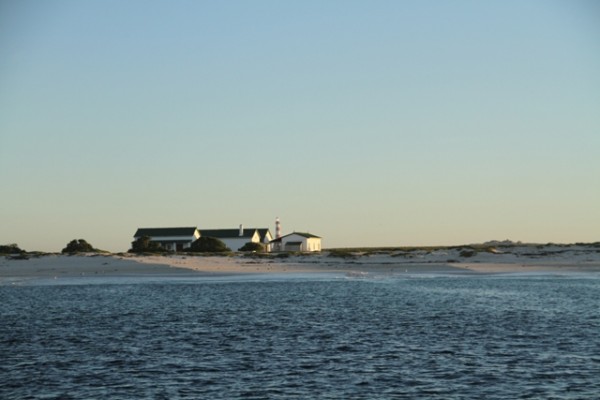 http://matadornetwork.com/community/espiritulibre/first-voyage-on-white-eagle/img_2970/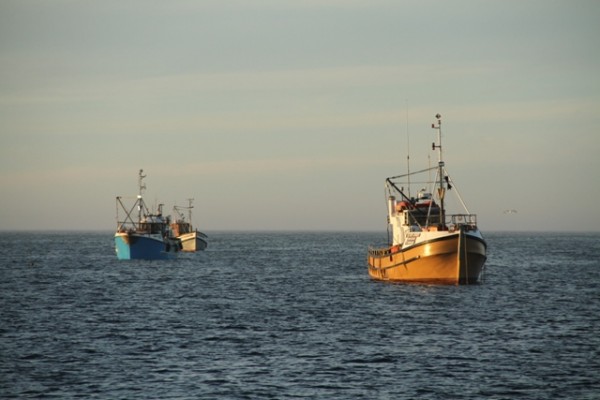 http://matadornetwork.com/community/espiritulibre/first-voyage-on-white-eagle/img_2973/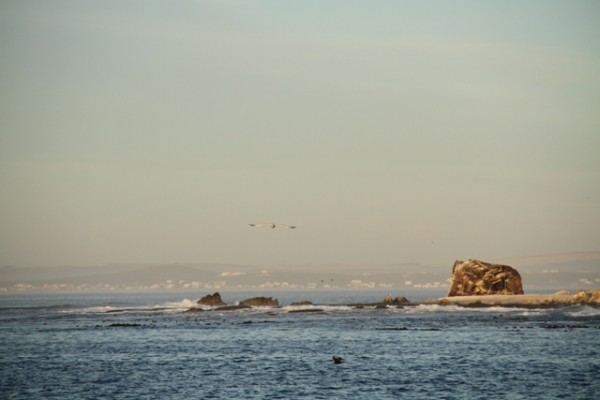 http://matadornetwork.com/community/espiritulibre/first-voyage-on-white-eagle/img_2975/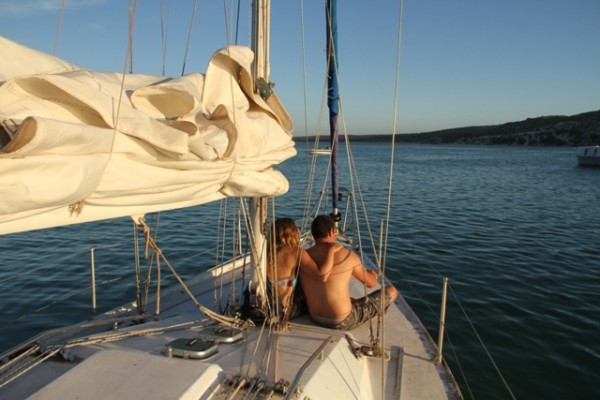 http://matadornetwork.com/community/espiritulibre/first-voyage-on-white-eagle/img_2982/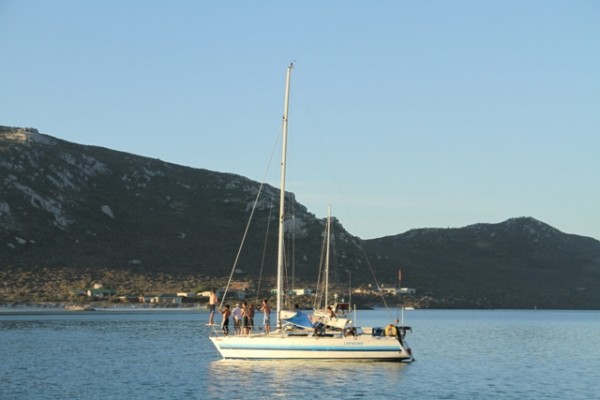 http://matadornetwork.com/community/espiritulibre/first-voyage-on-white-eagle/img_2986/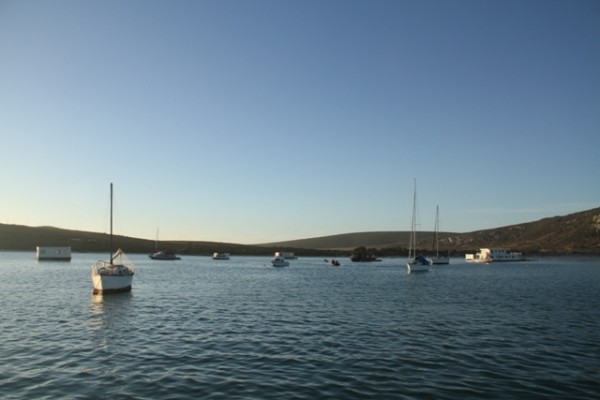 http://matadornetwork.com/community/espiritulibre/first-voyage-on-white-eagle/img_2991/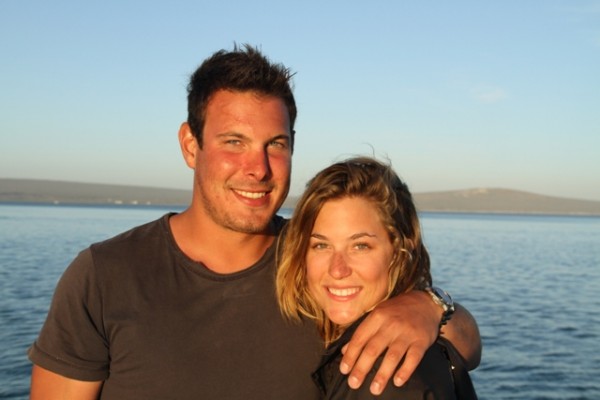 http://matadornetwork.com/community/espiritulibre/first-voyage-on-white-eagle/img_2996/
http://matadornetwork.com/community/espiritulibre/first-voyage-on-white-eagle/img_3014/
Friday midday, that was the designated time for our departure from Johannesburg CBD heading for Langebaan with one overnight stop in Noupoort. No, I did not know that Noupoort is infamous in claiming home to the country's largest drug and alcohol rehabilitation center and that I had unwittingly booked us into the small town's one and only guesthouse. The plan was to get out of Johannesburg ahead of all the other rats, Monday being a public holiday, Friday probably marked the start of the Christmas holidays for many Joburger's. The N1 towards Bloemfontein had quite a bit of traffic, but smart money says that we did beat the traffic and that lifted my spirits some. Noupoort is approximately 50km or so from Colesberg, where one would turn off the N1 and onto the N9. Driving in to Noupoort at just after 18h30, we noticed how quiet the town was… almost like a ghost town. The only activity was all the overnighters trying to park their cars in the small parking lot of the guesthouse (www.thedonguesthouse.com), that and the garage up the street seemed to be attracting a few odd looking pedestrians. We decided to stay at the guesthouse for karoo lamb dinner, as expensive as it did seem.
Cindy's alarm sounded at 05h00 on a miserable Saturday morning, and I moaned and groaned before the thought of heavy traffic motivated me out of bed. We were on the road by 06h12 and were making way. I ended up taking the wrong turn which led us down 35km of a muddy and wet dirt road. We must have just missed a heavy downpour. It was quite a nerve wracking drive with mud making the car slide all over the show, but Cindy's calmness prevailed and kept me calm too. We finally found the N1 again, and joined it quite relieved, the car though was just filthy and caked with mud and badly in need of wheel alignment again!
The remainder of the journey was relatively event free, and the drive towards Paarl took us through the winelands where we saw many vineyards belonging to various wine estates at various stages of maturity. It made a pleasant change to the karoo scrub which had decorated our trail so far. Passing through the Huguenot Tunnel, we marveled at the engineering it must have required to construct the 4km tunnel through a mountain, so much so that we googled a few details about it, http://en.wikipedia.org/wiki/Huguenot_Tunnel. It's amazing that we have had such skilled engineers in South Africa in the 70′s and 80′s already, and more of a pity that many of them have left or have been replaced by some with questionable skill levels. Somewhat fatigued, we arrived at Club Mykonos, Langebaan at around 16h00 or so. Unpacking was an effort but was soon over and we were relaxing on White Eagle before long, my 35′ Van de Stadt yacht with an aluminium hull.
The next few days we spent relaxing on White Eagle and bouncing ideas around as to how we would spend the 4 days with our Skipper, Rudi. Southerly winds were predicted from 18th -20th then swinging to Northerly on 21st. Debate resulted in the decision to sail south from Saldanha Bay to Dassen Island beating into the wind, anchor off the island overnight and then sail with the wind north past Saldahna Bay and up to Port Owen, where we could practice some of the more technical sailing. When the wind switched to northerly, we would then sail back to Saldahna Bay and to our mooring at Club Mykonos. Of course as it often is when it comes to the elements, one cannot predict everything and this resulted in our plans changing. Cindy and I spent Monday on the menu and wrote up a list of groceries and provisioned the yacht, we were to eat like lords. Rudi's girlfriend, Kylie, was to join us on the trip, so to provide extra resources for the anchor watch. We all became friends during this experience.
08h00 was our scheduled departure time, but this was pushed out to 09h30 when I discovered that the gas bottle could only be collected at 09h00 in Langebaan. I was slightly nervous about the trip, it was to be the first open sea voyage Cindy and I were to make. We raised the mainsail and the gib before we passed on the inside of Jutten Island and kept motor sailing, the wind was still relatively light. On Rudi's instruction I went down below to the navigation desk and plotted a course to steer on the chart, we had about 3 waypoints where we would change our heading and after the final change we would be on a tack heading almost directly out to sea in a westerly direction. The sail out past Jutten Island was quite calm since Langebaan is a protected lagoon which gets very little swell from the sea, this and the fact that it attracts wind due to it's shape and surrounds, makes it ideal for comfortable leisure sailing. Kite surfers, hobie cats and windsurfers are but a few of the types of sailing craft to be found here, as well as many motorised yachts, cruisers and pleasure fishing vessels.
We passed the heads and the swells hit us from a southerly direction. This was to be our tack for the next 3 hours or so, and I soon discovered what it meant to 'beat' into the wind. Cindy went below into the galley to prepare lunch while we were on this tack, but came back onto deck shortly after feeling rather seasick, ultimately we made rolls for lunch up on the deck and then just ate them as they came off the production line. Rudi suggested bringing a couple of pillows on to the deck for the ladies to rest on, and pretty soon they were sound asleep as we continued beating west. I took the helm and Rudi proceeded to rig up a trawling fishing line on a rubber band, the line got tangled so it took almost an hour to get that done! 3 hours passed after which we had done about 18 nautical miles, and it was now time to tack! We had seen 2 sun fish and many seals keeping us company. Cindy was feeling worse and could not get comfortable on deck, a treacherous symptom of seasickness. We tacked White Eagle and went on to a heading of 140 degrees magnetic. This heading was to take us almost directly to the anchorage on the north side of Dassen Island and would give us shelter from the southerly winds overnight.
Not a single bite on the line! I spotted the lighthouse on Dassen Island at 17hoo or so and adjusted our heading to 153 degrees magnetic. We spotted a massive pod of whales blowing water and broaching a few miles west of Dassen Island, it was quite a sight to take in, they must have numbered between 30 and 40. On the final approach, we furled the gib onto the roller furling and then lowered the mainsail and started the engine. Rudi navigated us to the anchorage on the helm, having visited the island several times before. Many orange buoys marked where fishermen had layed their crayfish nets, so Rudi had fun dodging them. There must have been about 8 fishing vessels moored off the islands watching over their nets and settled in for the evening. Looking into the water I noticed dozens of orange jellyfish with long bright orange tentacles extending from under their bells, I later discovered these to be the Lion's mane jellyfish. This ruled out the afternoon dip in the sea, although the wind was already freezing cold so that would have been a foregone conclusion. Dropping and seating the anchor was just a formality for a seasoned sailor like Rudi, so we were soon ready to start preparing dinner, but I observed the anchoring process closely for future reference.
Cindy felt so guilty ab0ut being seasick during the day that she handled all the dinner preparations and we were treated to her famous spaghetti bolognaise. Rudi drew up an anchor watch schedule and I drew the 02h00 slot. The purpose of the anchor watch is to make sure that the anchor does not drag or come loose during the night while the crew is asleep, this could lead to the vessel being washed into danger or even being run aground or dashed on rocks or a reef. It is quite essential, especially when the floor of the ocean where the anchor is set is unknown or there are rocks, other boats or anything in the sea nearby which could pose a risk to a vessel adrift. After dinner and our first day at sea, we were buggered so we all hit the sack. A harp rang out from my cellphone at 02h00 shocking me into wakefulness. I switched it off quickly so that it would not disturb the others and then dragged myself up so as not to fall asleep again. When I stuck my head out of my cabin door I saw Rudi sitting at the navigation desk and asked him what he was doing up, he replied that his alarm had not rang and so he had slept through his watch. I stood on deck with him while he had a smoke and then he went off to bed. Keeping an anchor watch while extremely important while a relatively simple job. You use various means at your disposal to ensure that the anchor is not slipping and the boat is not drifting from the anchorage. At the end of each anchor watch shift, the person in charge of the watch must enter into the vessels logbook; the depth, the GPS coordinates, the time of the entry and a few remarks about sea and wind conditions. Sound and visual watch from the deck is also useful, we were conveniently anchored between a fishing vessel and a shore. My shift ended at 03h00, and in the hour I had been on watch, a thick fog had rolled in and the nearest fishing vessels anchor light was barely visible through the haze. I made my entry in the log and went back to bed. The harp strummed again at 04h00 indicating the beginning of Cindy's shift so she also got herself up and proceeded with her duties.
I heard someone go to the heads, and that's what woke me up for my morning rise. We were up soon after to brew the morning coffee and discuss the sailing plans for the day. Gathered around in the saloon, Rudi explained that we would be sailing with the southerly winds to Port Owen where we would be able to dock and practice sailing maneuvers the next day in the large bay. The wind would then switch to northerly and we would be able to sail easily back to Langebaan. The plan was clear and it was time to weigh anchor and get underway. Sticking my head out of the companionway hatch though, I could not help but notice that everything had disappeared. A heavy fog had moved in, this made an early departure for Port Owen impossible, which also meant that we would have to change our destination, due to the time lost waiting for the fog to abate.
I was mildly irritated that we wouldn't be getting as much sea time as expected, but then that's the problem with having expectations, isn't it, especially where the weather is involved. Once I digested our change in plans, which took all of three minutes, we pulled up the anchor from the weedy sea bed and stowed it safely in the anchor locker on the bow, Kylie then turned White Eagle around and began navigating north by motor between the fishing nets which had not yet been lifted. We raised the main sail and the gib once we were clear of all obstacles and made our course 000 degrees. Sailing with the wind and with the swells, which had increased to three meters in size, was far more comfortable than beating into the wind, and all crew were happier with the arrangement. Not an hour had passed and the fog moved in again, wrapping itself close around White Eagle, our visibility was reduced to 25-50 meters. Scary as this may have been, we had no choice but to continue to Saldanha as planned. After a while I felt a strange comfort come over me in having the fog all around, as though what I could not see did not matter. The voyage was largely uneventful, I focused on absorbing as much of the feeling of freedom that being on the open ocean gives one as possible. Rudi and I alternated at the helm as we devoured the leftover bolognaise on rolls for lunch. We did spot a few pods of dolphins which came under our bow, and we also passed a dead whale. The whale was bloated and filled with gases, it floated past us and to upwind, followed eagerly and closely by flocks of birds and other scavengers of the sea that we were probably fortunate to have not seen, lurking beneath the surface. I got a whiff of the corpse as it moved directly upwind of us and it stank! I thought that perhaps the cold Atlantic water would have kept it somewhat preserved, but clearly all things must return to the earth.
We were getting closer to the heads where we would need to change our heading and enter Saldanha, so Rudi was down below checking the GPS. Because we had no visual references, he was also checking our depth on the sailing instruments and then cross referencing this to the navigation chart to have a confirmation of the GPS reading, another pearl for my experience. It was pretty exciting when we spotted the north head lighthouse through the white-out and were able to use landmarks again to some degree, we changed our heading to enter Saldanha and made the necessary radio call to Saldanha Bay Port Control to request permission to cross the channel which was necessary to get to Saldanha Bay Yacht Club, and it was granted. We sailed to the south of some of the most ominous looking rocks protruding from the water near the north head. I became so entranced watching the swells crash against these finger-like protrusions from the sea, that I was subconsciously sailing too close to them. Watching the rocks submerge and then reappear almost from nowhere, was something that is difficult to explain. I kept thinking about how many other boats may have been dashed against the rocks on these shores. It was Rudi's watchful eye that pointed out my err, and my vigilance returned and I corrected our heading.
Docking at Saldanha Bay Yacht Club was easy enough and while I enjoyed my first shower in two days, I reflected on our first true sea voyage, as meagre as the mileage was. I felt myself feeling pleased that nothing had gone wrong, other than the batteries not recharging properly from the solar panels and having to jump start the engine using the compression switches (or something like that). I made a mental note that I would need to do a diesel engine competence course. Watching Rudi perform this procedure however, did save our bacon later during the holidays! I signed in the Skippers Log book at the clubhouse and then paid Ivy, the Marina Manager, R88 for the four of us for the evening, use of the facilities. Rudi and Kylie got a fire going, Cindy made the potato salad and I went to get us a few well deserved beers from the bar. A keel boat was being pulled up the launch ramp out of the water on a winch to be cleaned, and this gave us something interesting to watch while each of us pondered our inward thoughts. Sitting by the fire just thinking about how I was realising one of my long time dreams was deeply satisfying, I stared into the flames and got lost in thought.
It is sometimes difficult to get a peaceful nights sleep in the cabin, tossing and turning happens occasionally during the night, but strangely when you wake up you still feel rested. I'm pretty sure it must have something to do with being so close to the ocean. It was a banana, apple and nectarine breakfast, it seems to keep me full until 11am, but then I have to make sure something else edible is close at that time, because I get ravenous fast. Because we were sailing to Kraalbaai for the evening, we would have to stop over in Mykonos to get additional braai supplies, we were going to be braaing on the yacht. Pretty much the same again, wors and steak on rolls with another of Cindy's soon-to-be-legendary potato salad.
The channel and shallow water navigation was a cinch for our experienced skipper, and we were anchored in Kraalbaai before long and about 2 hours before sunset. Rudi and I made a wood fire first and then added some charcoal to braai the meat. I donned the mask, dived into the water and swam to where the anchor lay, it was quite interesting to see how it finds purchase in the sea bed and prevents a 4.5 ton boat from drifting, while Rudi and Kylie paddled the dinghy to shore to play. Kraalbaai is protected from the elements and is deep into the Langebaan lagoon to the south. A keelboat cannot really travel further than this, due to the charted depths having changed over the years from silting. It's basically Rudi's local knowledge that allowed us to sail White Eagle there on an incoming tide. We anchored at a depth of just over 2 meters, after calculating what depths we would have at the next low tide, you don't want your keel to be on the hard! The southerly wind died down and the swung to northerly and all the boats anchored in the bay swung around on their anchor ropes obediently. The northerly wind was gentle and as a result the yacht hardly tugged or moved on the rope all night. As the sun went down on us at 9pm, and we were enveloped by darkness, we ate with good company and then settled down to the best night's sleep I have had on the yacht, to date. Cindy and I paddled ashore in the dinghy in the morning for a long walk on the beach. It's hard to explain it, but it is like a secluded paradise. I couldn't take my camera on the dinghy, but I do have a few shots of the beach from a distance.
Properly rested, we raised the anchor in the morning and headed back to Mykonos, today being the last day we had Rudi on board as our skipper. It was a wonderful experience and great to spend the time with Rudi and Kylie.
Hasta Luego,
Clive.