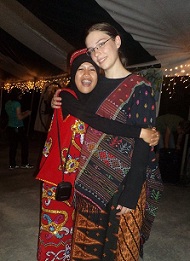 Culturally, I became Indonesian on the morning I left after a six month study abroad trip.  My Inang and Amang (mother and father in Batak) performed an adoption ceremony using a traditional Batak cloth.  The cloth itself was a woven, black shoulder sash with red, yellow, and white threads woven in colorful designs.  Tiny white glass beads dotted the surface, and towards the middle of each side was written "Dame Dihita".  I'm told it means "Grant us Peace" or something similar.  The sash is meant for travelers, but that didn't change the ceremony.  The morning I left Indonesia, I became Robin Hariandja, half Javanese, half Batak.
Sounds easy, but the process of becoming Indonesian was much more complicated than that.  I spent many months trying desperately to learn the language, find friends, fit in with my host family, and really just survive in a culture and a country that eluded, yet fascinated me.
In reality, I became culturally Indonesian a lot earlier than the adoption ceremony – that just made it official.  And since there seems to be a lot on here about traveling to Indonesia or being an expat in Indonesia, but not much about trying to become Indonesian, I thought I should try to fill that gap. So becoming Indonesian.  This isn't going to be a how-to guide; you're going to have to figure that out yourself.  It's also not meant to be arrogant, just a list of tips that will get you more exposed and more a part of Indonesian culture.
1. Speak Indonesian, and speak it WELL.  Many foreigners in Indonesia think that Indonesian is an easy language to learn, and when compared to Mandarin or Latin, it is.  But that doesn't mean that it is so easy you can learn it in a week, or even a month.  Find a class, probably at a local university, that can help you with your language skills.  Then follow some of the steps below to immerse yourself in Indonesia itself.  Your language skills will improve, and most Indonesians will greatly respect you for speaking Indonesian like an Indonesian.
2. Hang out with Indonesians.  It doesn't matter if they're your co-workers, your neighbors, or some vendors on the street.  Surrounding yourself socially with Indonesians will improve your language skills, clue you into certain cultural behaviors and practices, take you places you never knew existed, and completely change your view of Indonesia.
3. Read Kompas or another Indonesian newspaper or watch Indonesian news.  Reading the newspaper helps with language skills, but also gets you caught up on issues Indonesians feel are important.  You may not care that Indonesia won gold medal for Badminton in the Olympics, but Indonesians (myself included) certainly do.  Knowing the issues makes you a member of society, not just a tourist, and creates new possibilities for conversation.
4. Watch Indonesian TV or listen to Indonesian music.  If you live in Indonesia, it's very hard NOT to hear Indonesian music.  And I don't just mean traditional music (though you should listen to that, too) – I mean popular music.  The stuff playing in internet cafes and shopping malls.  The music people sing karaoke to.  Watching TV also gets you in touch with the latest media trends, and most Indonesian TV shows are strange, but fun.
5. Talk to people on the street.  Don't just go and stop random people, but talk to vendors.  Buy some roti bakar and chat with the person behind the stall.  If someone comes up to you and starts talking, talk back.  Engage with the local population, and eventually you'll be able to walk home with people shouting "Halo, Mbak/Mas" across the street to you.  In other words, you'll be a part of the community.
6. Eat at a warung, lesehan, or kakilima, preferably one looking out on the street.  Eating where locals eat gives you a chance to sample the fantastic local cuisine and also gets you out into Indonesian society.
7. Learn to cook like and Indonesian.  In my humble (and biased) opinion, Indonesian food is some of the best on the planet.  Knowing how to make it will make you a much happier person, particularly if you find yourself away from Indonesia for any length of time.  It will also expose you to local culture and earn you major points with anyone who knows you can cook their food.
8. Live with Indonesians.  This is fairly easy, but certain communities or neighborhoods are very expat-heavy.  While it may be comforting to live near fellow expats, you're not doing yourself any favors in terms of blending in with the locals.  Living in a neighborhood populated mostly by Indonesians helps you with points 1, 2, 6, 9, and 10, and also gets you living in the country rather than a mini America in Indonesia.  Besides, it's not like you can't hang out with expats, just don't live right next to them.
9. Learn some Javanese or other local language.  Many Indonesians speak Indonesian as their second language.  Local or indigenous languages are often their primary means of communication and filter into most communication done in Indonesian.  Outside the cities, many Indonesian do not actually speak Indonesian (especially young children and the elderly).  Local terms also become regional slang when speaking Indonesian.  Learning a local language, even a few words, opens up communication with a lot more people and gives a local flair to your Indonesian skills.
10.  Go with the flow.  My Inang (mother) used to come to me and say "Robin, we're going somewhere, come, get in the car."  No matter how many times I asked, she would never tell me where we were going until we were there.  And that was how I saw and participated in my first Batak wedding, traveled to a fairly remote village and had tea while speaking in Javanese, and attended a Christmas celebration at a polio rehabilitation center.  I would never have done those things had she not simply taken me, and I soon applied this mantra of "Why not?" to other offers my friends made.  Want to come to my village for Idul Fitri? Why not?  How about go to traditional wayang kulit?  Ok.  Let's join the school orchestra! Why not?  You experience a lot more of Indonesia itself, and end up with very fond memories.
This is not meant to be an exhaustive list, and is certainly not a how-to guide.  But if you want to fit in more with Indonesian culture, these are some good ways to get your foot in the door.  After that, take full advantage of point 10 and you'll probably find yourself becoming Indonesian.
Expert