My husband and I spent 6 weeks in Manila, Philippines and had the opportunity to take a couple weekend trips to visit other islands.  One island rich with history is Bohol Island, the tenth largest island of the Philippines. During our trip we took a tour of all the main sites on the island. The highlight of the tour was visting the Chocolate Hills and Philippine Tarsiers.
Declared as the country's third National Geological Monument, the Chocolate Hills is a must see attraction on Bohol Island. The dome-shaped hills are made of grass covered limestone. During the dry season the grass turns a chocolate brown and looks like a bunch of chocolate kisses; hence the inspiration behind the name. There is an estimated 1,776 individual mounds spread over 20 miles.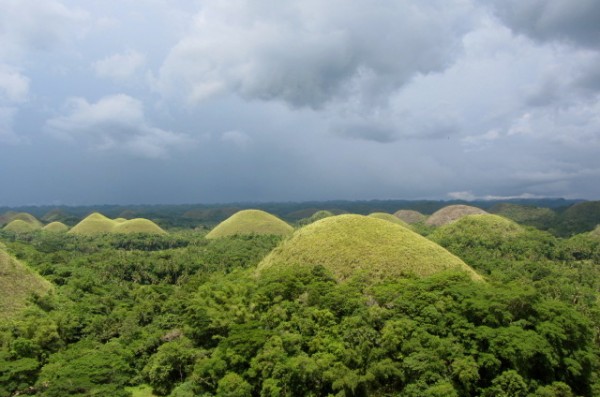 The plaque at the viewing area explains the formation. "The unique land form known as the Chocolate Hills of Bohol was formed ages ago by the uplift of coral deposits and the action of rain water and erosion. The grassy hills were once coral reefs that erupted from the sea in a massive geologic shift. Wind and water put on the finishing touches over hundreds of thousands of years".
The day we went it was stifling hot so the last thing I wanted to do was to walk up 214 stairs, to be exact, to reach the viewing deck. However, the climb is well worth it and the views are spectacular!
 The moment had finally arrived and we made it to the Tarsier conservatory. Tarsiers are very small fury nocturnal primates with long tails, enormous eyes, bat-like ears and long fingers and toes. They can also turn their head 180 degrees in both directions without moving its body. Tarsiers are roughly between 4 – 6 inches in length,  3-6 ounces and their top speed is about 24 mph. They are carnivores eating mainly insects, lizards and birds. Sadly, with their declining population, they are now considered an endangered species.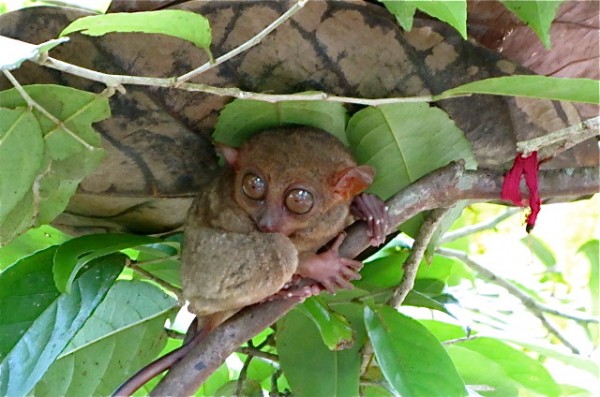 I would definitely recommend visting Bohol Island for the day but staying on Panglao Island. The island is 80 square kilometers and attached, by bridge, to Bohol. Panglao is similar to the popular Boracay Island with long stretches of white sand beaches, crystal clear water and also one of the best dive sites in the world.  You won't be disappointed.
Expert