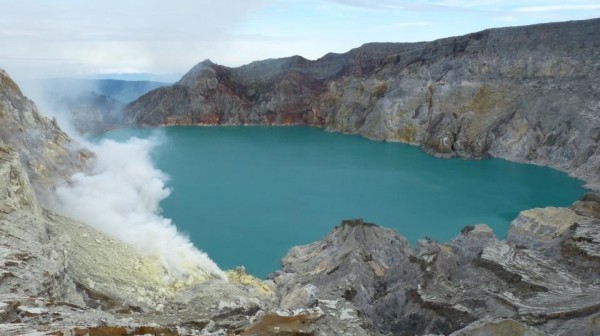 A climb up Kawah Ijen in Eastern Java turns from scenic morning hike to nightmarish wake-up call on the reality of the health and safety risks that make up the daily lives of the volcano's sulphur miners.
The taste of sulphur sears the back of my tongue. My clothes are steeped in its stench. With every blink I see that demonic red sun, ringed with fire as it dangles mockingly above the groaning miner ahead of me. He's stopped still on a canine tooth of rock, t-shirt over his mouth, 90kg of bright yellow pay-dirt creaking in the baskets balanced across his deformed shoulder blades. His composure eclipses my panic with dark humiliation, as I stagger about knock-kneed, doubled over, practically blinded by the clothes straitjacketed around my face in an increasingly futile attempt to stem the acid burning into my chest. Gasping, wheezing, gulping down more, inhaling my scarf and begging it to stop; for the first and worst time in my life, I am convinced this is it.
It's only a few hours since I stumbled out of bed before dawn, sprayed my rapidly dread-locking hair with dry shampoo instead of braving the freezing Indonesian mandi water tub, and threw back a cup of wake-the-dead coffee brewed at the Arabica plantation I grabbed a few hours of rest at. Still too sleepy to be apprehensive about the impending volcano trek, I hopped on the back of the motorbike as the driver jammed my backpack between his legs and the handlebars. The security guard waved us off and handed me a packed breakfast.
It's a steep, one-hour corkscrew ride through the rainforest-cloaked mountains of East Java to reach the base of the hiking trail that scales Mount Ijen. The morning mist freezes the base of my neck, turns my eyelashes to wipers, forms an icy meniscus over the pock-marked road. My driver is 15-year-old, one-eyed Aris, a local boy who had convinced me the previous afternoon that it was too dangerous to climb the volcano after midday – "fumes so strong madam." Half an hour later I clamber off the bike, legs frozen akimbo, eyes straining like a Siberian mole; I thank him and reassure him I'll be fine. "Stay safe Madam, is can be very danger."
I nod gravely and commence puffing and cursing my way up the trail. Through clouds and spider webs and with views obscured by jungle before giving way spectacularly to the rest of the volcanic Ijen Plateau, I pull one complaining leg up after the other. As the sun rises above the treeline to meet my gaze, its heat intensifies what feels like a 90 degree climb and I am  overtaken by sprightly old men shouting cheerful words of encouragement. I make friends with one – Nur, a sulphur miner with a humbling grasp of English and an embarrassing level of physical endurance.
We reach the top of the volcano, pausing to take in the world's largest sulphurous lake that beams in the sunshine, so turquoise and beautiful you would be tempted to dive in and cool off if you didn't know it would vaporise you. At the base of the crater, near the mouth of that deceptively inviting lagoon, is an active vent producing volcanic sulphurous gas that is channelled through a series of pipes into molten sulfur. As it pours out of the pipes, this liquid reacts with the air and almost immediately solidifies into fluorescent yellow pools on the ground, which the miners then hack at with machetes, breaking it into chunks to be loaded into their baskets. The system is rudimentary at best, and beside the exit point of the pipes a stream of noxious gas is constantly filtering into the air beside the workers. Sometimes it is a thin cirrus, others a billowing thundercloud. Kitted out in flip-flops and without masks or anything pretending to be one, the miners are jovial even while navigating the crazy paving of rocks back up the steep gradient from the deepest plateau, their loads and the fatigue weighing them down, the risk of toppling over the side all too clear and familiar.
Nur explains how he and his father chose – his words - this vocation. At around 3 USD a trip – double for those able to make it twice in one day – it is highly lucrative work in a nation where the average monthly wage is the equivalent of 50 USD. Doctors in Indonesia typically earn around 300 million Rupiyah per month, or 300 USD. The miners earn 100 million Rupiyah, some of them more. With little education and large families to feed, the men range in age from 16 to 60 years old, which can give an indication of when they started: the average life expectancy from clocking in to final sign-off is thirty years. For Nur and his family, the rent on their home at the farm they work for had soared above the amount they earned from tolling the land: they needed second jobs. I ask questions about the other miners, their health, their welts and sores, thinking up a thousand more before we both realize I can no longer focus on the answers he is giving me. Filled with shame and preemptive regret, I admit that I feel as if I have just smoked a cigar factory and exhaled all the fumes into my own face, that the smell is making me dizzy, that I have to stop. He nods graciously, gives me that smile I don't deserve and nimbly drops out of sight, down to the office. For a moment I stop to catch what thin breath I can at this altitude and watch the yellow-backed figurines as they mill and drift around the fumes and pipes.  Mentally bolstering myself for the scramble back up, I turn to face the crater wall. Unfortunately, so does the wind.
This is how I come to be crying my burning eyes out at 8am. As the "is this it" question gatecrashes my mind, the panic suddenly evaporates. I spring up, direct myself at the nearest visible semi-pathway and charge at it. I can't see my feet, let alone where I'm putting them but a chemical reaction of fear and adrenaline are propelling me at high speed up the uneven cliff-face that only minutes – could it be seconds?- ago I had been picking my way gingerly down like an arthritic Bambi on crutches. Not anymore. Nearly colliding with four or five dignified miners wailing lowly for Allah and coughing up lungs in unison, my quivering limbs are transformed into mountain goat legs on steroids. Getting far enough out of the pristine cloud of fumes so as to avoid tumbling down the jagged incline to an acidic death is the goal I am monogamously sticking to. After about twenty feet I make out a semi-plateau in the fog and collapse into a crevice between two rocks. Eyes streaming, inner organs screaming, my hands search on crazed autopilot in my bag for something, anything, else to cover my face. After a few seconds I give up, settle for the bag itself, stick my head inside, and wait.
Eventually the smoke clears enough to see a few feet ahead and I clamber back up the rest of the cliff on fast-forward. I reach the summit and walk back down the trail feeling significantly less ebullient, slower, red-eyed. I look at the grinning trekkers on their ascent, taking photos of the lake, of  the miners, and I cringe. Not half an hour ago I was doing exactly that. I had no notion of what these men go through every single day. I still don't. I have a polaroid snapshot in my mind. It can never compare. I hand my breakfast out to various grateful miners and Nur catches up with me. He's sorry for what happened, he wishes he could have helped. I know he was down in the very bowels of the crater and am horrified he is apologising. We continue our discussion from earlier. I ask how he feels about his future son potentially taking on such an onerous and dangerous job. He shrugs helplessly. Smiles incongruously. It is a mere fact of life that when the respiratory diseases and tumors take the fathers off the market, the sons warily join the hundreds of commuters who camp beside the smoking mountain, no luxury of ignorance to belie their fate. They've seen the consequences, they've watched the demise and decay. They're scared, they're in agony but they have few alternatives. Unlike me. I had a light rucksack and running shoes. I had a survival instinct. I had a glimpse of hell and I ran. For these men, self-preservation would cost their families' survival. It would mean poverty and potential starvation; it means whatever escape routes might exist, the exits are sealed.
Expert