More oddities of long term travel:
You still buy stupid things you don't need and can't carry
No matter how many times you tell yourself it's going to be a pain in the arse, you still buy awkward, annoying and breakable items you can't put in your bag. That trilbee hat, the delicate kite that man was selling on the beach, that ukulele and of course the large framed painting of Buddha you know will go so well in your dream beach bungalow. If they don't get broken, they get, at best, very dog-eared. This is before you've made it to the ethically questionable local post offices to try to send home your cumbersome must-haves, where it's very likely they won't make it and if they do, will most likely sound quite crumbly when they reach home.
There is an art to packing up your life
You already rolled up all your clothes, put your socks in your shoes and found ways to have your chargers at the top of your bag. Somehow, you have never mastered finding your toothbrush in a dark hostel dorm without noisily rustling plastic bags. But don't worry because you saw on a social media site some tips for keeping your delicate necklaces tangle free, your bag from smelling like an old dog and a few others on how to get rid of bed bugs from your clothes. The threat of burst sun lotion will always linger, no matter how many plastic bags you wrap that bad boy in.
You wear short shorts less and less
As you keep going to places that are sunny and hot, you eventually become accustomed to the weather. Along with that you start to remember that even in your own country you rarely wore hot pants unless you were going to the beach. If it weren't for all the stares while you ride your bike, and the fact that you look like an idiot foreigner with barely any skin covered up, you may continue to wear, hmm, practically nothing. And you keep hearing horror stories of lost feet due to bike crashes while wearing flip-flops.
Getting a tan isn't so high on your priority list
When you first leave your cold grey country, getting a tan is right up there with seeing temples, trying new food and finding far flung drinking buddies. As time wears on, you become more conscious of the effect that 24/7 sunshine has on your skin. You start noticing deeply weathered ex pats, you have begun to check your moles and are fearing 'old lady hands' from the freckles appearing on the backs of your hands as part of your driving tan. Then there's your raging short tan you developed from riding your mo-ped. It stops at the top of your thigh and only covers one side of your legs.
Booking flights doesn't get any easier
Checked the day? Checked the time? Are you booking it as a connecting flight with a separate airline? Checked you haven't added on extra insurance, car hire, hotel booking, in flight meal? Yes, yes, yes. So why is my flight STILL booked for the day before, with a meal and a hotel for two?! Call me crazy but somehow trains and buses seem to forego this stress, perhaps it's the non-committal nature of them and the relatively insignificant sums of money they cost in comparison. The only time I finally trust that I've got it right with flights is when my bum has hit the seat and the wheels are lifting off the runway.
You get really bored of the same old small talk
"Hi my name's Lucy, I'm from xxx, I'm xx years old and I've been to xxx. What about you?"
Every day for months at a time. We go away to meet new people and see amazing places, have our own experiences and learn about different cultures. But eventually you do get really bored of the Blind Date formula of starting conversation. Having said that once that's out of the way, nine times out of ten, most people have something interesting to say. Apart from the competitive travellers. "I've been to here, have you been? Oh you haven't? Well it's becoming too touristy now, but I went there before it became part of the beaten track." Bla bla bla yawn.
That buzzing in your stomach is still there.
You've been to that country before but not this particular part. You've not gone diving before and are about to try it for the first time. You're going to do a bunjee jump/jungle trek/climb a mountain/go white water rafting/meet long lost family/ try a new food you've heard so much about. Whether it's to a totally new culture or one you can't seem to stop returning to, that feeling of excitement for a new experience still feeds your insatiable thirst for travel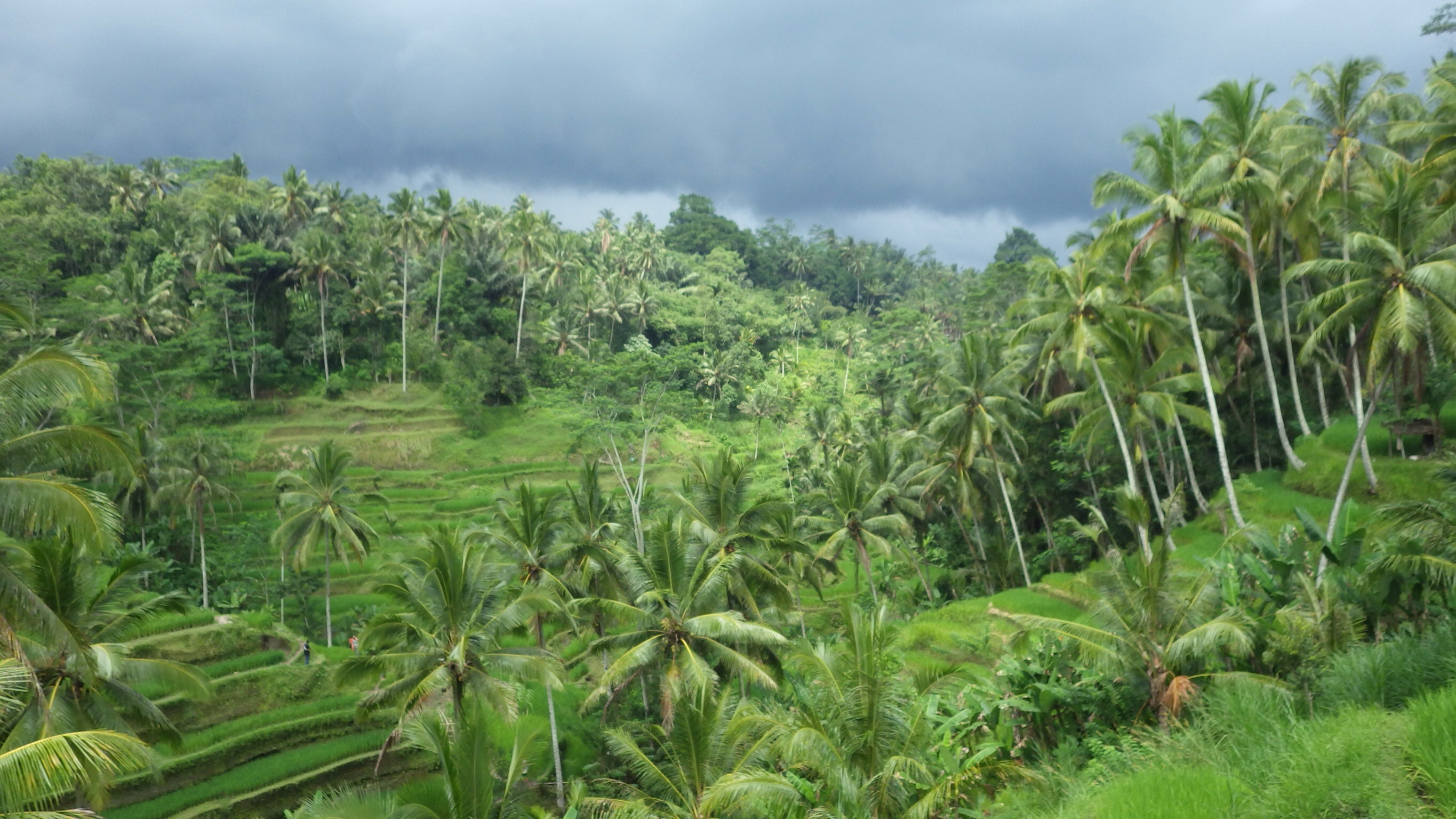 Rice terraces in Ubud
Expert