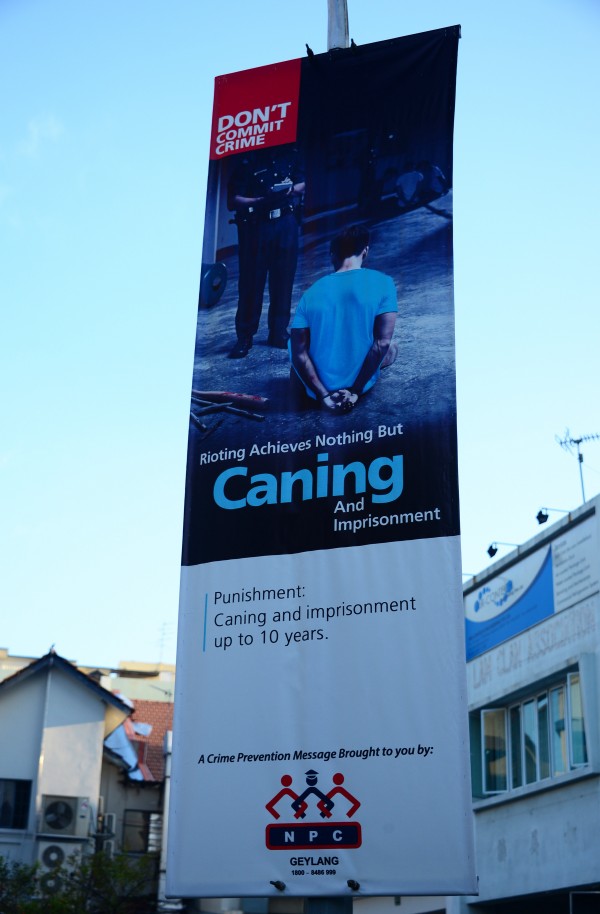 District and Accommodation
Geylang is renown as a seedy vibrant part of Singapore. The JJH Boutique Apartment (SGD$64/night DBL incl. ensuite) is on Geylang Lor 15 and smack bang in the middle of all the action. Stroll leisurely along this and surrounding roads after 4pm and witness tables with jugs of beer, older chaps, and younger ladies spilled out onto the pavement having a great time. This red light district offers some of the cheapest local eats in Singapore, which includes delicacies such as frog porridge and an assortment of fried animal limbs in congee. For more action, Geylang Lor 12 is where ladies in skimpy attire stand under dainty brollies in the sweltering heat and humidity waiting for their next customer.
Friendly staff and conveniently located to everything, the JJH has seen better days. The room is small and the ensuite hasn't seen Exit Mould in an age (air-conditioner was a godsend). This is about the best on offer for the money; pay upwards of SGD$100 per night for something better. There's a reason why "Singapore is the most expensive city in the world" and accommodation is no exception!
Travel
Apart from your legs, the MRT is the easiest, best, and cheapest way around Singapore and a 3-day unlimited (train/bus) pass costs SGD$30 with a SGD$10 refund (only at a Transitlink Ticket Sales Office) when you hand your card back. Make sure you buy the pass early in the morning as the clock starts ticking from the day of purchase, not the time of purchase. A single average fare is SGD$1.40 (6 trips on the card earns one free trip).
Activities and Food
Singapore hosts many museums, all of which will bleed you dry if you persist in visiting even just a few. Try and experience some of the free attractions on offer. Walking everywhere in Singapore is easy; however, you'll be stopping loads in Malls to enjoy the air-con and a refreshing well-earned drink (DeliFrance in Raffles City Mall does good coffee and tasty pastries for reasonable prices). Gardens by the Bay is an impressive expansive botanical garden, which is free to walk around. Deciding to see the two conservatories will set you back SGD$28 but then you only pay SGD$5 for the OCBC Skyway (usually SGD$10).
Take the MRT to Kranji. Outside the station, turn right and walk up to the Kranji War Memorial (brown sign on your left shows the path into the memorial). This well-manicured memorial pays tribute to some 25,000 names on the memorial and 4,500 graves; not only Australian and British soldiers but also locals such as rubber planters, miners, local Chinese, and the Malay Regiment. Very moving but visit in the late afternoon when most of the bus hoards have disappeared.
Walk around the obligatory Raffles Hotel built in 1887 and pristinely maintained, and peer in the expensive opulent boutiques. The hotel itself is a wonderful building and well-worth the visit.
Little India offers excellent delicious food at non-Singaporean prices and a more authentic district to wonder around. Temples in China Town are free but wear long sleeves.
Make sure to have a meal at the Marina Bay Sands food court. An excellent selection of freshly made dishes from every Asian region at extremely reasonable prices; a bowl of Mee Siam is deliciously moorish (SGD$4.50). Although luxurious shops pave this opulent Mall, this architectural splendour is a must to see and can't but impress even the hardest of cynics. An ice rink sits right next to the food court!
Quest for a good coffee under SGD$5
I'm sure Expats know the haunts that serve up authentic (not instant or Kopi) coffee around Singapore. But as a tourist visiting for 5 days, it was extremely difficult finding a good coffee under $5. Sadly and I'm ashamed to admit, the quest ended in a McCafe. with a cappuccino for SGD$3.20 and tasted heavenly. So, the challenge is on for coffee lovers to find better!
Visit my Singapore Gallery for more images.