Search For a Beer-hug
This is one of the cooler travelogues I have read on beer in an Indian news publication in a long time. The author not only talks about his personal experiences but also informs you about the history of beer culture in Belgium.
The only Belgian beer that I have tried is Leffe at Cafe Mondegar at Colaba. This is a mild beer but it has a distinct taste which is so different from the countless Indian mass produced beers have. As far as I can remember there is a bit of woody, chocolaty taste to Leffe. But I'm sure in the Belgian scheme of things Leffe must be like just another one of the 1100 beers on offer.
The place where I really enjoyed having beers was in Tokyo, whose 7/11s are stocked with not just the Japanese Asahi and Sapporo, but also the Dutch Amsterdam, Irish Guiness, American Budweisers and JDs, Singaporean Singha, and so on.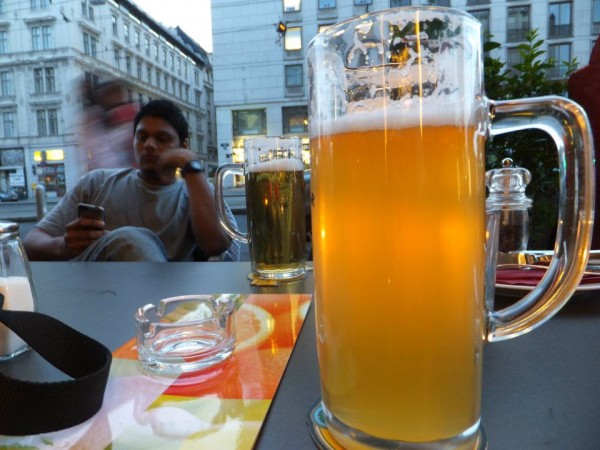 Vienna was another place which just floored me with its sheer variety of beers on offer. Be it the Steigl which I had downed with a bratwurst of a roadside stand or the complimentary Ottakringer I had got as I settled down in my hostel bar or the unfiltered Zwickl beer I tried on an impulse when I was hanging out with a cousin at one of the numerous cafes near Albertinaplatz.
Just like songs, I have started to associate new beers with the places where I have had them. Not only does it being a smile on my face but it also reminds me off the wonderful moments spent in that place.
There is a bar in Mumbai which does serve a variety of international beers, but of course at a hefty price tag.
Just hoping that someday there is a lot of variety in beers in Mumbai apart from your KFs and Budweisers and Carlsbergs and Fosters. Beers can be so much more nuanced. It's just a pity that there aren't enough people exploring this option, apart from the handful of micro brewers out there in Pune and Gurgaon.