Our footfalls are soft. Heavy moss muffles the sound. Branches, brushed carefully out of the way, protest in whispers. We could blend in with the forest but for the florescent vests and hats we sport.
Breezes play with the leaves, and the trees sway gently. Now and then the dog reappears, orange collar bright against her dark grey coat. Then with a wag of the tail and a quick drink from a stagnant pool she is gone – out of sight but not off the handheld GPS that tracks her collar.
I wonder, as we pick our way through the forest, what would happen if we found an animal. Would it see us first, or would our careful movements conceal us in the trees? Are my silent companions looking up and around, keeping an eye out for creatures of the wild, or is their focus, like mine, engulfed by the uneven and treacherous ground beneath our feet?
I try and keep my head up, looking at the trees instead of the moss. I stumble a few times as I peer through the woods. Nothing peers back.
What if I see it first?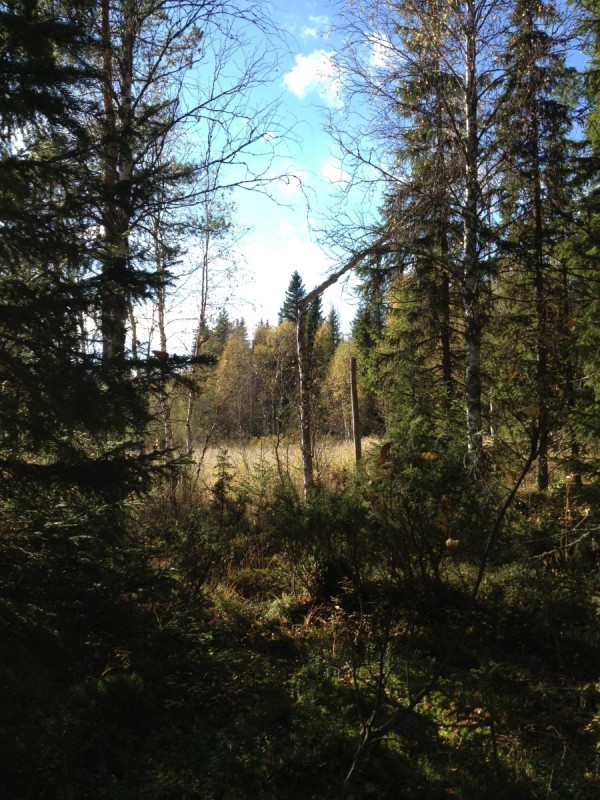 My first reaction is no, not before the seasoned hunters ahead of me. But I wonder if I wouldn't feel just a little pride if I did. How do hunters alert one another to an animal anyways, without giving themselves away?
Then I feel remorse. Before I came to these woods I probably would have considered not telling them at all. Aren't I an all-in animal lover? Has my brief foray into the world of hunting affected me so?
A shot cracks suddenly through the forest. Then another one.
Too late.
The echoes die away amongst the trees.
***
If someone had told me a few months back that I would some day find myself hunting moose in the middle of the woods of northern Sweden, I would have laughed them off. But things change, especially for me, especially now. A new policy of "say yes" is beginning to push me out of my New England bubble, to try things I never might have thought about, such as, among other things, attending a metal festival in Helsinki, sleeping in a ruined medieval tower in Visby, and meeting unexpected friends all over Scandinavia. I haven't been led astray yet.
So when I was asked on Saturday night, soon after my arrival in the small town of Örträsk in southern Lappland, if I wanted to join a moose hunt the following morning at 6 AM, I didn't even hear the voice saying, "Hmm, hunting?" — or even "So early…?" The answer was yes before it came out of my mouth.
The annual moose hunt, or älgjakt, is a big deal in northern Sweden. It's strictly controlled — every year each municipality is assigned a certain number of animals they are allowed to shoot based on the current moose population. The hunt begins in September and serves a dual purpose. Most importantly it keeps Sweden's moose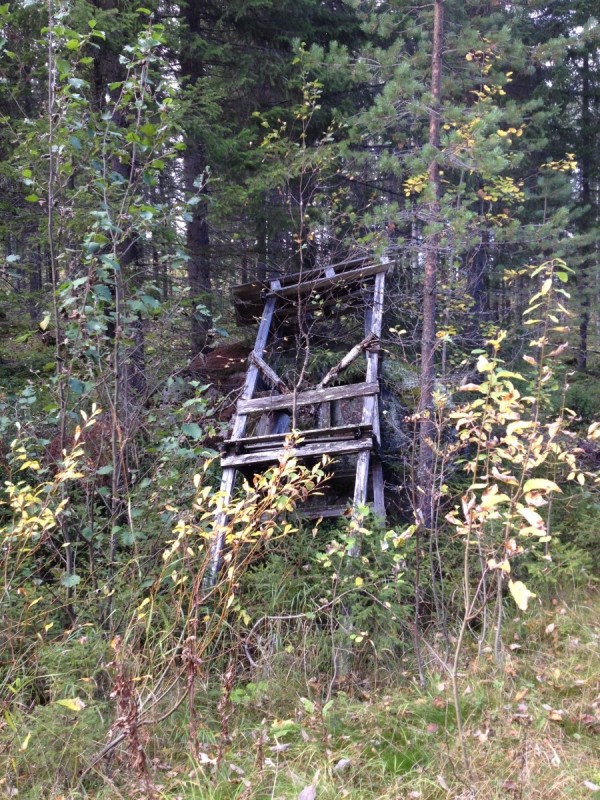 under control, helping to reduce the amount of road accidents from collisions. Its other purpose is entertainment: as the hunter whom I accompanied dryly joked, there isn't much else to do in Lappland. I can't say that I completely buy into that view, but after experiencing the hunt I'm beginning to understand why it's such a draw up here.
My hunting guide had to work unexpectedly on Sunday morning, so our expedition was postponed to the afternoon. The first stop was the jaktstuga, a hunting lodge a few kilometers away. Thirteen of us gathered in the chilly room — ten hunters, two youngsters, and myself — finding seats wherever there was space.
Once it was determined that everyone who was coming was present, lots were written up on scraps of paper and passed around to the adults in a camouflage hat. The lots dictated which hunting platform each hunter was to inhabit for the next few hours. My party didn't participate in the lottery because we would be hunting with the dog; but after some discussion and a couple of swapped numbers everyone else settled on where they were headed and moved out. The cars slowly disentangled themselves from their knot in the dirt driveway and moved to the west, towards the woods.
A short time later I was standing on a small dirt road in the forest, father and son gearing up behind me as I pulled on my backpack and patted the thick-furred hound who was meant to guide us to success.
Modern day hunting in Lappland is a game of a little technology and a lot of luck. Each hunter has a radio with an ear piece for communication (my two companions only had one as the other was out of battery). The dog, Emmy, had a collar with a GPS tracker, which was monitored by a handheld device with a map tracking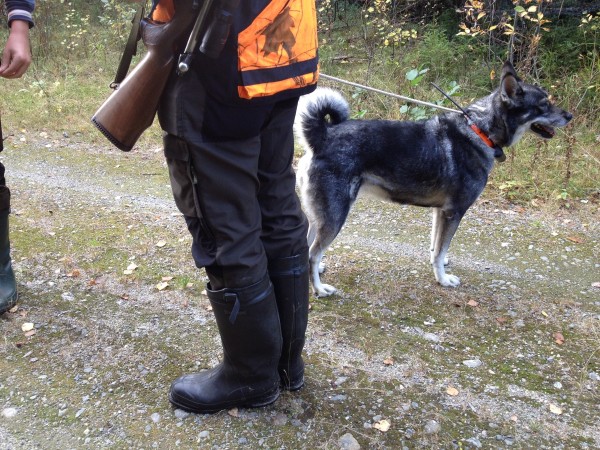 the progress of both the dog and us. A decent amount of time was spent keeping track of Emmy's location, as she would presumably be the one to lead us to a moose.
The rest was up to chance. Maybe the dog would find a moose; or maybe an animal would wander out of the woods near a hide. I had expected the hides to be concealed somewhere in the middle of the forest, but they were all on borderland, next to the road or at the edge of a field. As I thought it through this makes more sense — less trees make for an easier target.
I had been told two things before we left — first, that there was a good chance we wouldn't find a moose. This particular village had been assigned four adults and seven calves that they could hunt, and as of that morning, after a few weeks and many hours in the woods, three adults had been shot. The odds were not great. I was okay with this. The second thing I was told was that the afternoon would be spent "sitting in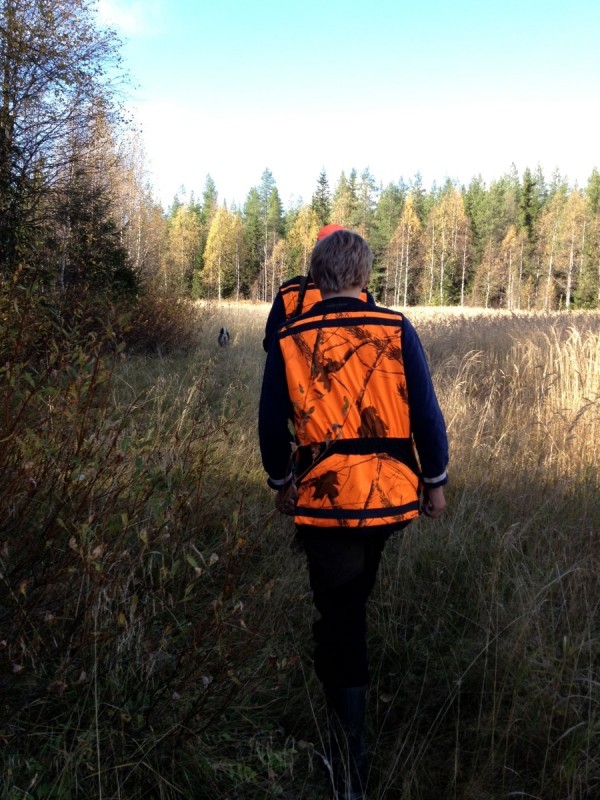 the woods," and that it would probably be cold. So, knowing my penchant for easily freezing, I brought extra clothes in a backpack just in case.
As it turns out, with the dog we were constantly on the move. I was quickly warm, and glad of the chance to experience the northern forests up close. My guides quietly pointed out interesting sights as we went — a tree scraped clean of its bark by antlers; the site of a kolmila, a term that threw me for a loop until I was shown a piece of charcoal dug out from the earth. These charcoal kilns today are preserved as large circles of slightly raised earth, easily missed unless you know what you're looking for. Apparently there are a lot of them in the forests around Lappland.
As we moved through the woods, taking in our surroundings, I came to realize that hunting isn't just about the animal. It's about experiencing the forest, interacting with nature and, sometimes, the history that lies beneath the trees. To walk through a forest as silently as an animal, to see signs of invisible creatures, from antler marks to hoof prints in moss or mud — for those who spend their lives in "Europe's last wilderness," it's a way of connecting more deeply with one's surroundings.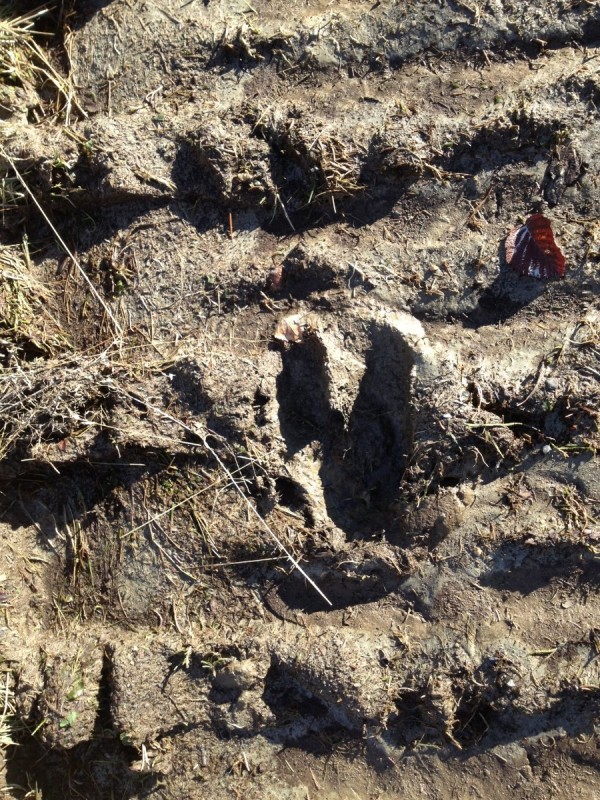 As for the hunting part, it's a reason for spending time in the woods, and, I admit, an intrinsically interesting one at that. The dog disappears into the brush, and it's up to the hunter to use the map and her location to determine whether or not she's found a moose. You have to be able to read animal signs, to understand the effect of weather and seasons on the woods and its inhabitants, and, of course, you have to know the moose. After witnessing the planning and process of our expedition, it was clear to me that there is respect for the animal. It isn't killing for killings' sake, and this was reenforced in small ways throughout the afternoon.
The two shots we heard from the woods later turned out to be a false alarm. One of the hunters had indeed seen a moose from his hide, but although he fired on it he was too far away. Nevertheless, the ensuing radio conversation sent us to reunite with Emmy and then head up towards our original entry point. Another shot came from further away as we made our way from the woods to a field and finally to the main road. I sensed the thrill of the chase in my companions as we passed one camo-clad hunter, then another. We made our way down the road, watching the dog on the map move further and further away.
Then we stopped. Complete quiet descended upon us. Very few cars were passing, and in the gap between them suddenly we heard barking. "Älg," Peder murmured. Moose. And, motioning for the two of us to stay put, he shouldered his gun and disappeared up an embankment into the woods.
We stood quietly next to the road. It wasn't really a time for conversation. Emmy's barking slowly moved closer and closer. The leaves quietly rustled. Occasionally the whoosh of a car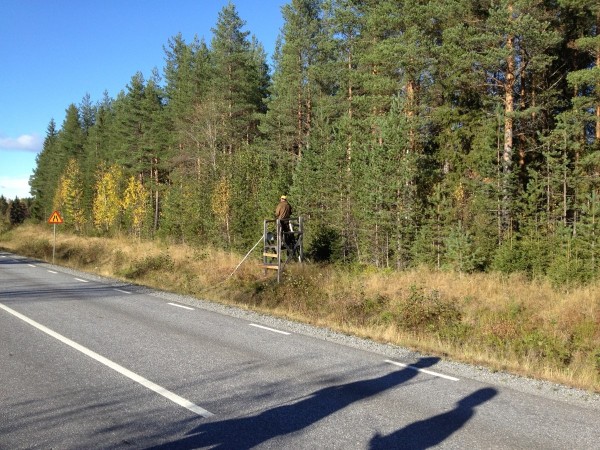 quickly disrupted the silence. A couple hundred meters away, the hide we had passed earlier was visible, the orange cap of the Gotlander up north for moose season hovering above the wooden box. The seconds turned to minutes, and the distant barking grew closer still.
And then it happened. A single shot burst from the other side of the hill. Filip cocked his head towards the noise and gestured to me in excitement. The sound faded. I wondered what had just happened — was it the moose, or was it a failed attempt? We didn't have a radio, so we stood waiting as silence descended once more.
A few minutes later I saw movement out of the corner of my eye. The Gotlander was descending from his perch. We watched as he came towards us, backpack on one shoulder, gun on the other. When he reached us he motioned to the trees, and we followed him into the gloom.
Up the hill, through the little pines, down the other side under a tangle of beaver-felled birches. The sound of rushing water came closer. Coming around a clump of trees I saw a familiar bright orange vest hanging on a branch. A moment later its owner came into view, standing on the bank of the now-visible river. I looked around — nothing. So it was a false alarm after all.
Then he stepped to one side and I saw the moose.
***
Because I hadn't expected them to shoot a moose, I wasn't prepared for any of what happened in the following couple of hours — the gutting, the removal of the animal from the woods, the skinning — but I just went with the flow and helped where I could. I wouldn't change any of it. The one thing I'm grateful for, though, is that I wasn't there when the moose was shot. That would have been tough, I think, to see that transition from life to death. But because I hadn't, I was able to view the proceedings with a some sense of detachment and focus instead on the actions of the hunters. Once again, I was impressed by the care and thoroughness they took in their proceedings.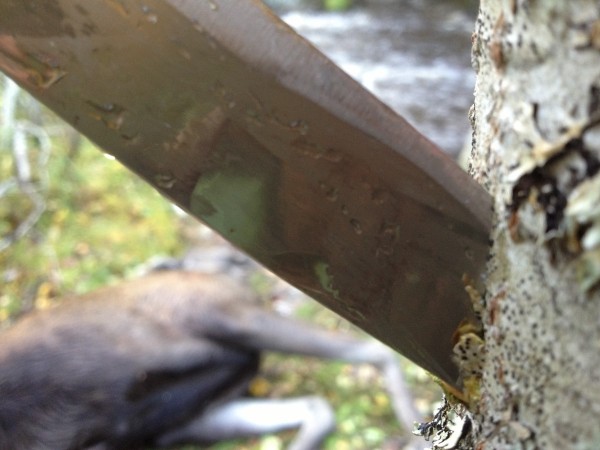 After the moose was brought back to the hunting lodge we headed home for a quiet dinner. In a few days each hunter will get a cut of the meat, and presumably, after four moose, they will now have quite a bit to store for the winter.
The älgjakt has been one of the most powerful experiences for me here in Sweden. It was a window into the modern iteration of one of the most ancient forms of livelihood, in a place where hunting is simply what one does. I asked how many people in the area participate in moose hunts, and was told that within the tiny village of Örträsk there were no less than three hunting parties, all consisting of at least 15-20 people. That's only counting the part of the town lying on the western side of its small lake, and doesn't include my friends, who hunt with a group based in the next village over. All this to say — everyone here hunts.
It's a way of life far from my own, but for a day, at least, I was a part of something completely new. Expanding my boundaries and widening my understanding of the world — that's what I'm here for, and that's what I will take away with me when this adventure finally comes to a close.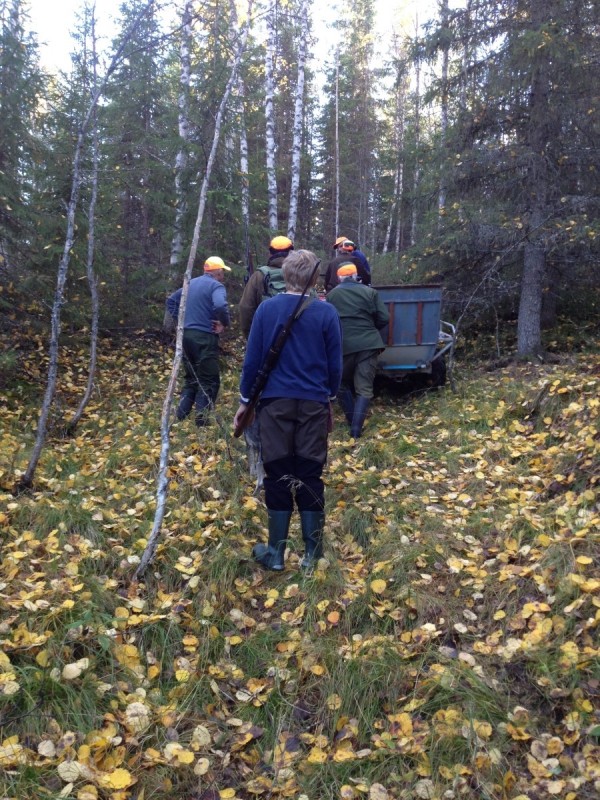 This post has been adapted from my blog, findingmidgard.wordpress.com. All photos are my own.