Rasta Rambo – King of The Belize Jungle
In Placencia, Belize, one of the tours that Chabil Mar offers is the Monkey River Tour.
I decide to venture off-property and take this thrill seeking tour with Percy Gordon, famously known as Rambo, the King of the Howlers. The Monkey River tour is one of the best ways to see the true face of Belize – Belize with its uncut, raw, overgrown bush, abundant with crocodiles, fat lizards, turtles, birds, dolphins and manatees! This tour is a true Belizean safari.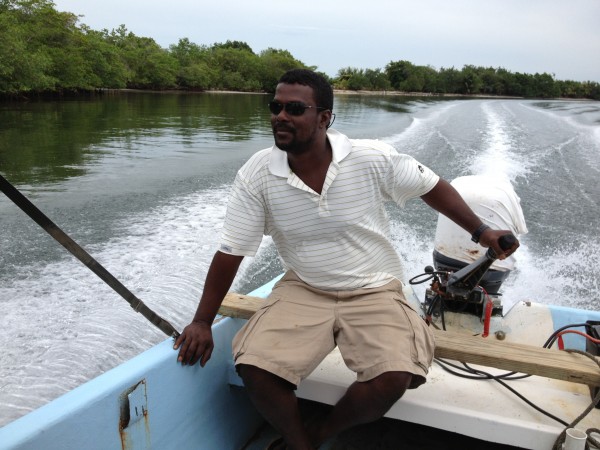 Our guide Rambo is rich with knowledge, confidence, and a deep thirst for adventure. I introduce myself to him, and as he ruggedly shakes my hand, he says, "My name is Percy, but I am known by many as Rambo or King of the Howlers, I am a deep sea diver and that is my way of life."
I decide to call him Rasta Rambo, because he adds "Mon" after every sentence. "Look over there mon, crocodiles!", "Look here mon, you see the monkeys.", "No worries mon, in Belize you don't have to worry about anything mon!"
As the boat scoots away from the dock, we cruise out to sea. He shows me the hand-made contraption that feeds his family. We are blissed away in the motorboat as we jet into lagoons and past bird sanctuaries. The warm sticky air disappears as we cruise out to sea.
After an hour and a half in the boat we pull into shore. Ahead is the Belizean jungle. We set foot on the slimy muddy ground and are instantly cuddled up with hundreds of mosquitoes. Rasta Rambo says, "In July it is the worst time for the bugs mon, but no worries you have repellent on and I am jungle medicine man." Rasta Rambo comes from a long line of natural healers. His grandparents understood the jungle and worked with it carefully to heal and balance their bodies.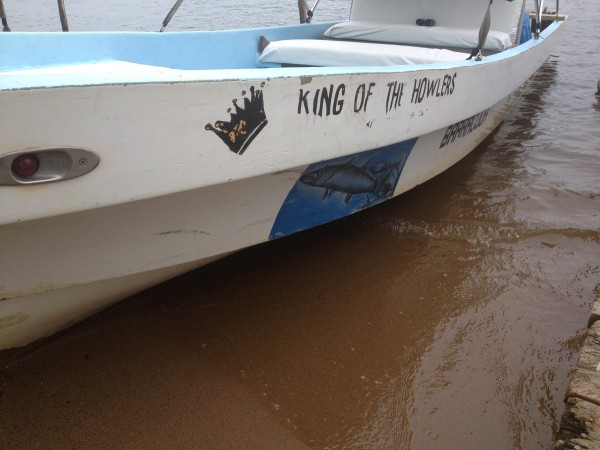 He points south to the detox tree and then to the glue tree. He waves his arms agressivly to fight off the bugs. He reveals secret forest remedies to us as we touch leaves that help with digestion, and sap that can fix a thatched roof that is leaking. I am impressed with his ability to walk in the jungle in flip-flops and shorts. The mosquitos don't seem to hang around him; his local Belizean blood is not exciting to them. Instead they attack my mom and me; American blood is fresh meat, but our bug spray with DEET keeps them away.
On this gritty adventure, I observe overstuffed blue crabs, snakes, vampire bats, and howler monkeys, along with thousands of creepy prehistoric insects. To experience the pristine habitat of Belize and watch Rasta Rambo in his home is humbling. I hear him talk about the traps he sets up for wild boars and possum, the giant crabs he captures, and about his childhood growing up in this jungle.
Percy is a young man who thrives on adventure. He gets his kicks from sharing what he knows with tourists. His pride and enthusiasm are infectious as he pulls us out of the jungle and takes us to his village.
We arrive at Monkey River Village, home of Rasta Rambo; population 150. He tells us his sister and niece cooked lunch for us. Our bellies rumbling after the intense jungle hike, We pull up to "Alice's Restaurant" and eat a local meal of chicken, rice and fried plantains, a traditional Belizean meal…accompanied by orange Fanta of course.
The hot sauce is a local delicacy that is used on every meal. Belizeans love habanero peppers and hot sauces; they pair it with most of their food.
I am pleasantly full as we head back to the boat. After exploring the village for a few moments, I am surprised at how kind and friendly the locals are.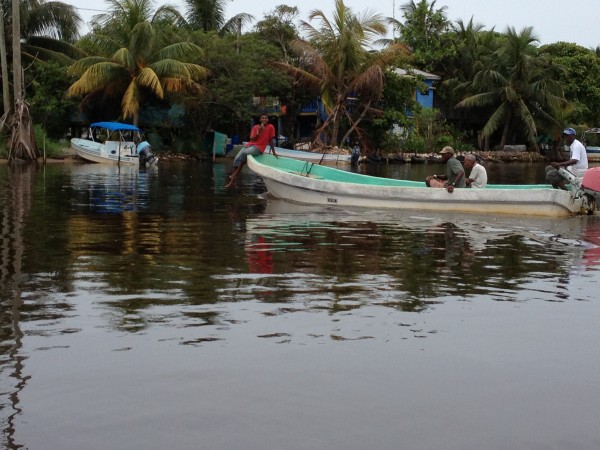 They smile with gratitude  and welcome us to their home. Monkey River Village is a fishing village of 150 people  - extended families live together and support one another.
They are new to the modern amenities of the world. They only started to get electricity 3 years previously!  For most of Rasta Rambo's life he has not needed, or really even known, what electricity was. His best friend has been the jungle and the open ocean where he goes deep-sea fishing. This way of life is breathtaking, for its simplicity is a gentle reminder that less is often more. The inhabitants of Monkey River Village all seem to have a quiet confidence that shines softly through their eyes.
We can all learn a little from Rasta Rambo and his village…simplicity!
Watch video of Howler Monkeys Here
Want to go?
Monkey River Howler Tour Visit Here
Best Place to Stay for this tour is Chabil Mar
How about you? Have you been to Belize or close encounters with Howler Monkeys? Leave comments…
For more adventures visit Play with the World 
Expert