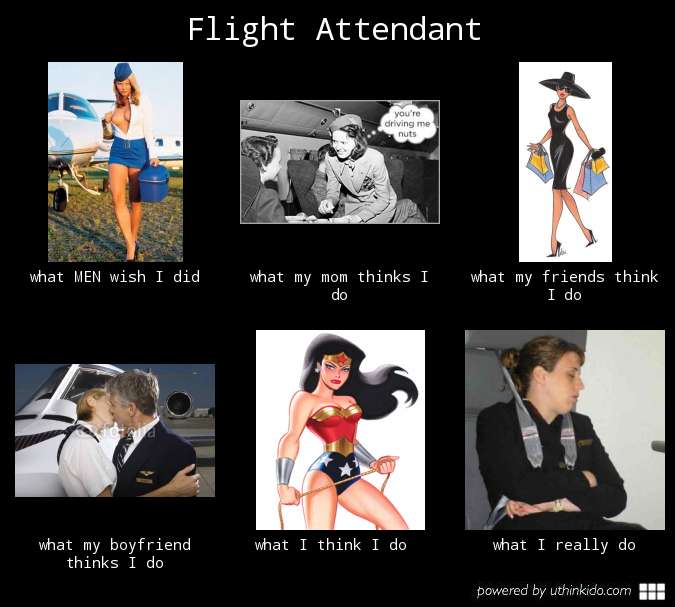 I was flying with a male flight attendant who was sharing gossip gallery about a young flight attendant who had slept with all the pilots. He called her a "mattress" which is a kind way of say she was a pilot whore. He stated she was a beautiful girl who came from a farm. He said that she would walk into the crew room and everyone who knew would stop and stare at her. She recently left the company and went back to the farm.
There is this "Flight Attendant Fantasy" which is depicted in the movies and in commercials of sexy flight attendants like Virgin Atlantic promoting they have the Hottest Flight Attendants in the Airline Industry. Watch their youtube video "Your Airline's Either Got It or It Hasn't". The scene of the flight attendant unbuttoning her shirt and serving ice cream will definitely have passengers disrobing flight attendants as they walk down the aisle of the aircrafts.
As a "Senior Mamita" flight attendant with five years experience and who has earned her gold wings, I am here to give newbies some advice. Okay so there are movies and commercials of flight attendants taking their clothes off, that does not mean that you are expected to do the same thing.
Pilots will test you with the "room check" game. He walks you to your hotel room and asks you if you want him to check your room. You say yes and open the hotel room door and he walks in to look in the bathroom and under the bed. Great! You are safe and your room is clear. The temptation is that now he is in your room what will happen next. Is he hoping to get lucky or will he leave?
A better idea is to have him walk you to the door of your hotel room and watch you turn on the lights to see from the door that your room is safe for you to enter.
There are instances when I have had problems in small town hotels with men walking in the hallway with only their underwear or sitting  on a bed in a hotel room across from mine with the door open watching me. It is necessary sometimes for pilots to walk you to your room. There are some small towns where the locals get hotel rooms to meet the flight crew. I have seen groups of older women drinking wine and trying to meet the pilots. In small towns, everyone know the flight crew hotel and the rooms. Flight crews are their entertainment.
If you have become a flight attendant to marry a pilot that is fine, but you don't become a wife by sleeping with all the pilots. If you are on six months probation, you run the risk of losing your flight attendant career and flying privileges.
On a recent trip form Houston to Chicago, a newbie flight attendant for another carrier was moving to Pittsburg to start her job. She boarded the plane and asked to introduce herself to the captain. Her blouse was unbuttoned so I told her to button her blouse, first before introducing herself. I don't know if that was an accident or what was going on with her blouse. I will give her the benefit of doubt.
When I first started as a flight attendant a pilot gave me a word of advice which was never to sleep with a pilot; unless it was him. He was married, enough said. I have heeded his advice and not slept with any pilots. However, some flight attendants have not received this advice.
I flew with this flight attendant who is blonde, blue-eyed and plump. When we arrived at the our hotel rooms for the overnight, the captain said to her to come to his room tonight and then the first officer the next night. Then they looked at me to see if I was giving it up. I looked at them like they were crazy and walked into my hotel room. If she wants to be a "mattress" that has nothing to do with me.
If a passenger indicates that they are interested you it is necessary to determine if they want the "flight attendant fantasy" or the real you.
If the passenger starts a conversation about lavatories and the "mile high club", then they want to complete a "flight attendant fantasy" which could cost you your career.
The occurrences above are very rare, most flight attendants I know are hard-workers who go to bed early for 3 am or 4 am wake ups. Many of the flight attendants  are sleep-deprived zombies who are in relationships and not sleeping with pilots or passengers.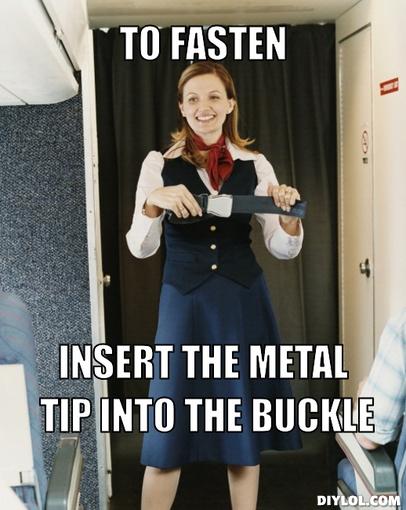 After all, a "flight attendant fantasy" is just that a fantasy.
This message is to the passenger who recently hinted at joining the Mile High Club, I just read this article by Elite Daily " How To Get With A Flight Attendant". Smooth Job, but I am not interested in fulfilling your flight attendant fantasy.
Follow "Skychitravels" on Twitter
@skychi_travels
Expert