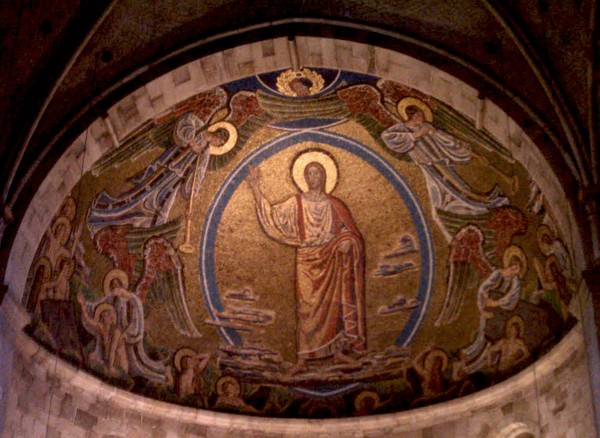 "So he just asked me if I was a Christian. A completely private question. No one would ever ask me that in Germany."
We were eating lunch in a shelter along the Appalachian Trail on the Tennessee-North Carolina border, and wow, it was such a beautiful day.  Unfortunately it was just a day trip for me; not so for the 20-something guy from Berlin who had just been dropped back onto the trail after hitching out of town where he allegedly had the best pizza of his life. Trail food will do that to you. He was in it for the long haul – 2,175 miles from Georgia to Maine. His ride back to the trail was the topic of our conversation.  "And let me guess, he asked if you would like 'to accept Jesus Christ as your personal lord and savior.'"
"Yes! Exactly like that! Is that actually common around here?"
I smiled and extended my hand. "Welcome to the American South."
He had no idea.
A few years later…
"I wish I could've taken his place on that cross instead," the chorus rang out.  I was starting to wish I could be on the cross too.  Well, not that specific cross that Jesus allegedly used; that would be unsanitary, although I'm sure the Romans would have used Christian rock over crucifiction as the preferred form of slow, torturous death if it was available at the time.  Once again I found myself weathering another miserable Sunday in church.  An atheist – actually an agnostic anti-theist, but let's keep it to one A-word – I usually volunteer for the torture monthly.  Why, you ask?  Why do we do most things we don't want to do?  To make our moms happy.  That's right, she doesn't know that I'm systematically picking apart everything the pastor says as I sit quietly beside her.  Actually, I think only a handful of trusted individuals know of my godlessness.  This is the closest I've ever come to coming out.
The pastor just completes a story – mostly unverifiable and without sources (duh) – about an Armenian man searching for his kid in the rubble produced by a devastating earthquake that killed approximately 100,000 people.  Of course he finds the kid, and it's miraculous proof of a benevolent god.  Everyone in the room seems to ignore the 99,999 others that were not spared as well as thousands more that were most likely maimed for life.  God has a plan and/or works in mysterious ways.  A few muttered "amens" signify that most of the congregation didn't quite make that connection.  Just another typical Sunday in rural North Carolina.
I've been religious for most of my life.  Of course I have, my parents taught the creation story, Noah's escape of a genocidal flood, and Jesus' magic tricks as historical fact.  Not to mention that if I don't believe this, I will burn in hell for not 50, not 100, not even 1,000 years, but for all time.  So I was a very good boy in Sunday school and eventually youth group.  However, in line with the common trend, I had my own intifada, my own gradual but violent casting off of religion in college.  Just as parents stop reinforcing the belief of Santa Claus at a certain age, they weren't there to continue reinforcing the belief in god, and I began to think for myself.
But, I digress.  I'm not writing this to de-convert anyone.  Anyone can do that on their own by reading the Bible and/or Koran, which most followers of Christianity, Judaism, and Islam apparently haven't done.  I simply want to paint a picture of what it's like to be a member of that lonely 3% that call themselves "atheist" in America.  Spoiler alert: it's hard.
Trust Issues
What do Christians, Jews, Muslims, whites, blacks, hispanics, homosexuals, feminists, and rapists all have in common?  According to a survey conducted by the University of Oregon and the University of British Columbia, all of these groups are trusted more than atheists.  Well, it's a clencher between rapists and atheists, but you get the point.  Those polled were given a scenario of a person doing something selfish while no one was looking.  They were then asked if they thought the hypothetical person was most likely a teacher, a teacher and a Christian, a teacher and a Muslim, a teacher and an atheist, and so on.  Of those polled 48% thought this punk would be a teacher and an atheist, opposed to 4% who selected teacher and Christian, which doesn't make sense statistically speaking as 80% of Americans are Christians.
Based on that, it's no wonder that 49% of Americans are least likely to vote for someone absent belief in a god, even less likely than homosexuals at 67%, or more worrying, someone without a college education (a disturbing 66%).  What is it about us?  Do people think we're just crazies?  Nearly.  Most people associate nonbelief in a god with having no ethical or moral compass.  We're all just psychopaths and sociopaths. Maybe the people that want to detonate themselves in subway tunnels in the name of God and tell citizens of AIDS-ridden countries that using condoms is a sin are the sane ones.
Strangely enough, I still find myself giving blood and participating in volunteer work nearly every year.  Of course, I must have sinister purposes behind this as I'm not doing it because a holy book told me to.  In America, there is a moral line drawn in the sand, defined by Judeo-Christian values of course, and we atheists are perceived as being on the wrong side of it, no matter how normal, or good we are in everyday life.  Being good for other humans is not good enough; you have to be good for God.
This lack of trust, and prejudice of immediate suspicion, is a major deterrent from coming out of the Jesus-less closet.
Bearing Witness
The abomination of religion's fornication with policy in America is constant.  But that's unavoidable considering America was founded as a Christian nation.  Psyche!  This is an all too common misconception that would almost be forgivable if the people claiming it were not our politicians in office and pundits with unlimited airtime speaking to a largely ignorant electorate.  If our Founding Fathers, who were largely deists or completely ambivalent to the existence of a god, established America as a Christian nation, they did a poor job of it by not mentioning God once in the Constitution.
The religious Right has a long history of loudly asserting that the opposite is true, so much so that the viewers of Fox News think that James Madison was a god-fearing man, when in fact he and our other founders were constantly producing gems like:
"An alliance or coalition between Government and religion cannot be too carefully guarded against…religion and government will exist in greater purity, without (rather) than with the aid of government." (Levy, 124)
But claim there is no god today and of course that's a War on Christianity.  That's rather insulting to tell me that my disbelief in a god, and desire for for local, state, and federal government to be free of any religion, as is mandated by the Establishment Clause in the Constitution, is somehow an ideological war against a religion that has waged several actual wars, as well as the systematic killing and persecution of different groups your holy book doesn't agree with.  Claims like this are only a few of several that atheists, who suffer far more actual inconveniences for their lack of belief, have to tolerate everyday in this country.
Everyday Life
Are atheists treated differently?  It really depends on where you live.  If you live in NYC, you'll be fine.  If you live in rural Mississippi, you may want to keep it to yourself unless you're fast enough to escape a lynch-mob.  But contrary to popular belief, there is a common misconception that being an atheist in a red state must be harder than the progressive havens of blue states.  It's more of an urban-rural divide.  Those who can say "I'm a secular humanist" with the nonchalance of saying "I'm wearing a green shirt" in NYC might not be so eager to do the same in upstate New York, which can actually be quite conservative.
On any give day, atheists are told they're going to burn in hell forever, that they're being prayed for, that they are evil, that they have no morals and are inherently bad, sometimes even beaten, and their 'Evolve' fishes get stolen off of their cars…all reasons why I have not come out yet. But I do have a few personal anecdotes.
First of all, the family.  If I was gay, I'd be more willing to drop that bomb before telling my mom that, in her mind, my soul is essentially doomed to eternal torment.  And, some may take offense to this, I think those two closets are at least equally hard to come out of around here.  I've already had to deflect three times after my mom asked if I still believe.  I'm sure my monthly church attendance and open criticism of the right's treatment of gays as well as my pro-choice stance raise a few flags.  Hell, even being a democrat is a struggle in my family.
I told one of my colleagues that I was an atheist simply to see what would happen.  We're friendly, but sometimes she'll ask me the most mind-numbingly ridiculous questions.  "Do you like people?"  "You don't believe in heaven?  You don't believe in hell?  Wait…you mean you don't believe in anything?"  And of course, "So do you think we came from monkeys?"  I'm happy to answer all of these as baffling as they are each time I hear them.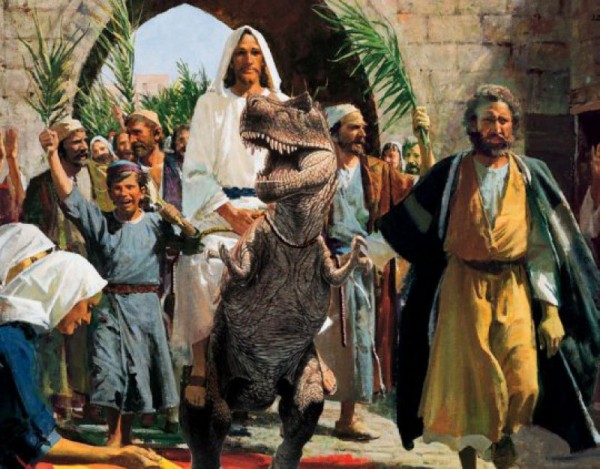 Real and Lasting Damage
I work as a teacher assistant between an elementary school and high school in a rural county of North Carolina.  The quality of our public schools and the information we relay are the backbone of our country's future, or at the very least, a vertebrae, and I'm glad to help facilitate that.  You can imagine how troubled I was when a kindergarten teacher voiced her belief to me during a field trip to the local science museum that dinosaurs were, in fact, not millions of years old, but that even the earth had only been around for a few thousand.
This was a teacher's personal opinion (it certainly isn't a fact) voiced to me in private, but there are schools all over America that "teach the controversy" of creationism side-by-side science.  The problem with this is that creationism is not science.  There is absolutely no proof whatsoever for it.  If one can limit it to a religious belief and keep it to themselves, fine, but it has no business being taught to a child who is too young to even understand the "controversy" and will believe anything an adult says, even if it's not true.  Teachers are in a position of power, and forming a child's faith-based beliefs is beyond that power, or should be at least.
Obviously, young-earth creationism that is being taught in states that want to bring us back to the middle ages is not the main contributing factor to the US's poor global performance in education, but it's not surprising that countries like Finland are so far ahead when the age of the earth is a huge classroom controversy in this country. Whenever my friends from the UK, Germany, Hong Kong, Finland, Denmark and Japan rightfully ridicule this pseudo-science I heartily join in, as excising this tumor of untestable and unprovable claims rooted in a book written by desert dwellers thousands of years ago (who thought the world was flat) will make room for actual science to be taught in the classroom, save taxpayer money and increase global competitiveness in education.
This is a debate that is frustrating to watch, let alone participate in, but it's all part of being an atheist in America.
Advice for Travelers
You guys – Europe, Canada, China – are lucky. You hold your faith-based beliefs close to your chest, as it should be.  If it edifies and enlightens you, that is fantastic and you don't feel the need to shove it down the throats of other seemingly happy individuals that are minding their own business. Don't expect the same in the US, especially if you're coming for a while.
I told my German buddy that if he's ever in the same situation again – in a stranger's car, alone, in the backwoods of North Carolina – to just say that he's already a Christian. Sort of the religion equivalent of saying you're already a member of Feed the Children when you're in a hurry on campus. Islam is not the only religion that has fundamentalists with violent tendencies, and although violence from Christians is most certainly not the norm, the Berliner was in a scenario where being safe rather than sorry was warranted.
For the most part, just expect to be very shocked at how forward and untoward people are about proselytizing and promoting their beliefs. Ignore them, smile politely, walk quickly away and enjoy your trip. Soon, you too may learn what it's like to be an atheist in America.
@spartanwanderer
Sources (not linked)
James Madison in a letter to Livingston, 1822, from Leonard W. Levy- The Establishment Clause, Religion and the First Amendment, pg 124
Expert