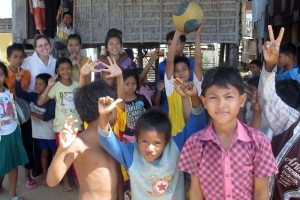 Locked in a tiny room with over 20 children in 35 degree heat, they speak little English,  I don't speak their language.   Like all children, they require a lot of entertainment or their attention wanders and they start irritating each other.    This would be many people's worst nightmare.
Not only did I survive two weeks of this, but I enjoyed it so much, I am already investigating the possibility of repeating the experience.   And once again paying for the privilege of being exhausted every day, being fed mediocre food, and living in very average accommodation!
The volunteer/tourism industry can be controversial.    I did some research before choosing my 'volunteer organisation'.    I tried friends first, and found that most preferred their 'charity experience' to be limited to donating funds.   But I wanted to be more involved than just writing out a cheque.   I wanted the benefit to go both ways.
So without personal references I relied on the internet for my investigations.   In preparation I listed out my non-negotiable requirements:
An organization that said it was ethical
Close enough to home to minimise travel expenses
Reasonable accommodation (I am way past backpacking!!)
Permitted stays of two weeks (my maximum  time period)
Made a contribution to the local economy
I ended up with two candidates and I approached both.   One was super-organised and efficient, the other chaotic and disorganised.    The super-organised was too efficient for me.   I felt slightly uncomfortable and concerned that my contribution would go into the efficient infra-structure rather than improving the well-being of the local community.
So I went with disorganised.   And yes, it remained chaotic throughout my stay.  Lack of communication was the biggest problem.   This was a small family affair, run by Dad who was the entrepreneur and wanted to expand into multiple locations, Mum who was actually trying to separate herself from the business and make her own life, and daughter, who definitely wanted to make her own life and was moving countries in an effort to do so!   The family dynamics were fascinating.
There were a few downsides.  Like when they almost forgot to pick me up from the bus station.   And there was the morning we woke up to find that there was no milk or bread for breakfast, and we returned from an exhausting day at the school to find that not only was there still no milk or bread,  but we were out of drinking water as well!!   Although this could be resolved easily at the local shop, it highlighted the lack of communication.  Everyone thought someone else was doing the shopping!
The upside was that in such a small organization,  I felt closely involved in what was happening.  My suggestions were listened to.   I didn't feel like an outsider, someone who was only there for the short-term.  I could make a difference and I believe that I did.  This wasn't a super-organisation that had a set way of doing things.   Volunteers were an essential and vital part.
Realistically no matter the size of the organisation and no matter how philanthropic its aims, it is still a business, like any other more conventional business.  At a minimum, it must make enough money to pay competitive wages and expenses, or it will not be sustainable.
At the end of my volunteering stint, I was left with a few questions in my mind:
What are the rights of volunteers to question expenditure?  We outlay a substantial amount of money and in return how much information should we be given?   There may be an assurance that all funds are directed to the projects, but what does that mean?
And even if we were given access to financial accounts, how many volunteers possess the business expertise to be able to make valid judgements?
How do we judge if the organisation is making a difference?   And if you think it does make a difference, then does the rest matter?