Sunday 2pm Cafe: A Space for Freedom and Connection
When you've lived in a place for so long, the least that you expect is to be surprised. Just when you thought that you knew every street like the back of your hand, something  suddenly jumps at you and exclaims, "Surprise! I don't believe you've been here."
Sunday 2pm Bookcafe at Pres. Quirino St. in Panagdait, Cebu City did just that  one Wednesday evening. My friend had once invited me for a cup of coffee in this cafe, but I always found a good excuse to say no. Too far. Traffic is heavy. Let's have coffee somewhere close.  To my mind, cappuccino tastes the same everywhere. Spare me  the traffic jam, please.
I couldn't find another excuse the second time I was invited.  I got off the taxi feeling a little lost. I couldn't find a coffee shop! I saw a door with colorful notes posted all over it.  "Sunday 2pm Bookcafe Welcome," the sign said. I pushed the door open. The bell dinged. I lingered on the doorway, unsure.  Sensing the hesitation of the unfamiliar stranger, all heads turned.  As if on cue,  a guy behind the counter smiled and greeted good evening. I smiled back, closed the door and left.
I tried to rationalize the coffee shop in my mind  and the place I have just walked out from. But surprises need no analysis. So, I retraced my steps and went back. I pulled the door open. The bell dinged and the same person greeted me with a knowing smile. He smiled as if he knew that I would be back very soon. Finally, I entered and let a wall of colors swallow me whole.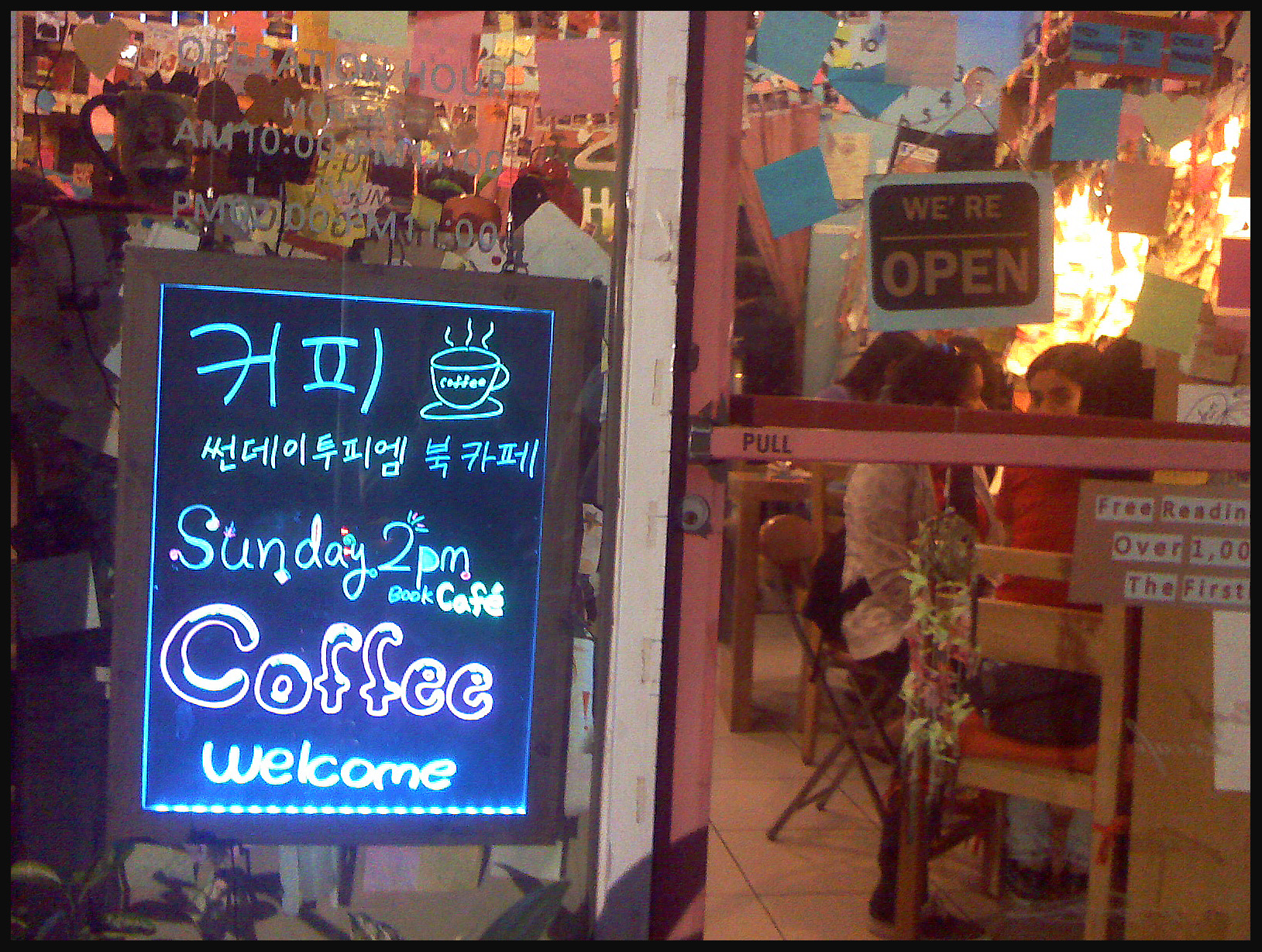 Sunday 2pm  Cafe is unlike any other cafe I've ever been. I didn't imagine that a coffee shop or a bookshop could burst with such energy. Hanging on the walls, shelves, on table legs, and just about everywhere were post-it-notes of various colors. The notes were made by both patrons and customers. They were scribbles of hopes and aspirations, of young love  and bittersweet love,  of craziness and youthful insanities, of funny nonsense in lazy afternoons.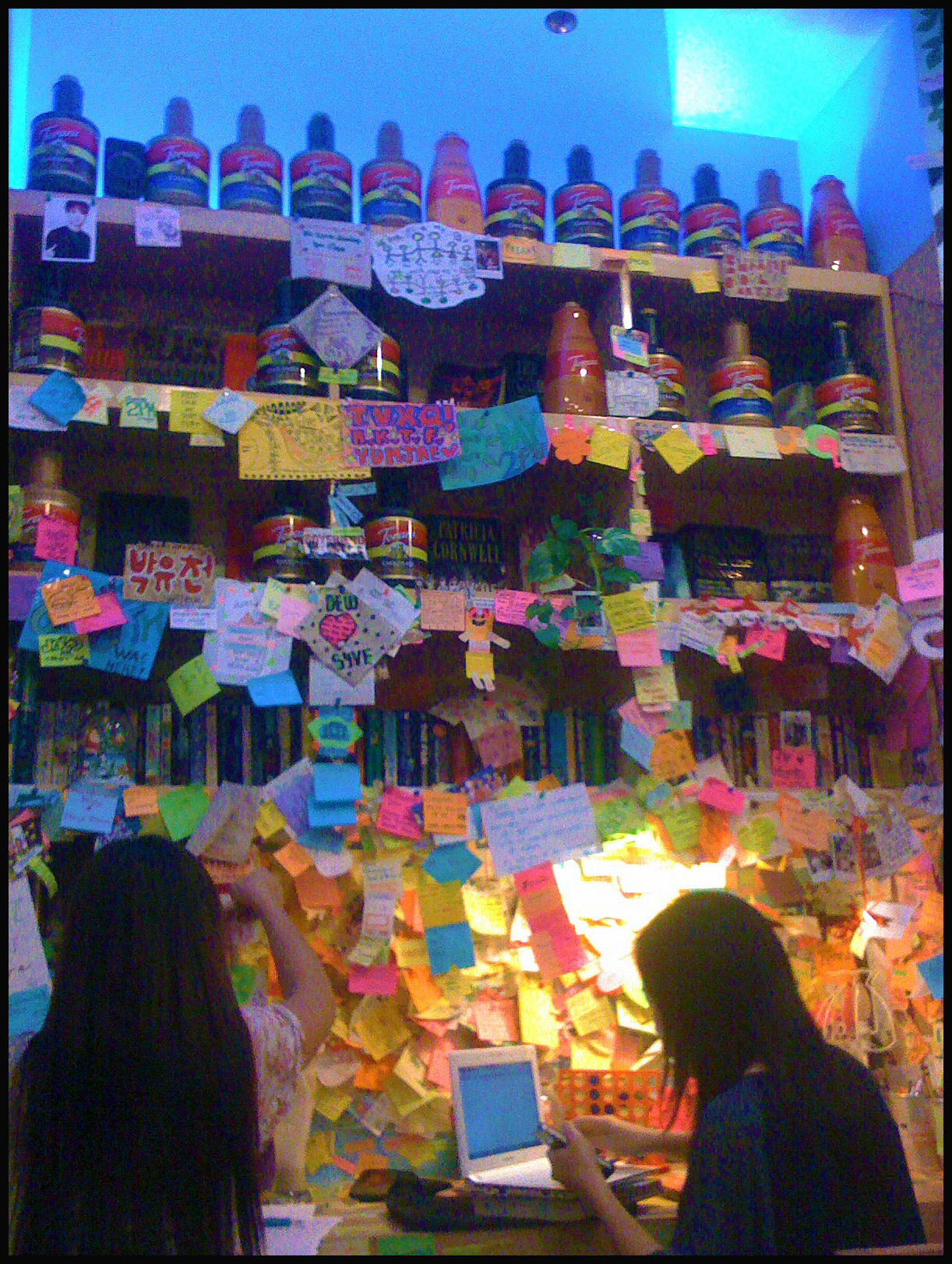 I approached the counter to check the menu. I saw none. The barista handed me a scrapbook. 'What's this for?' I asked while flipping pages of more scribbles and photo clippings. Before he could answer, I realized I was holding the menu.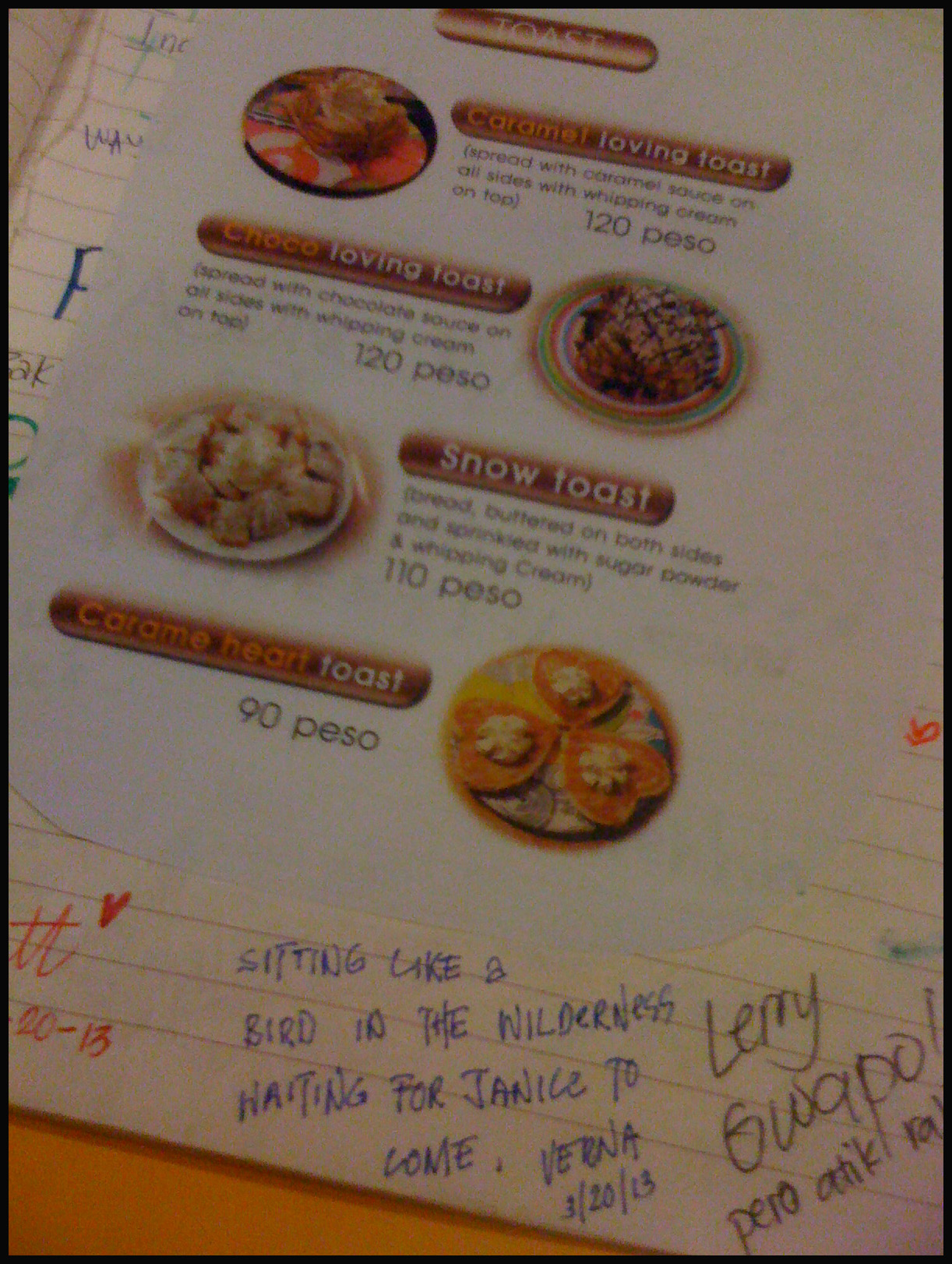 The place is not only filled with words, it is filled with photos – candid reminders of the good times that friends shared over a cup of coffee. But what astounds me more is how these photos were hung – on a clothesline with real clothespins!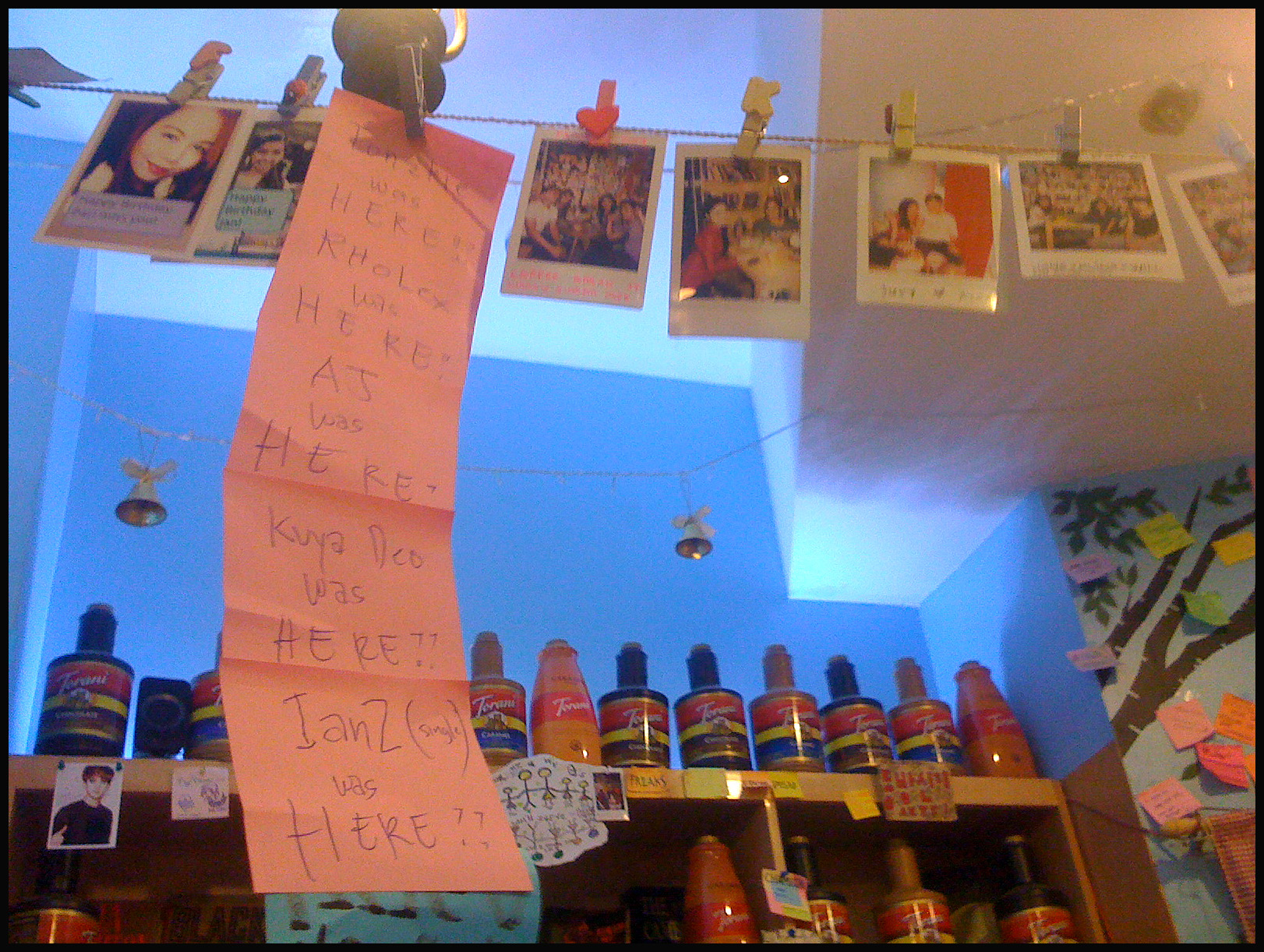 From the floor to the ceiling, the place – all twenty square meters (more or less) of it, literally crawls with expressions. The walls do not only have ears, they have voices. It is what freedom looks like in colors and words. I have never seen such a tiny space so full of freedom expressed by so many people.
What makes this place very special?
The answer lies in two things that Sunday 2pm Cafe gives – freedom and connection. Two things that every human needs. The bright colored post-it-notes that the cafe gives freely allows for freedom of thought. The freedom to let go of feelings so long hidden and all bottled up. The freedom to express happy thoughts. And when you let them out on paper, you begin to connect with yourself. You begin to connect with all the others before you who scribbled their thoughts on paper and pinned them on the world for the world to see. You know that when you leave the table and go out the door, you leave a part of yourself.
I couldn't help but give in to the vibe, let it flow freely through me and wrote my own…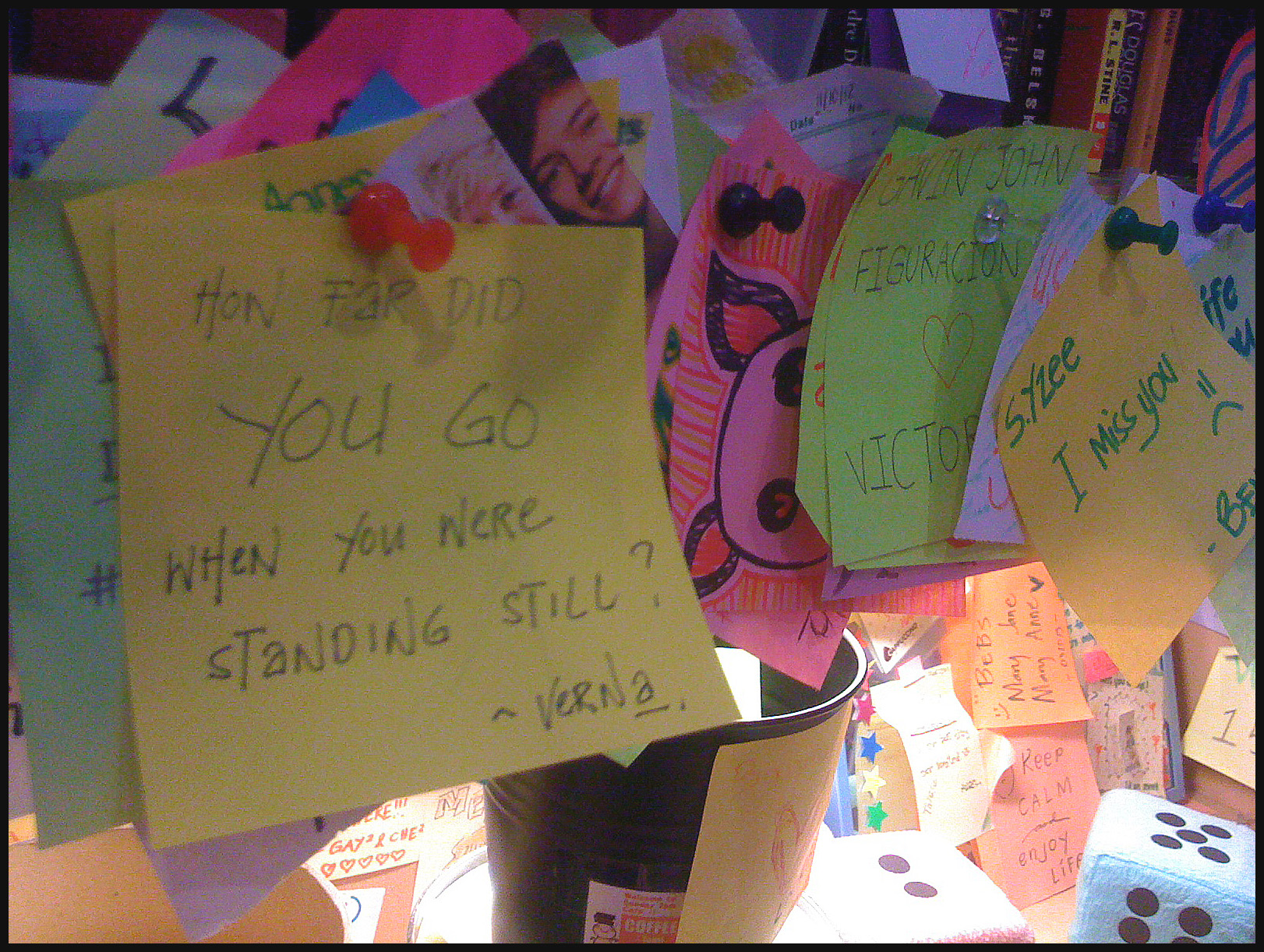 Are you at the cafe, yet? My friend texted. I'm on my way. I'm 600 meters away. I had been waiting for more than 30 minutes. I didn't mind. I was busy connecting. I took a sip of my shakerato and let the awesomeness of the cafe embrace me. Life is beautiful.
"A room hung with pictures is a room hung with thoughts." (Joshua Reynolds)
*************
Sunday 2pm Cafe is open from 2pm to 11pm on Sundays and from 10am to 11pm on Mondays to Saturdays.
Conxn: Free ad for Carol who takes great dramatic photos, http://carolinegarces.tumbr.com.
Expert