in paid partnership with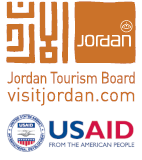 The world is woke — at least, it's slowly waking — and the travel industry is taking note. More and more travelers are demanding authentic, meaningful experiences that go beyond the usual big-bus tours and selfie photo ops. We want to connect with communities, immerse ourselves in cultural experiences, and know that the dollars we spend are going to be invested back into the people who's home we're visiting.
Cue Jordan taking the lead. The Meaningful Travel Map of Jordan highlights a variety of social enterprises offering unique, hands-on, cultural experiences that are good for people and the planet. (Think foraging for food in the mountains, dining in the homes of local chefs, and attending workshops at women-run cooperatives.) These businesses aren't just giving back — they're lifting up entire communities, creating jobs for their neighbors, and preserving local cultural traditions. To be part of the lasting change in Jordan, here are six you should visit.
The Royal Society for the Conservation of Nature
Think of the RSCN as a cousin to the National Park Service. Its mission is to conserve and protect Jordan's natural resources, and to do so it's established seven protected areas, implemented 1,000+ "nature clubs" in schools across the country, and funded development for various eco-tourism initiatives. The Society is also hard at work providing educational and work programs for those in next-to-nature gateway communities.
Stop in at the Wild Jordan Center in Amman to check out local handicrafts and get more info on the long list of experiences you can arrange within the RSCN protected areas. Here are some highlights:
Azraq Wetland Reserve: In addition to enjoying this unlikely watery oasis — and its migratory bird population — here visitors can take part in ostrich-egg designing, silkscreen printing, recycling, and tailoring workshops.
Mujib Biosphere Reserve: The lowest nature reserve on Earth (1,345 feet below sea level!), this protected area offers plenty to do besides simply gaping open-mouthed at its beauty. Try the silver-making, herbs, and sandblasting workshops to support the local community.
Dana Biosphere Reserve: The country's largest reserve — and arguably its most stunning — will definitely keep you busy. Try out their jewelry-making, fruit-drying, candle-making, or leather-working workshops between outdoor activities.
Baraka Destinations
Baraka Destinations helps small communities use tourism as a tool for economic development. They design distinct experiences using local know-how, like olive oil and pomegranate harvesting, beekeeping, farm-to-table cooking, basket weaving, and guided cycling and hiking trips. Guests have the opportunity to participate in centuries-old traditions while learning about the relationship between villagers and their environment.
Based in the northwestern city of Um Qais, Baraka works hard to develop and nourish community-owned businesses. As a consulting company, their goal is to help build community projects that meet tourist standards and then to step back, letting these projects thrive independently. Over 150 residents of nearby villages participate in the projects, highlighting local traditions and history through the experiences they share with travelers.
Summaga Café
Right next to Ajloun Castle — a must-see destination for any visitor to northern Jordan — is Summaga Café, a relaxed spot serving up more-than-delightful Jordanian delicacies. Fresh ingredients like organic olive oil, honey, sumac, molasses, and free-range eggs are sourced from female-led cooperative farms and used to create traditional local dishes. The café is also the main purchaser of produce from a network of 25 organic farms in the Ajloun region.
Summaga provides a unique opportunity for women in particular, who are often left out of the tourism industry. The enterprise has helped women find full-time employment — both in the restaurant and on the farm — and has created pathways to promotion, allowing women to advance from cleaning and cooking positions to managerial roles.
Beit Khairat Souf
Beit Khairat Souf, located near the Greco-Roman ruins of Jerash, is a female-run kitchen and garden housed within a historical 19th-century home. Visit this one-of-a-kind place and you'll experience the tastes and traditions of northern Jordanian culture in an airy outdoor space full of fragrant flowers and towering trees.
This eco-restaurant is the first female-driven initiative in the village of Souf, employing eight women and sourcing jam from 32 more. The female food artisans work tirelessly to establish a platform for local women to support themselves financially. Beit Khairat Souf also creates volunteer and training opportunities for local youth, exposing them to other cultures and providing them with valuable work experience.
Feynan Ecolodge
Just when you think you're in the middle of nowhere, an award-winning eco-lodge pops up in the desert, just a hike away from Petra. It's not a mirage — it's Feynan Ecolodge, a pioneer of ecotourism in Jordan and a global leader in sustainable travel. Guests are treated to meals prepared with local ingredients; the lodge uses soaps made by Bedouin artisans; and solar power lights up the lodge in the evening, accented with candles made by residents who live just down the path.
Activities range from bread-making and cooking classes to guided hikes and bike tours. All are led by local Bedouins and offer authentic cultural engagement and unique insight into life in the desert. In your downtime, you'll sip black tea brewed with dried sage and wild mint, watching the sun set below the horizon beyond the Dead Sea. If the sky is clear — and it often is — head up to the roof afterward for stargazing.
Iraq Al-Amir
The Iraq Al-Amir women's cooperative was founded over two decades ago, dedicated to supporting female financial independence and raising the standard of living through the preservation of local heritage. The Amman-based cooperative is comprised of ambitious women passionate about keeping their local culture alive, preserving the region's unique heritage, and protecting the environment. Visitors are invited into a restored Ottoman-era home where craftswomen share their traditional knowledge and techniques through hands-on workshops. Several are family-friendly, suitable for kids ages 5 and up.
Over 40 families benefit from Iraq Al-Amir, which produces handmade paper, handwoven fabrics, pottery, and edible goods. The cooperative goes beyond traditional employment, too, by training women in finance, administration, quality control, product design, and marketing. They also serve the broader community by providing residents with internet access, computer courses, photocopying, and printing services.